Retellings in German-Italian Interviews with Bilingual Speakers
Rita Luppi

University of Milan
Abstract
Processes of retelling, by means of which the speakers reshape and reinterpret the same memories in a new speaking context, represent a fruitful topic in the field of bilingualism as well. This article seeks to address the recall and reconstruction processes of the same autobiographical experiences recounted by German-Italian bilinguals in both languages. On the basis of the qualitative analysis of explicative interview passages from the corpus Zweisprachige Narrationen (Thüne 2001), it will be shown that the retrieval language brings about a more precise access to autobiographical memories and emotions connected to that specific language. Moreover, it will be highlighted that retellings represent reconstructed forms characterised by their own structure.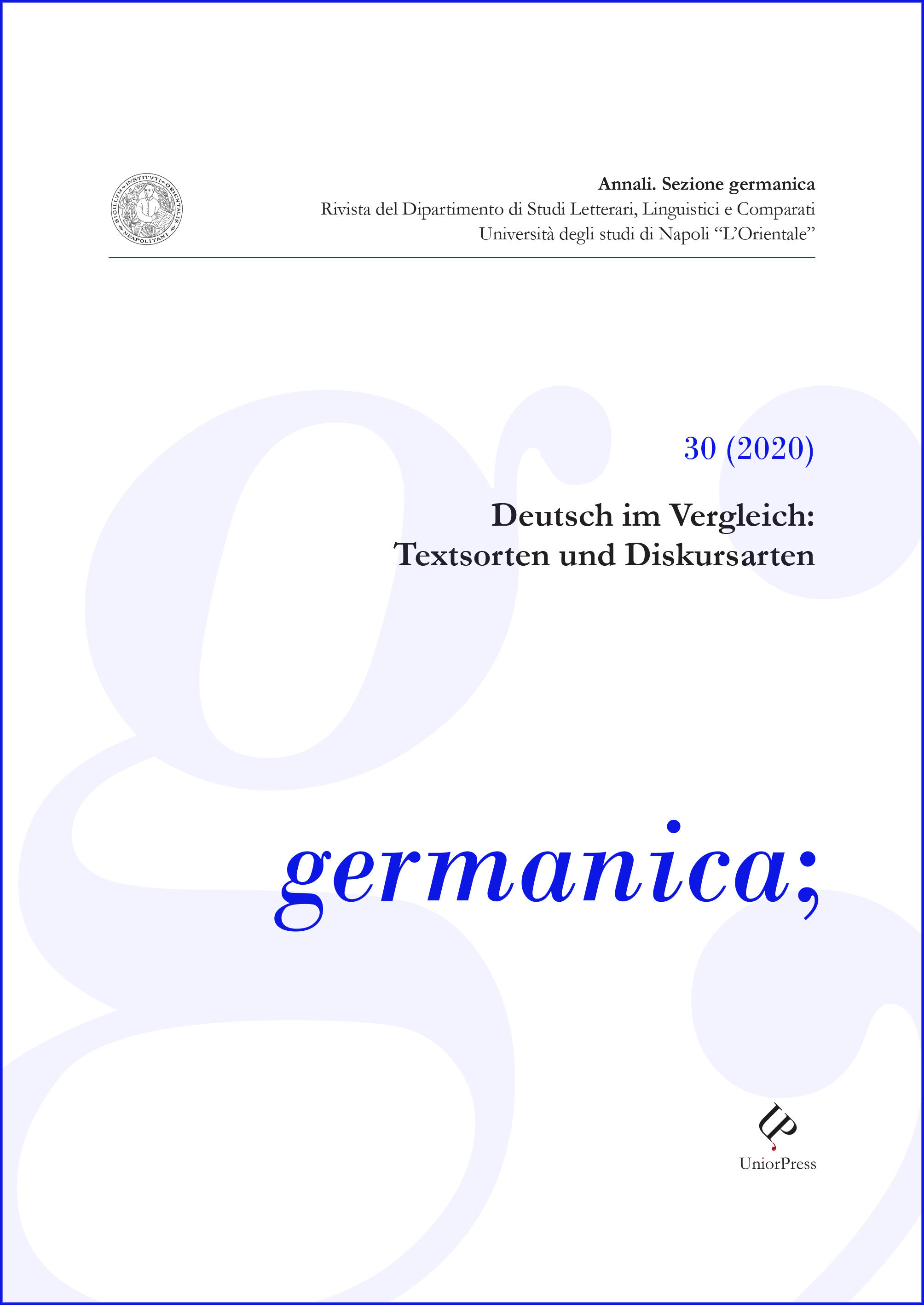 Come citare
LuppiR. (2021) Retellings in German-Italian Interviews with Bilingual Speakers, ANNALI. SEZIONE GERMANICA. Rivista del Dipartimento di Studi Letterari, Linguistici e Comparati dell'Università degli studi di Napoli L'Orientale, (30), pagg. 45-66. doi: 10.6093/germanica.v0i30.8218.
Gli autori che pubblicano su questa rivista accettano le seguenti condizioni:
Gli autori mantengono i diritti sulla loro opera e cedono alla rivista il diritto di prima pubblicazione dell'opera, contemporaneamente licenziata sotto una Licenza Creative Commons che permette ad altri di condividere l'opera indicando la paternità intellettuale e la prima pubblicazione su questa rivista.
Gli autori possono aderire ad altri accordi di licenza non esclusiva per la distribuzione della versione dell'opera pubblicata (es. depositarla in un archivio istituzionale o pubblicarla in una monografia), a patto di indicare che la prima pubblicazione è avvenuta su questa rivista.
Gli autori possono diffondere la loro opera online (es. in repository istituzionali o nel loro sito web) prima e durante il processo di submission, poiché può portare a scambi produttivi e aumentare le citazioni dell'opera pubblicata (Vedi The Effect of Open Access).