USING LINGUISTIC DESCRIPTIONS WITH MULTI-CRITERIA DECISION AID APPROACHES IN URBAN ENERGY SYSTEMS
Arayeh Afsordegan

Department of Engineering Projects, UPC-BarcelonaTech, Av. Diagonal 647, 08028 Barcelona (Spain)

Mónica Sánchez

Department of Applied Mathematics 2, UPC-BarcelonaTech, Jordi Girona, 1-3, 08034 Barcelona (Spain)

Núria Agell

ESADE Business School, Ramon Llull University Avda. Torre Blanca, 59, St. Cugat del Valls (Spain)

Gonzalo Gamboa

Department of Economics and Economic History, Faculty of Economics, Universitat Autònoma de Barcelona (Spain)

Lázaro V. Cremades

Department of Engineering Projects, UPC-BarcelonaTech, Av. Diagonal 647, 08028 Barcelona (Spain)
Abstract
Multi-Criteria Decision Aid (MCDA) methods include various collections of mathematical techniques related to decision support systems in non-deterministic environments to support such applications as facility management, disaster management and urban planning. This paper applies MCDA approaches based on qualitative reasoning techniques with linguistic labels assessment. The aim of this method is ranking multi-attribute alternatives in group decision-making with qualitative labels. Finally this method is applied to a case of urban planning in selection of the less energy consumption project in a geographical area in Catalonia.
Keywords: Multi-Criteria Decision Aid, qualitative labels, energy
Downloads
Download data is not yet available.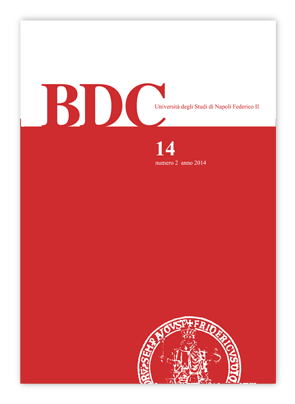 Come citare
Afsordegan, A., Sánchez, M., Agell, N., Gamboa, G., & Cremades, L. (2014). USING LINGUISTIC DESCRIPTIONS WITH MULTI-CRITERIA DECISION AID APPROACHES IN URBAN ENERGY SYSTEMS. BDC. Bollettino Del Centro Calza Bini, 14(2), 285-300. https://doi.org/10.6092/2284-4732/2927
Copyright (c) 2014 BDC. Bollettino Del Centro Calza Bini
This work is licensed under a Creative Commons Attribution 4.0 International License.