CULTURAL HERITAGE, THE UN SUSTAINABLE DEVELOPMENT GOALS, AND THE NEW URBAN AGENDA
Jyoti Hosagrahar

Dipartimento di Architettura, Università di Napoli Federico II

Jeffrey Soule

FAICP, Director of Outreach and International Programs, American Planning Association

Luigi Fusco Girard

Dipartimento di Architettura, Università degli Studi di Napoli Federico II

Andrew Potts

U.S. National Committee of the International Council on Monuments and Sites (US/ICOMOS)
Abstract
This paper argues for the positive integration of culture and cultural heritage into urban development plans and policies as a way to enhance the sustainability of urban areas through heritage, in the context of the newly adopted Agenda 2030 as the sustainable development goals, the "SDGs" for the world. The emerging need for a paradigm shift in the concept of development in more humanistic and ecological terms has meant that culture and cultural heritage play a critical role in the achievement of this new paradigm of a sustainable city. The framework of this paper is oriented to specific tools that go from principles to concrete urban policies outlined here for achieving a sustainable, inclusive city development, using cultural heritage as an asset characterized by specific multidimensional values.
Keywords: cultural heritage, SDGs, sustainable development
Downloads
Download data is not yet available.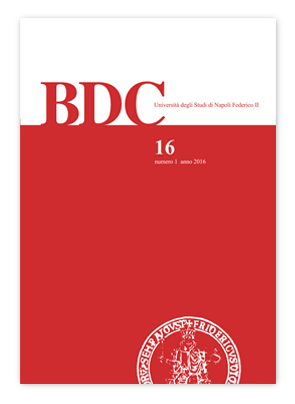 Come citare
Hosagrahar, J., Soule, J., Fusco Girard, L., & Potts, A. (2016). CULTURAL HERITAGE, THE UN SUSTAINABLE DEVELOPMENT GOALS, AND THE NEW URBAN AGENDA. BDC. Bollettino Del Centro Calza Bini, 16(1), 37-54. https://doi.org/10.6092/2284-4732/4113
Copyright (c) 2016 BDC. Bollettino Del Centro Calza Bini
This work is licensed under a Creative Commons Attribution 4.0 International License.