Alcohol Consumption and Pancreatitis Mortality in Russia
Yury E Razvodovsky

Grodno State Medical University
Keywords:
Alcohol Drinking, Mortality, Pancreatitis, Russia
Abstract
Context Pancreatitis is a major public health problem with high associated economic costs. The incidence of pancreatitis has increased in many European countries in recent decade. Accumulated research and empirical evidence suggests that excessive alcohol consumption is a major risk factor for both acute and chronic pancreatitis. Objective The aim of this study was to examine the aggregate-level relation between the alcohol consumption and pancreatitis mortality rates in Russia. Method Age-standardized sex-specific male and female pancreatitis mortality data for the period 1970-2005 and data on overall alcohol consumption were analyzed by means ARIMA (autoregressive integrated moving average) time series analysis. Alcohol consumption was significantly associated with both male and female pancreatitis mortality rates: a 1 liter increase in overall alcohol consumption would result in a 7.0% increase in the male pancreatitis mortality rate and in 2.3% increase in the female mortality rate. The results of the analysis suggest that 63.1% of all male pancreatitis deaths and 26.8% female deaths in Russia could be attributed to alcohol. Conclusions The outcomes of this study provide indirect support for the hypothesis that unfavorable mixture of higher overall level of alcohol consumption and binge drinking pattern is an important contributor to the pancreatitis mortality rate in Russian Federation.
Image: Trends in male pancreatitis mortality rate and alcohol consumption.
Downloads
Download data is not yet available.
References
Banks PA. Epidemiology, natural history, and predictors of disease outcome in acute and chronic pancreatitis. Gastroint Endosc. 2002; 56: 226-230. [PMID:12447272].
Yadav D. Recent advances in the epidemiology of alcoholic pancreatitis. Curr Gastroenterol Rep. 2011; 13: 157-65. [PMID:21243451].
Yadav D, Lowenfels AB. Trends in the epidemiology of the first attack of acute pancreatitis: a systematic review. Pancreas 2006; 33: 323-30. [PMID:17079934].
Roberts SE, Williams JG, Meddings D, Goldacre MJ. Incidence and case fatality for acute pancreatitis in England: geographical variation, social deprivation, alcohol consumption and etiology-a record linkage study. Aliment Pharmacol Ther. 2008; 28: 931-41. [PMID:18647283].
Sand J, Välikoski A, Nordback I. Alcohol consumption in the country and hospitalizations for acute alcohol pancreatitis and liver cirrhosis during a 20-year period. Alcohol Alcohol 2009; 44: 321-25. [PMID:19144980].
Ramstedt M. Alcohol and pancreatitis mortality at the population level: experiences from 14 western countries. Addiction 2004; 99(10): 1255-1261. [PMID:15369563]
Friedreich N. Diseases of the pancreas. In: Cyclopedia of the Practice of Medicine. Ed. H. Ziemssen. London: Sampson Low. 1878; 8: 551.
Herreson-Villanueva M, Hijona E, Banales JH, Cosme A, Bujanda L. Alcohol consumption on pancreatic diseases. World J Gastroenterol. 2013; 19: 638-647. [PMID:23429423].
Cote GA, Yadav D, Slivka A, Anderson MA, Burton FR, Burton FR, et al. Alcohol and smoking as risk factors in an epidemiology study of patients with chronic pancreatitis. Clin Gastroenterol Hepatol. 2011; 9: 266-273. [PMID:21029787].
Gullo L. Alcohol and chronic pancreatitis: leading or secondary etiopathogenic role? JOP. 2005; 6: 68-72. [PMID:15650289].
Roberts SE, Akbari A, Thorne K, Atkinson M, Evans PA. The incidence of acute pancreatitis: impact of social deprivation, alcohol consumption, seasonal and demographic factors. Aliment Pharmacol Ther. 2013; DOI: 10.1111/apt. 12408. [PMID:23859492].
Pelli H, Lappalainen-Lehto R, Piironen A, Sand J, Nordback I. Risk factors for recurrent acute alcohol-associated pancreatitis: a prospective analysis. Scand J Gastroenterol. 2008; 43: 614-21. [PMID:18415757].
Kristiansen L, Grønbæk M, Becker U, Tolstrup JS. Risk of Pancreatitis According to Alcohol Drinking Habits: A Population-based Cohort Study. Am J Epidemiol 2008; 168: 932-937. [PMID:18779386].
Irving HM, Samokhvalov AV, Rehm J. Alcohol as a risk factor for pancreatitis: a systematic review and meta-analysis. JOP. 2012; 10(4): 387-392. [PMID:19581740].
Azodi OS, Orsini N, Andrén-Sandberg A. Effect of type of alcoholic beverage in causing acute pancreatitis. Brit J Surg. 2011; 98: 1609-1616. [PMID:21811997].
Nemtsov AV. Estimates of total alcohol consumption in Russia, 1980-1994. Drug Alcohol Depend. 2000; 58: 133-142. [PMID:10669064].
Nemtsov AV, Davydov KE, Razvodovsky YE. Comparative analysis of the alcohol situation in Belarus and Russia. Narcologia 2009; 1: 52-60.
Nemtsov AV, Razvodovsky YE. Alcohol situation in Russia, 1980-2005. Social and Clinical Psychiatry 2008; 2: 52-60.
Khoziainov YA. The prevalence of digestive organ diseases and the organization of specialized care. Problems of Social Gygiene and Hystory of Medicine. 1997; 2: 9-11. [PMID:9254198].
Leon D, Saburova L, Tomkins S, Andreev E, Kiryanov N, McKee M, & Shkolnikov V. Hazardous alcohol drinking and premature mortality in Russia: a population based case-control study. Lancet. 2007; 369: 2001-2009. [PMID:17574092].
Stickley A, Leinsalu M, Andreew E, Razvodovsky YE, Vagero D, McKee M. Alcohol poisoning in Russia and the countries in the European part of the former Soviet Union, 1970-2002. Eur J Pub Health. 2007; 17: 444-449. [PMID:17327281].
Stickley A, Razvodovsky Y & McKee M. Alcohol and mortality in Russia: A historical perspective. Public Health. 2009; 123: 20-26. [PMID:19084882].
Wasserman D, Varnik A. Reliability of statistics on violent death and suicide in the former USSR, 1970-1990. Acta Psychiatr Scand Suppl. 1998; 394: 34-41. [PMID:9825016].
Mesle F, Vallin J. Reconstruction long-term series of causes of death. Historical Methods 1996; 29: 72-87.
Razvodovsky YE. Estimation of the level of alcohol consumption in Russia. ICAP Periodic Review on Drinking and Culture. Issue 8. 2013: 7-10.
Babor TF, Caetano R, Casswell S, Edwards G, Giesbrecht N, Graham K, et al. Alcohol: No Ordinary Commodity: Research and Public Policy. London: Oxford University Press, 2010.
Norström T, Skog OJ. Alcohol and mortality: methodological and analytical issue in aggregate analysis. Addiction 2001; 96: 5-17. [PMID:11228078].
Box GEP, Jenkins GM. Time Series Analysis: forecasting and control. London: Holden-Day Inc. 1976.
Razvodovsky YE. Estimation of alcohol attributable fraction of mortality in Russia. Adicciones 2012; 24(3): 1-7. [PMID:22868980].
Razvodovsky YE. Alcohol-attributable fraction of ischemic heart disease mortality in Russia. ISRN Cardiol. 15; 2013:287869. [PMID:23956877]
Norström T, Ramstedt M. Mortality and population drinking: a review of the literature. Drug Alcohol Rev. 2005; 24: 537-547. [PMID:16361210].
Norström T. The use of aggregate data in alcohol epidemiology. Brit J Addict. 1989; 84: 969-977. [PMID:2624626].
Nilssen O, Averina M, Brenn T, Drox J, Kalinin A, & Archipovski V. Alcohol consumption and its relation to risk factors for cardiovascular disease in the north-west of Russia: the Archangelsk study. Int J Epidemiol. 2005; 34: 781-788. [PMID:15833789].
Cockerham WC, Hinote BP, Abbott P. Psychological distress, gender, and health lifestyles in Belarus, Kazakhstan, Russia, and Ukraine. Soc Sci Med. 2006; 63: 2381-2394. [PMID:16887246].
Razvodovsky YE. Unrecorded alcohol consumption: quantitative methods of estimation. Alcoholism 2010; 46(1): 15-24.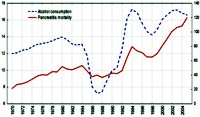 How to Cite
RazvodovskyY. (2014). Alcohol Consumption and Pancreatitis Mortality in Russia. JOP. Journal of the Pancreas, 15(4), 365-370. https://doi.org/10.6092/1590-8577/2273
Section
ORIGINAL ARTICLES
Copyright (c) 2014 Yury E Razvodovsky
This work is licensed under a Creative Commons Attribution 4.0 International License.
As a member of Publisher International Linking Association, PILA, iMedPub Group's JOP follows the Creative Commons Attribution License and Scholars Open Access publishing policies. Journal of the Pancreas is the Council Contributor Member of Council of Science Editors (CSE) and following the CSE slogan Education, Ethics, and Evidence for Editors.