Pancreatic Encephalopathy: An Unusual Cause of Asterixis
Vishal Sharma

Department of Gastroenterology, PGIMER, Chandigarh, India

Ravi Sharma

Department of Gastroenterology, PGIMER, Chandigarh, India

Surinder S Rana

Department of Gastroenterology, PGIMER, Chandigarh, India

Deepak K Bhasin

Department of Gastroenterology, PGIMER, Chandigarh, India
Keywords:
Brain Diseases, Metabolic, Dyskinesias, Pancreatitis
Abstract
Context Pancreatic encephalopathy is the occurrence of neuropsychiatric abnormalities in setting of acute pancreatitis which is not otherwise explained by presence of electrolyte abnormities, or organic lesions. The pathogenesis of pancreatic encephalopathy is incompletely understood. The clinical presentation is variable. Case report A 60 year old male, a diabetic for 5 years, was admitted with three days of abdominal pain associated with vomiting and complicated by altered sensorium for one day. He developed asterixis during the course of his hospital stay. Other workup was non-contributory and patient improved with supportive management. Conclusion Asterixis has not hitherto been reported in pancreatic encephalopathy.
Image: Abdominal CT showing an enhancing pancreas with peripancreatic necrosis.
Downloads
Download data is not yet available.
References
Gokula RM, Khasnis A. Asterixis. J Postgrad Med. 2003; 49: 272-275.
Bartha P, Shifrin E, Levy Y. Pancreatic encephalopathy- a rare complication of a common disease. Eur J Intern Med. 2006; 17: 382. [PMID:16864023]
Lu XS, Qiu F, Li YX, Li JQ, Fan QQ, Zhou RG. Effect of lower-molecular weight heparin in the prevention of pancreatic encephalopathy in the patient with severe acute pancreatitis. Pancreas. 2010; 39: 516-519. [PMID:20104197]
Sharf B, Bental E. Pancreatic encephalopathy. J Neurol Neurosurg Psychiatry. 1971; 34: 357-361. [PMID:5315218]
Zhang XP, Tian H. Pathogenesis of pancreatic encephalopathy in severe acute pancreatitis. Hepatobiliary Pancreat Dis Int. 2007; 6: 134-140. [PMID:17374570]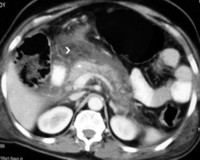 How to Cite
SharmaV., SharmaR., RanaS., & BhasinD. (2014). Pancreatic Encephalopathy: An Unusual Cause of Asterixis. JOP. Journal of the Pancreas, 15(4), 383-384. https://doi.org/10.6092/1590-8577/2291
Copyright (c) 2014 Vishal Sharma, Ravi Sharma, Surinder S Rana, Deepak K Bhasin
This work is licensed under a Creative Commons Attribution 4.0 International License.
As a member of Publisher International Linking Association, PILA, iMedPub Group's JOP follows the Creative Commons Attribution License and Scholars Open Access publishing policies. Journal of the Pancreas is the Council Contributor Member of Council of Science Editors (CSE) and following the CSE slogan Education, Ethics, and Evidence for Editors.