Case Report of Mannose-Binding Lectin (MBL) Deficiency and Postoperative Sepsis and Coagulopathy in a Patient Following Total Pancreatectomy for Chronic Pancreatitis
Wen Yuan Chung

Department of Hepatobiliary and Pancreatic Surgery, University Hospitals of Leicester. Leicester, UK

Amar M Eltweri

Department of Hepatobiliary and Pancreatic Surgery, University Hospitals of Leicester. Leicester, UK

Gianpiero Gravante

Department of Hepatobiliary and Pancreatic Surgery, University Hospitals of Leicester. Leicester, UK

Ali Arshad

Department of Hepatobiliary and Pancreatic Surgery, University Hospitals of Leicester. Leicester, UK

Cristina A Pollard

Department of Hepatobiliary and Pancreatic Surgery, University Hospitals of Leicester. Leicester, UK

Matthew S Metcalfe

Department of Hepatobiliary and Pancreatic Surgery, University Hospitals of Leicester. Leicester, UK

Ashley R Dennison

Department of Hepatobiliary and Pancreatic Surgery, University Hospitals of Leicester. Leicester, UK
Keywords:
Complement Pathway, Mannose-Binding Lectin, Pancreatectomy, Pancreatitis, Chronic
Abstract
Context Complement plays a central role against infection and coordinates the activity of coagulation and fibrinolysis. In this report we present a patient that underwent total pancreatectomy experienced sepsis, coagulopathy and bleeding that endangered the postoperative course. Case report A sixty-five-year-old woman underwent total pancreatectomy for intractable pain without islet transplant, this patient was diagnosed as AP and MBL deficient from a blood test performed preoperatively. On the postoperative course she experienced severe haemorrhages and sepsis for 3 weeks postoperatively. An analysis of serial perioperative serum samples conducted which showed further depletion of the alternate and MBL complement pathway without restoration to baseline levels. Conclusion This is the first reported case of alternative and mannose-binding lectin pathways depletion associated with major postoperative bleeding and sepsis following pancreatic surgery. Future research should examine the relationship between complement pathways activity and postoperative complications in order to possibly introduce it as a preoperative screening and possible replacement therapy prior to any major surgical intervention.
Image: Concentration of TAP, IL-1, IL-6, and IL-8 in MBL deficient patient.
Downloads
Download data is not yet available.
References
Eisen DP, Minchinton RM. Impact of mannose-binding lectin on susceptibility to infectious diseases. Clin Infect Dis. 2003; 37: 1496-1505. [PMID:14614673]
Windbichler M, Echtenacher B, Hehlgans T, Jensenius JC, Schwaeble W, Mannel DN. Involvement of the lectin pathway of complement activation in antimicrobial immune defense during experimental septic peritonitis. Infect Immun. 2004; 72: 5247-5252.
Garred P, Larsen F, Madsen HO, Koch C. Mannose-binding lectin deficiency--revisited. Mol Immunol. 2003; 40: 73-84. [PMID:12914814]
Eisen DP. Mannose-binding lectin deficiency and respiratory tract infection. J Innate Immun. 2010; 2: 114-122. [PMID:20375630]
Chang WC, White MR, Moyo P, McClear S, Thiel S, et al. Lack of the pattern recognition molecule mannose-binding lectin increases susceptibility to influenza A virus infection. BMC immunology. 2010; 11: 64.
Moller-Kristensen M, Ip WK, Shi L, Gowda LD, Hamblin MR, et al. Deficiency of mannose-binding lectin greatly increases susceptibility to postburn infection with Pseudomonas aeruginosa. J Immunol. 2006; 176: 1769-1775. [PMID:16424207]
Denholm JT, McBryde ES, Eisen DP. Mannose-binding lectin and susceptibility to tuberculosis: a meta-analysis. Clin Exp Immunol. 2010; 162: 84-90. [PMID:20636396]
Granell M, Urbano-Ispizua A, Suarez B, Rovira M, Fernandez-Aviles F, et al. Mannan-binding lectin pathway deficiencies and invasive fungal infections following allogeneic stem cell transplantation. Exp Hematol. 2006; 34: 1435-1441. [PMID:16982337]
Mullighan CG, Heatley S, Doherty K, Szabo F, Grigg A, et al. Mannose-binding lectin gene polymorphisms are associated with major infection following allogeneic hemopoietic stem cell transplantation. Blood. 2002; 99: 3524-3529. [PMID:11986203]
Mullighan CG, Bardy PG. Mannose-binding lectin and infection following allogeneic hemopoietic stem cell transplantation. Leuk Lymphoma. 2004; 45: 247-256. [PMID:15101708]
Worthley DL, Johnson DF, Eisen DP, Dean MM, Heatley SL, et al. Donor mannose-binding lectin deficiency increases the likelihood of clinically significant infection after liver transplantation. Clin Infect Dis. 2009; 48: 410-417. [PMID:19143554]
Bouwman LH, Roos A, Terpstra OT, de Knijff P, van Hoek B, et al. Mannose binding lectin gene polymorphisms confer a major risk for severe infections after liver transplantation. Gastroenterology. 2005; 129: 408-414. [PMID:16083697]
Takahashi K. Mannose-binding lectin and the balance between immune protection and complication. Expert Rev Anti Infect Ther. 2011; 9: 1179-1190. [PMID:22114968]
Gulla KC, Gupta K, Krarup A, Gal P, Schwaeble WJ. Activation of mannan-binding lectin-associated serine proteases leads to generation of a fibrin clot. Immunology. 2010; 129: 482-495.
Krarup A, Wallis R, Presanis JS, Gal P, Sim RB. Simultaneous activation of complement and coagulation by MBL-associated serine protease 2. PloS one 2007; 2: e623.
Takahashi K, Chang WC, Takahashi M, Pavlov V, Ishida Y, et al. Mannose-binding lectin and its associated proteases (MASPs) mediate coagulation and its deficiency is a risk factor in developing complications from infection, including disseminated intravascular coagulation. Immunobiology. 2011; 216: 96-102. [PMID:20399528]
Chauhan S, Forsmark CE. Pain management in chronic pancreatitis: A treatment algorithm. Best Pract Res Clin Gastroenterol. 2010; 24: 323-335. [PMID:20510832]
Gachago C, Draganov PV. Pain management in chronic pancreatitis. World J Gastroenterol. 2008; 14: 3137-3148.
Janot MS, Belyaev O, Kersting S, Chromik AM, Seelig MH, et al. Indications and early outcomes for total pancreatectomy at a high-volume pancreas center. HPB Surg. 2010.
Crippa S, Tamburrino D, Partelli S, Salvia R, Germenia S, et al. Total pancreatectomy: indications, different timing, and perioperative and long-term outcomes. Surgery. 2011; 149: 79-86. [PMID:20494386]
Webb MA, Illouz SC, Pollard CA, Gregory R, Mayberry JF, et al. Islet auto transplantation following total pancreatectomy: a long-term assessment of graft function. Pancreas. 2008; 37: 282-287. [PMID:18815550]
Garcea G, Weaver J, Phillips J, Pollard CA, Ilouz SC, et al. Total pancreatectomy with and without islet cell transplantation for chronic pancreatitis: a series of 85 consecutive patients. Pancreas. 2009; 38: 1-7. [PMID:18665009]
Ansorge C, Regner S, Segersvard R, Strommer L. Early intraperitoneal metabolic changes and protease activation as indicators of pancreatic fistula after pancreaticoduodenectomy. Br J Surg. 2012; 99: 104-111. [PMID:22052299]
Kaphalia BS, Bhopale KK, Kondraganti S, Wu H, Boor PJ, et al. Pancreatic injury in hepatic alcohol dehydrogenase-deficient deer mice after subchronic exposure to ethanol. Toxicol Appl Pharmacol. 2010; 246: 154-62. [PMID:20478324]
Rau B, Schilling MK, Beger HG. Laboratory markers of severe acute pancreatitis. Dig Dis. 2004; 22: 247-257. [PMID:15753607]
Werner J, Hartwig W, Uhl W, Muller C, Buchler MW. Useful markers for predicting severity and monitoring progression of acute pancreatitis. Pancreatology. 2003; 3: 115-127. [PMID:12748420]
Dean MM, Flower RL, Eisen DP, Minchinton RM, Hart DN, et al. Mannose-binding lectin deficiency influences innate and antigen-presenting functions of blood myeloid dendritic cells. Immunology. 2011; 132: 296-305. [PMID:21091907]
Fiane AE, Videm V, Lingaas PS, Heggelund L, Nielsen EW, et al. Mechanism of complement activation and its role in the inflammatory response after thoracoabdominal aortic aneurysm repair. Circulation. 2003; 108: 849-856. [PMID:12900342]
Heath DI, Cruickshank A, Gudgeon AM, Jehanli A, Shenkin A, et al. The relationship between pancreatic enzyme release and activation and the acute-phase protein response in patients with acute pancreatitis. Pancreas. 1995; 10: 347-353. [PMID:7540760]
Garred P, Pressler T, Lanng S, Madsen HO, Moser C, et al. Mannose-binding lectin (MBL) therapy in an MBL-deficient patient with severe cystic fibrosis lung disease. Pediatr Pulmonol. 2002; 33: 201-207. [PMID:11836800]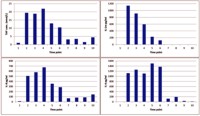 How to Cite
ChungW., EltweriA., GravanteG., ArshadA., PollardC., MetcalfeM., & DennisonA. (2014). Case Report of Mannose-Binding Lectin (MBL) Deficiency and Postoperative Sepsis and Coagulopathy in a Patient Following Total Pancreatectomy for Chronic Pancreatitis. JOP. Journal of the Pancreas, 15(5), 485-488. https://doi.org/10.6092/1590-8577/2330
Copyright (c) 2014 Wen Yuan Chung, Amar M Eltweri, Gianpiero Gravante, Ali Arshad, Cristina A Pollard, Matthew S Metcalfe, Ashley R Dennison
This work is licensed under a Creative Commons Attribution 4.0 International License.
As a member of Publisher International Linking Association, PILA, iMedPub Group's JOP follows the Creative Commons Attribution License and Scholars Open Access publishing policies. Journal of the Pancreas is the Council Contributor Member of Council of Science Editors (CSE) and following the CSE slogan Education, Ethics, and Evidence for Editors.