Dynamic Contrast-Enhanced MRI Findings of Acute Pancreatitis in Ectopic Pancreatic Tissue: Case Report and Review of the Literature
Senthur J Thangasamy

Department of Radiology, University of Massachusetts Memorial Medical Center. Worcester, MA, USA

Larry Zheng

Department of Radiology, University of Massachusetts Memorial Medical Center. Worcester, MA, USA

Lacey Mcintosh

Department of Radiology, University of Massachusetts Memorial Medical Center. Worcester, MA, USA

Paul Lee

Department of Pathology, University of Massachusetts Memorial Medical Center. Worcester, MA, USA

Abhijit Roychowdhury

Department of Radiology, University of Massachusetts Memorial Medical Center. Worcester, MA, USA
Keywords:
Choristoma, Magnetic Resonance Imaging, Pancreas, Pancreatitis, Acute Necrotizing
Abstract
Context Acute pancreatitis in ectopic pancreatic tissue is an uncommon cause of acute abdominal pain and can be difficult to diagnose on imaging. Our aim is to raise awareness and aid in the diagnosis of this entity by highlighting helpful dynamic contrast-enhanced MRI imaging findings. Case report We report a 51-year-old man with acute onset epigastric pain presented to ER. With the presence of elevated serum lipase, the clinical diagnosis of acute pancreatitis was made. Contrast enhanced CT demonstrated normal pancreas and a focal mass at the duodenojejunal flexure, mimicked a neoplasm. Subsequent dynamic contrast enhanced MR images demonstrated enhancement pattern of the lesion similar to the native pancreatic tissue enhancement, a finding raised the possibility of acute pancreatitis in ectopic pancreatic tissue, but tumor was not excluded. Finally, patient undergone surgical bowel resection including the suspected mass that was proved as an ectopic pancreatic tissue on microscopic examination. Conclusion We concluded that findings on dynamic contrast enhanced MR imaging can be characteristic and diagnostic of acute pancreatitis in ectopic pancreatic tissue in the appropriate clinical setting.
Image: Low power view of the jejunal mass biopsy.
Downloads
Download data is not yet available.
References
Peery AF, Dellon ES, Lund J, Crockett SD, McGowan CE, Bulsiewicz WJ, Gangarosa LM et al. Burden of gastrointestinal disease in the United States: 2012 update. Gastroenterology. 2012; 143: 1179-1187. [PMID:22885331]
Tenner S, Baillie J, DeWitt J, Vege SS, Vege SS. American College of Gastroenterology guideline: management of acute pancreatitis. Am J Gastroenterol. 2013; 108: 1400-15; 1416. [PMID:23896955]
Arvanitakis M, Delhaye M, De Maertelaere V, Bali M, Winant C, Coppens E, Jeanmart J, Zalcman M, Van Gansbeke D, Devière J, Matos C. Computed tomography and magnetic resonance imaging in the assessment of acute pancreatitis. Gastroenterology. 2004; 126: 715-23. [PMID:14988825]
London NJ, Neoptolemos JP, Lavelle J, Bailey I, James D. Serial computed tomography scanning in acute pancreatitis: a prospective study. Gut. 1989; 30: 397-403. [PMID:2651228]
Balthazar EJ, Ranson JH, Naidich DP, Megibow AJ, Caccavale R, Cooper MM. Acute Pancreatitis: prognostic value of CT. Radiology. 1985; 156: 767-72. [PMID: 4023241]
Lai EC, Tompkins RK. Heterotopic pancreas. Review of a 26 year experience. Am J Surg. 1986; 151: 697-700. [PMID:3717502]
Wong JC, Robinson C, Jones EC, Harris A, Zwirewich C, Wakefield R, Simons RK, Yoshida EM. Recurrent ectopic pancreatitis of the jejunum and mesentery over a 30-year period. Hepatobiliary Pancreat Dis Int. 2011; 10: 218-20. [PMID:21459732]
Jang KM, Kim SH, Park HJ, Lim S, Kang TW, Lee SJ, Choi D. Ectopic pancreas in upper gastrointestinal tract: MRI findings with emphasis on differentiation from submucosal tumor. Acta Radiol. 2013; 54: 1107-16. [PMID:23858505]
DeBarbosa Castro JJ, Dockerty MB, Waugh JM. Pancreatic heterotopia. Review of the literature and report of 41 authenticated surgical cases, of which 25 were clinically significant. Surg Gynecol Obstet. 1946; 82: 527-542.
Lee JC, Wong KP, Lo SS, Cheng CS, Lau KY. Acute ectopic pancreatitis. Hong Kong Med J. 2008; 14: 501-2. [PMID:19060354]
Rokach A, Izbicki G, Deeb M, Bogot N, Arish N, Hadas-Halperen I, Azulai H, Bohadana A, Golomb E. Ectopic pancreatic pseudocyst and cyst presenting as a cervical and mediastinal mass-case report and review of the literature. Diagn Pathol. 2013; 8: 176. [PMID:24152726]
Ginori A, Vassallo L, Butorano MA, Bettarini F, Di Mare G, Marrelli D. Pancreatic adenocarcinoma in duodenal ectopic pancreas: a case report and review of the literature. Pathologica. 2013; 105: 56-8. [PMID:23946982]
Silva AC, Charles JC, Kimery BD, Wood JP, Liu PT. MR Cholangiopancreatography in the detection of symptomatic ectopic pancreatitis in the small-bowel mesentery. AJR Am J Roentgenol. 2006; 187: W195-7. [PMID:16861511]
Park SH, Han JK, Choi BI, Kim M, Kim YI, Yeon KM, Han MC. Heterotopic pancreas of the stomach: CT findings correlated with pathologic findings in six patients. Abdom Imaging. 2000; 25: 119-23. [PMID:10675449]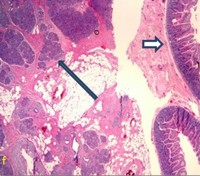 How to Cite
ThangasamyS., ZhengL., McintoshL., LeeP., & RoychowdhuryA. (2014). Dynamic Contrast-Enhanced MRI Findings of Acute Pancreatitis in Ectopic Pancreatic Tissue: Case Report and Review of the Literature. JOP. Journal of the Pancreas, 15(4), 407-410. https://doi.org/10.6092/1590-8577/2390
Copyright (c) 2014 Senthur J Thangasamy, Larry Zheng, Lacey Mcintosh, Paul Lee, Abhijit Roychowdhury
This work is licensed under a Creative Commons Attribution 4.0 International License.
As a member of Publisher International Linking Association, PILA, iMedPub Group's JOP follows the Creative Commons Attribution License and Scholars Open Access publishing policies. Journal of the Pancreas is the Council Contributor Member of Council of Science Editors (CSE) and following the CSE slogan Education, Ethics, and Evidence for Editors.