Isolated Primary Pancreatic Wegener's Granulomatosis: Report of Two Cases
Elissaios Kontis

Institute of Liver Studies, King's Health Partners at King's College Hospital. London, United Kingdom

Niovi Papalexopoulou

King's College London Medical School. London, United Kingdom

Yo Zen

Institute of Liver Studies, King's Health Partners at King's College Hospital. London, United Kingdom

Andreas A Prachalias

Institute of Liver Studies, King's Health Partners at King's College Hospital. London, United Kingdom
Keywords:
Biopsy, Pancreas, Pancreatic Neoplasms, Wegener Granulomatosis
Abstract
Context Chronic inflammatory vasculitis, namely Wegener's granulomatosis, is an autoimmune disease predominantly affecting the respiratory tract and rarely the mucosa of the upper or lower gastrointestinal tract. We report two cases of isolated pancreatic manifestation of Wegener's granulomatosis, mimicking a tumor. Case Reports Two patients, a 57-year-old man and a 68-year-old woman, presented with isolated lesions thought to be pancreatic adenocarcinoma and both underwent surgical resection. On pathology, the lesions were found to be a granulomatous vasculitis and were considered to represent isolated pancreatic Wegener's granulomatosis, in the absence of other clinical features of the disease. Conclusions Benign diseases such as Tuberculosis may mimic pancreatic tumours diagnosed on cross-sectional imaging. Wegener's granulomatosis should be included in the differential diagnosis of an isolated pancreatic mass, in the absence of other cardinal symptoms for malignancy, due to the extensive surgery and risks involved in resection of pancreas.
Image: CT image depicting a bulky "soft tissue density" mass of the tail of the pancreas.
Downloads
Download data is not yet available.
References
Mitchell RN, Schoen FJ. Blood Vessels. In: Kumar V, Abbas AK, Fausto N, Aster JC, eds. Robbins and Cotran: Pathologic Basis of Disease. (8th edition) Saunders Elsevier, Philadelphia, US. 2010; 516-17.
Cojocaru M, Cojocaru IM, Silosi I, Vrabie CD. Gastrointestinal Manifestations in Systemic Autoimmune Diseases. Medica. 2011; 6(1):45-51. [PMID:21977190]
Kemp JA, Arora S, Fawaz K. Recurrent acute pancreatitis as a manifestation of Wegener's granulomatosis. Dig Dis Sci. 1990; 35:912-5. [PMID:2364848]
Matsubayashi H, Seki T, Niki S, Mizumura Y, Taguchi Y, Moriyasu F, Go K. Wegener's granulomatosis with onset of acute pancreatitis and rapid progress. A case report. Pancreatology 2001; 1:263-6. [PMID:12120205]
Stuckey SL, Smart PJ. Wegener's granulomatosis: parotid involvement and associated pancreatitis with C.T. findings. Australas Radiol. 1992; 36:343-6. [PMID:1299199]
Hamilton L, Gaffney K, Andreou A, Saada J. Delayed presentation of Wegener's granulomatosis with pancreatic involvement. Inter J Rheum Dis. 2011; 14(4):e54-e55. [PMID:22004241]
Tinazzi I, Caramaschi P, Parisi A, Faccioli N, Capelli P, Biasi D. Pancreatic granulomatous necrotizing vasculitis: a case report and review of the literature. Rheumatol Int. 2007; 27(10):989-91. [PMID:17265156]
Marroun I, Delevaux I, Andre M, Gavet F, Beaufrere AM, Slim K, Aumaitre O. Pancreatic involvement in Wegener's granulomatosis: a rare and difficult diagnosis. Rev Med Interne. 2006; 27(2):144-7. [PMID:16310290]
Christl SU, Borchard F, Keller R, Engemann R, Fischbach W. Pancreatic tail tumor as an unusual first manifestation of Wegener's disease. Z Gastroenterol. 2004; 42:513-6. [PMID:15190447]
O'Neil KM, Jones DM, Lawson JM. Wegener's granulomatosis masquerading as pancreatic carcinoma. Dig Dis Sci. 1992; 37:702-4. [PMID:1563310]
Valerieva Y, Golemanov B, Tzolova N, Mitova R. Pancreatic mass as an initial presentation of severe Wegener's granulomatosis. Ann Gastroenterol 2013; 26:267-9 [PMID:24714250]
Mukherjee S, Kocher HM, Hutchins RR, Bhattacharya S, Abraham AT. Impact of hospital volume on outcomes for pancreaticoduodenectomy: a single UK HPB centre experience. Eur J Surg Oncol. 2009; 35(7):734-8. [PMID:18547780]
Hruban RH, Iacobuzio-Donahue C. The Pancreas. In: Kumar V, Abbas AK, Fausto N, Aster JC, eds. Robbins and Cotran: Pathologic Basis of Disease. 8th ed. US, Philadelphia: Saunders Elsevier; 2010; 898-903.
Wong JC, Lu DS. Staging of pancreatic adenocarcinoma by imaging studies. Clin Gastroenterol Hepatol. 2008; 6(12):1301-8 [PMID:18948228]
Zakharoca OP, Karmazanovsky GG, Egorov VI. Pancreatic adenocarcinoma: Outstanding problems. World J Gastrointest Surg. 2012; 4(5):104-113. [PMID:22655124]
Peddu P, Quaglia A, Kane PA, Karani JB. Role of imaging in the management of pancreatic mass. Crit Rev Oncol Hematol 2009; 70:12-23. [PMID:18951813]
Seufferlein T, Bachet JB, Van Cutsem E, Rougier P, ESMO Guidelines Working Group. Pancreatic adenocarcinoma: ESMO-ESDO Clinical Practice Guidelines for diagnosis, treatment and follow-up. Ann Oncol 2012; 23 Suppl 7:vii33-40. [PMID:22997452]
National Comprehensive Cancer Network Clinical Practice Guidelines in Oncology (2012). Pancreatic Adenocarcinoma, Version 2.2012. Available at: http://www.nccn.org/professionals/physician_gls/pdf/pancreatic.pdf (accessed 24/02/2014).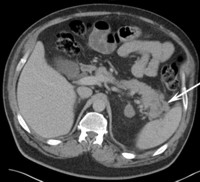 How to Cite
KontisE., PapalexopoulouN., ZenY., & PrachaliasA. (2014). Isolated Primary Pancreatic Wegener's Granulomatosis: Report of Two Cases. JOP. Journal of the Pancreas, 15(4), 403-406. https://doi.org/10.6092/1590-8577/2408
Copyright (c) 2014 Elissaios Kontis, Niovi Papalexopoulou, Yo Zen, Andreas A Prachalias
This work is licensed under a Creative Commons Attribution 4.0 International License.
As a member of Publisher International Linking Association, PILA, iMedPub Group's JOP follows the Creative Commons Attribution License and Scholars Open Access publishing policies. Journal of the Pancreas is the Council Contributor Member of Council of Science Editors (CSE) and following the CSE slogan Education, Ethics, and Evidence for Editors.