Fluid Genetic Analyses Predict the Biological Behavior of Pancreatic Cysts: Three-year Experience
Jonathan S Kung

Department of Medicine, Harbor UCLA Medical Center. Torrance, CA, USA

Oscar A Lopez

David Geffen School of Medicine at UCLA. Los Angeles, CA, USA

Erin E McCoy

Department of Medicine, Harbor UCLA Medical Center. Torrance, CA, USA

Sofiya Reicher

Department of Medicine, Harbor UCLA Medical Center. Torrance, CA, USA. David Geffen School of Medicine at UCLA. Los Angeles, CA, USA

Viktor E Eysselein

Department of Medicine, Harbor UCLA Medical Center. Torrance, CA, USA. David Geffen School of Medicine at UCLA. Los Angeles, CA, USA
Keywords:
Cyst Fluid, GNAS protein, human, KRAS protein, Loss of Heterozygosity, Pancreatic Cyst
Abstract
Context EUS with fine-needle aspiration and cyst fluid analysis is routinely used to evaluate pancreatic cysts; however, the clinical course of these lesions is often not well defined. Objective Our study evaluated whether EUS imaging, cyst fluid CEA, and cytology combined with cyst fluid genetic analyses for allelic imbalance and genetic mutations can be used to better predict the malignant potential of pancreatic cysts. Patients Seventy-two patients underwent EUS-FNA for evaluation of pancreatic cysts from 2010 to 2013. Design In addition to routine cytology and fluid CEA, the aspirated cyst fluid was analyzed for the presence of KRAS mutations, GNAS mutations, and allelic imbalance (loss of heterozygosity). Patients were followed up to 3 years. Setting Tertiary care center. Results EUS revealed 39 IPMNs, 17 mucinous cystic neoplasms, and 16 serous cystadenomas. Twenty two of 56 patients with IPMNs or mucinous cystic neoplasms had pancreatic cysts with abnormal genetic fluid analysis. Of those 22 patients, 18 contained a non-benign clinical diagnosis. This is consistent with cyst fluid genetic analysis carrying a sensitivity and specificity of 75% and 88%, respectively, and a positive predictive value of 82%.There was also a significant negative predictive value of 81%. For mucinous cystic neoplasms the negative predictive value was 100%. Conclusion Genetic mutations and allelic imbalance detected in pancreatic mucinous cysts are associated with progression to malignancy and could be helpful as predictors of biological behavior of pancreatic cysts. In our experience, genetic analyses when used in combination with EUS imaging, cytology, and fluid CEA could serve as a guide to clinical decisions regarding cyst surgical resection and follow up.
Image: Pancreatic cysts: flow chart.
Downloads
Download data is not yet available.
References
Fernández-del Castillo C, Targarona J, Thayer SP, Rattner DW, Brugge WR, Warshaw AL. Incidental pancreatic cysts: clinicopathologic characteristics and comparison with symptomatic patients.. Arch Surg. 2003; 138: 433-434. [PMID: 12686529]
Talukdar R, Reddy DN. Treatment of Pancreatic Cystic Neoplasm: Surgery or Conservative? Clinical Gastroenterology and Hepatology 2014; 12: 145–151. [PMID: 23978346]
Ahmad NA, Kochman ML, Brensinger C, Brugge WR, Faigel DO, Gress FG, Kimmey MB, et al. Interobserver agreement among endosonographers for the diagnosis of neoplastic versus non-neoplastic pancreatic cystic lesions. Gastrointest Endosc. 2003; 58:59–64. [PMID: 12838222]
Brugge WR, Lewandrowski K, Lee-Lewandrowski E, Centeno BA, Szydlo T, Regan S, del Castillo CF,et al. Diagnosis of pancreatic cystic neoplasms (a report of the cooperative pancreatic cyst study). Gastroenterology 2004; 126:1330–1336. [PMID: 15131794]
Khalid A, McGrath KM, Zahid M, Wilson M, Brody D, Swalsky P, Moser AJ, et al. The role of pancreatic cyst fluid molecular analysis in predicting cyst pathology. Clin Gastroenterol Hepatol. 2005; 3:967–973. [PMID: 16234041]
Tanaka M, Chari S, Adsay V, Fernandez-del Castillo C, Falconi M, Shimizu M, Yamaguchi K, et al. International consensus guidelines for management of intraductal papillary mucinous neoplasms and mucinous cystic neoplasms of the pancreas. Pancreatology 2006; 6:17-32. [PMID: 16327281]
Tanaka M, Fernández-del Castillo C, Adsay V, Chari S, Falconi M, Jang JY, Kimura W, et al. International consensus guidelines 2012 for the management of IPMN and MCN of the pancreas. Pancreatology 2012; 12: 183–197. [PMID: 22687371]
Pitman MB, Deshpande V. Endoscopic ultrasound-guided fine needle aspiration cytology of the pancreas: a morphological and multimodal approach to the diagnosis of solid and cystic mass lesions. Cytopathology 2007; 18:331-347. [PMID: 17559566]
Valsangkar NP, Morales-Oyarvide V, Thayer SP, Ferrone CR, Wargo JA, Warshaw AL, Fernández-del Castillo C. 851 resected cystic tumors of the pancreas. A 33-year experience at the Massachusetts General Hospital. Surgery 2012; 152 (Suppl 1): S4–S12. [PMID: 22770958]
Fernandez-del Castilo C. Mucinous cystic neoplasms. J Gastrointest Surg 2008; 12: 411–413.
Sperti C, Beltrame V, Milanetto A, Moro M, Pedrazzoli S. Parenchyma-sparing pancreatectomies for benign or border-line tumors of the pancreas. World J Gastrointest Surg 2010; 2: 272–281. [PMID: 2999190]
Salvia R, Fernández-del Castillo C, Bassi C, Thayer SP, Falconi M, Mantovani W, Pederzoli P, et al. Main-duct intraductal papillary mucinous neoplasms of the pancreas: clinical predictors of malignancy and long-term survival following resection. Ann Surg. 2004; 239: 678–687. [PMID: 1356276].
Walsh RM, Vogt DP, Henderson JM, Hirose K, Mason T, Bencsath K, Hammel J, et al. Management of suspected pancreatic cystic neoplasms based on cyst size. Surgery. 2008; 144: 677–685. [PMID: 18847654].
Rockacy MJ, Zahid M, McGrath KM, Fasanella KE, Khalid A. Association Between KRAS Mutation, Detected in Pancreatic Cyst Fluid, and Long-term Outcomes of Patients. Clinical Gastroenterology and Hepatology 2013; 11: 425–429. [PMID: 23267865].
Wu J, Matthaei H, Maitra A, Molin MD, Wood LD, Eshleman JR, Goggins M, et al. Recurrent GNAS mutations define an unexpected pathway for pancreatic cyst development. Sci Transl Med. 2011; 3: 92ra66. [PMID: 3160649].
Siddiqui AA, Kowalski TE, Kedika R, Roy A, Loren DE, Ellsworth E, Adler D. EUS-guided pancreatic fluid aspiration for DNA analysis of KRAS and GNAS mutations for the evaluation of pancreatic cystic neoplasia: a pilot study. Gastrointest Endosc. 2013. 77: 669-670. [PMID: 23498145].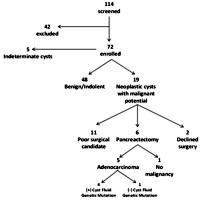 How to Cite
KungJ., LopezO., McCoyE., ReicherS., & EysseleinV. (2014). Fluid Genetic Analyses Predict the Biological Behavior of Pancreatic Cysts: Three-year Experience. JOP. Journal of the Pancreas, 15(5), 427-432. https://doi.org/10.6092/1590-8577/2426
Section
ORIGINAL ARTICLES
Copyright (c) 2014 Jonathan S Kung, Oscar A Lopez, Erin E McCoy, Sofiya Reicher, Viktor E Eysselein
This work is licensed under a Creative Commons Attribution 4.0 International License.
As a member of Publisher International Linking Association, PILA, iMedPub Group's JOP follows the Creative Commons Attribution License and Scholars Open Access publishing policies. Journal of the Pancreas is the Council Contributor Member of Council of Science Editors (CSE) and following the CSE slogan Education, Ethics, and Evidence for Editors.