Nicotine Alters the Proteome of Two Human Pancreatic Duct Cell Lines
Joao A Paulo

Department of Cell Biology, Harvard Medical School, Boston, USA
Keywords:
Amyloid, Nicotine, Pancreatic Ducts, Pancreatic Neoplasms, Receptors, Nicotinic
Abstract
Context Cigarette smoking is a known risk factor of pancreatic disease. Nicotine - a major cigarette tobacco component - can traffic through the circulatory system and may induce fibrosis and metastasis, hallmarks of chronic pancreatitis and pancreatic adenocarcinoma, respectively. However, at the biomolecular level, particularly in pancreatic research, the effects of nicotine remain unresolved. Methods The effects of nicotine on the proteomes of two pancreatic duct cell lines–an immortalized normal cell line (HPNE) and a cancer cell line (PanC1)- were investigated using mass spectrometry-based proteomics. For each cell line, the global proteomesof cells exposed to nicotine for 24 hrswere compared with untreated cells in triplicate using 6-plex tandem mass tag-based isobaric labeling techniques. Results Over 5,000 proteins were detectedper cell line. Of these, over 900 proteins were differentially abundant with statistical significance (corrected P-value <0.01) upon nicotine treatment, 57 of which were so in both cell lines. Amyloid precursor protein, previously observed to increase expression in pancreatic stellate cells when exposed to nicotine, was also up-regulated in both cell lines.In general, the two cell lines varied in the classes of proteins altered by nicotine treatment, supporting published evidence that nicotine may play different roles in the initiation and progression of pancreatic disease. Conclusions Understanding the underlying mechanisms associating nicotine with pancreatic function is paramount to intervention aiming to retard, arrest, or ameliorate pancreatic disease.
Image: Heat map of 315 proteins that were statistically significant in the HPNE cell line.
Downloads
Download data is not yet available.
References
Hariharan D, Saied A, Kocher HM. Analysis of mortality rates for pancreatic cancer across the world. HPB (Oxford). 2008; 10: 58-62. [PMID: 18695761].
Fuchs CS, Colditz GA, Stampfer MJ, Giovannucci EL, Hunter DJ, Rimm EB, Willett WC, Speizer FE. A prospective study of cigarette smoking and the risk of pancreatic cancer. Arch Intern Med. 1996; 156: 2255-2260. [PMID: 8885826].
Grapin-Botton A. Ductal cells of the pancreas. Int J Biochem Cell Biol. 2005; 37: 504-510. [PMID: 15618005].
Yadav D, Hawes RH, Brand RE, Anderson MA, Money ME, Banks PA, et al. Alcohol consumption, cigarette smoking, and the risk of recurrent acute and chronic pancreatitis. Arch Intern Med. 2009; 169: 1035-1045. [PMID: 19506173].
Law R, Parsi M, Lopez R, Zuccaro G, Stevens T. Cigarette smoking is independently associated with chronic pancreatitis. Pancreatology. 2010; 10: 54-59. [PMID: 20332662].
Lin Y, Tamakoshi A, Hayakawa T, Ogawa M, Ohno Y. Cigarette smoking as a risk factor for chronic pancreatitis: a case-control study in Japan. Research Committee on Intractable Pancreatic Diseases. Pancreas. 2000; 21: 109-114. [PMID: 10975702].
Prokopczyk, B, Hoffmann D, Bologna M, Cunningham AJ, Trushin N, Akerkar S, Boyiri T. et al. Identification of tobacco-derived compounds in human pancreatic juice. Chem Res Toxicol. 2002; 15: 677-85. [PMID: 12018989].
National Toxicology Program. Tobacco-related exposures: tobacco smoking. Report on carcinogens: carcinogen profiles. 2011; 12: 408-410.
Chowdhury P, Rayford PL. Smoking and pancreatic disorders. Eur J Gastroenterol Hepatol. 2000; 12: 869-877.[PMID: 10958214].
Changeux JP. Nicotine addiction and nicotinic receptors: lessons from genetically modified mice. Nat Rev Neurosci. 2010; 11: 389-401.[PMID: 20485364].
Hu N, Guo R, Han X, Zhu B, Ren J. Cardiac-specific overexpression of metallothionein rescues nicotine-induced cardiac contractile dysfunction and interstitial fibrosis. Toxicol Lett. 2011; 202: 8-14.[PMID: 21238558].
Rajiyah G, Agarwal R, Avendano G, Lyons M, Soni B, Regan TJ. Influence of nicotine on myocardial stiffness and fibrosis during chronic ethanol use. Alcohol Clin Exp Res. 1996; 20: 985-989. [PMID: 8892516].
Goette A, Lendeckel U, Kuchenbecker A, Bukowska A, Peters B, Klein HU, Huth C, Röcken C. Cigarette smoking induces atrial fibrosis in humans via nicotine. Heart. 2007; 93: 1056-1063. [PMC: 1955003].
Huang LT, Chou HC, Lin CM, Yeh TF, Chen CM, et al. Maternal Nicotine Exposure Exacerbates Neonatal Hyperoxia-Induced Lung Fibrosis in Rats. Neonatology. 2014; 106: 94-101. [PMID: 24851831].
Dasgupta C, Xiao D, Xu Z, Yang S, Zhang L. Developmental nicotine exposure results in programming of alveolar simplification and interstitial pulmonary fibrosis in adult male rats. Reprod Toxicol. 2012; 34: 370-377. [PMID: 22691361].
Jensen K, Afroze S, Ueno Y, Rahal K, Frenzel A, Sterling M, Guerrier M, et al. (2013) Chronic nicotine exposure stimulates biliary growth and fibrosis in normal rats. Dig Liver Dis. 45: 754-761. [PMID: 23587498].
Al-Wadei MH, Al-Wadei HA, Schuller HM. Pancreatic Cancer Cells and Normal Pancreatic Duct Epithelial Cells Express an Autocrine Catecholamine Loop that Is Activated by Nicotinic Acetylcholine Receptors alpha3, alpha5, and alpha7. Mol Cancer Res. 2012; 10: 239-49. [PMID: 22188668].
Browne CJ, Sharma N, Waters KA, Machaalani R. The effects of nicotine on the alpha-7 and beta-2 nicotinic acetycholine receptor subunits in the developing piglet brainstem. Int J Dev Neurosci. 2010; 28: 1-7. [PMID: 19896527].
Paulo JA, Brucker WJ, Hawrot E. Proteomic analysis of an alpha7 nicotinic acetylcholine receptor interactome. J Proteome Res. 2009; 8: 1849-1858. [PMID: 19714875].
Momi N, Ponnusamy MP, Kaur S, Rachagani S, Kunigal SS, Chellappan S, Ouellette MM, Batra SK. Nicotine/cigarette smoke promotes metastasis of pancreatic cancer through α7nAChR-mediated MUC4 upregulation. Oncogene. 2013; 32: 1384-1395. [PMID: 22614008].
Chu KM, Cho CH, Shin VY. Nicotine and gastrointestinal disorders: its role in ulceration and cancer development. Curr Pharm Des. 2013; 19: 5-10. [PMID: 22950507].
van Geenen EJ, Smits MM, Schreuder TC, van der Peet DL, Bloemena E, Mulder CJ. Smoking is related to pancreatic fibrosis in humans. Am J Gastroenterol. 2011; 106: 1161-1166. [PMID: 21577244].
Löhr M1, Trautmann B, Göttler M, Peters S, Zauner I, Maier A, Klöppel G, Liebe S, Kreuser ED. Expression and function of receptors for extracellular matrix proteins in human ductal adenocarcinomas of the pancreas. Pancreas. 1996; 12: 248-259. [PMID: 8830331].
Khoi PN, Park JS, Kim NH, Jung YD. Nicotine stimulates urokinase-type plasminogen activator receptor expression and cell invasiveness through mitogen-activated protein kinase and reactive oxygen species signaling in ECV304 endothelial cells. Toxicol Appl Pharmacol. 2012; 259: 248-256. [PMID: 22261521].
Wang Z, Wu W, Fang X, Wang Y, Xiao C, Zhao R, Wang L, Qiao Z. Protein expression changed by nicotine in rat vascular smooth muscle cells. J Physiol Biochem. 2007; 63: 161-169. [PMID: 17933390].
Lee KM, Nguyen C, Ulrich AB, Pour PM, Ouellette MM. Immortalization with telomerase of the Nestin-positive cells of the human pancreas. Biochem Biophys Res Commun. 2003; 301: 1038-1044. [PMID: 12589817].
Lieber M, Mazzetta J, Nelson-Rees W, Kaplan M, Todaro G. Establishment of a continuous tumor-cell line (panc-1) from a human carcinoma of the exocrine pancreas. Int J Cancer. 1975; 15: 741-747. [PMID: 1140870].
Paulo JA, Urrutia R, Banks PA, Conwell DL, Steen H. Proteomic analysis of a rat pancreatic stellate cell line using liquid chromatography tandem mass spectrometry (LC-MS/MS). J Proteomics. 2011; 75: 708-717. [PMID: 21968429].
Paulo JA, Urrutia R, Banks PA, Conwell DL, Steen H. Proteomic analysis of an immortalized mouse pancreatic stellate cell line identifies differentially-expressed proteins in activated vs nonproliferating cell states. J Proteome Res. 2011; 10: 4835-4844. [PMID: 21838295].
Ting L, Rad R, Gygi SP, Haas W. MS3 eliminates ratio distortion in isobaric multiplexed quantitative proteomics. Nat Methods. 2011; 8: 937-940. [PMID: 21963607].
Elias JE, Gygi SP. Target-decoy search strategy for mass spectrometry-based proteomics. Methods Mol Biol. 2010; 604: 55-71. [PMID: 20013364].
Huttlin EL, Jedrychowski MP, Elias JE, Goswami T, Rad R, Beausoleil SA, Villén J, Haas W, et al. A tissue-specific atlas of mouse protein phosphorylation and expression. Cell. 2010; 143: 1174-1189. [PMID: 21183079].
Benjamini Y, Hochberg Y. Controlling the false discovery rate - a practical and powerful approach to multiple testing. Journal of the Royal Statistical Society Series B-Methodological. 1995; 57: 289-300.
Saeed AI, Sharov V, White J, Li J, Liang W, Bhagabati N, Braisted J, Klapa M, et al. TM4: a free, open-source system for microarray data management and analysis. Biotechniques. 2003; 34: 374-378. [PMID: 12613259].
Huang da W, Sherman BT, Lempicki RA. Systematic and integrative analysis of large gene lists using DAVID bioinformatics resources. Nat Protoc. 2009; 4: 44-57. [PMID: 19131956].
Mudbhary R, Hoshida Y, Chernyavskaya Y, Jacob V, Villanueva A, Fiel MI, Chen X, Kojima K. et al. UHRF1 overexpression drives DNA hypomethylation and hepatocellular carcinoma. Cancer Cell. 2014; 25: 196-209. [PMID: 24486181].
Jensen K, Afroze S, Munshi MK, Guerrier M, Glaser SS. Mechanisms for nicotine in the development and progression of gastrointestinal cancers. Transl Gastrointest Cancer. 2012; 1: 81-87. [PMID: 22701817].
Dasgupta P, Rizwani W, Pillai S, Kinkade R, Kovacs M, Rastogi S, Banerjee S, Carless M, et al. Nicotine induces cell proliferation, invasion and epithelial-mesenchymal transition in a variety of human cancer cell lines. Int J Cancer. 2009; 124: 36-45. [PMID: 18844224].
Xu Y, Zhang Y, Cardell LO. Nicotine Exaggerates LPS-Induced Airway Hyperreactivity via JNK-Mediated Up-regulation of Toll-Like Receptor 4. Am J Respir Cell Mol Biol. 2014; 51: 370-379. [PMID: 24669857].
Jonnala RR, Terry AV Jr, Buccafusco JJ. Nicotine increases the expression of high affinity nerve growth factor receptors in both in vitro and in vivo. Life Sci. 2002; 70: 1543-1554. [PMID: 11895105].
Arany I1, Clark J, Reed DK, Juncos LA. Chronic nicotine exposure augments renal oxidative stress and injury through transcriptional activation of p66shc. Nephrol Dial Transplant. 2013; 28: 1417-1425. [PMID: 23328708].
Banerjee S, Chattopadhyay K, Chhabra JK, Chattopadhyay B. Protein dependent fate of hepatic cells under nicotine induced stress and curcumin ameliorated condition. Eur J Pharmacol. 2012; 684: 132-145. [PMID: 22381069].
Shimizu K. Mechanisms of pancreatic fibrosis and applications to the treatment of chronic pancreatitis. J Gastroenterol. 2008; 43: 823-832. [PMID: 19012035].
Apte MV, Wilson JS. Mechanisms of pancreatic fibrosis. Dig Dis. 2004: 22: 273-279. [PMID: 15753610].
Masamune A, Kikuta K, Watanabe T, Satoh K, Hirota M, Hamada S, Shimosegawa T. Fibrinogen induces cytokine and collagen production in pancreatic stellate cells. Gut. 2009; 58: 550-559. [PMID: 19052021].
Apte MV, Haber PS, Darby SJ, Rodgers SC, McCaughan GW, Korsten MA, Pirola RC, Wilson JS. Pancreatic stellate cells are activated by proinflammatory cytokines: implications for pancreatic fibrogenesis. Gut. 1999; 44: 534-541. [PMID: 10075961].
Kamer AR, El-Ghorab N, Marzec N, Margarone JE 3rd, Dziak R. Nicotine induced proliferation and cytokine release in osteoblastic cells. Int J Mol Med. 2006; 17: 121-127. [PMID: 16328020].
Hakki A, Hallquist N, Friedman H, Pross S. Differential impact of nicotine on cellular proliferation and cytokine production by LPS-stimulated murine splenocytes. Int J Immunopharmacol. 2000; 22: 403-410. [PMID: 10727751].
Walsh DM, Klyubin I, Fadeeva JV, Cullen WK, Anwyl R, Wolfe MS, Rowan MJ, Selkoe DJ. Naturally secreted oligomers of amyloid beta protein potently inhibit hippocampal long-term potentiation in vivo. Nature. 2002; 416: 535-539. [PMID: 11932745].
Hardy J, Selkoe DJ. The amyloid hypothesis of Alzheimer's disease: progress and problems on the road to therapeutics. Science. 2002; 297: 353-356. [PMID: 12130773].
Dineley KT, Westerman M, Bui D, Bell K, Ashe KH, Sweatt JD. Beta-amyloid activates the mitogen-activated protein kinase cascade via hippocampal alpha7 nicotinic acetylcholine receptors: In vitro and in vivo mechanisms related to Alzheimer's disease. J Neurosci. 2001; 21: 4125-4133. [PMID: 11404397].
Wang HY, Lee DH, D'Andrea MR, Peterson PA, Shank RP, Reitz AB. beta-Amyloid(1-42) binds to alpha7 nicotinic acetylcholine receptor with high affinity. Implications for Alzheimer's disease pathology. J Biol Chem. 2000; 275: 5626-5632. [PMID: 10681545].
Hoffmann J, Twiesselmann C, Kummer MP, Romagnoli P, Herzog V. A possible role for the Alzheimer amyloid precursor protein in the regulation of epidermal basal cell proliferation. Eur J Cell Biol. 2000; 79: 905-914. [PMID: 11152291].
Sandbrink R, Masters CL, Beyreuther K. Beta A4-amyloid protein precursor mRNA isoforms without exon 15 are ubiquitously expressed in rat tissues including brain, but not in neurons. J Biol Chem. 1994; 269: 1510-1517. [PMID: 8288617].
Ge YW, Lahiri DK. Regulation of promoter activity of the APP gene by cytokines and growth factors: implications in Alzheimer's disease. Ann N Y Acad Sci. 2002; 973: 463-467. [PMID: 12485912].
Paulo JA, Urrutia R, Kadiyala V, Banks P, Conwell DL, Steen H. Cross-species analysis of nicotine-induced proteomic alterations in pancreatic cells. Proteomics. 2013; 13: 1499-1512. [PMID: 23456891].
Hansel DE, Rahman A, Wehner S, Herzog V, Yeo CJ, Maitra A. Increased expression and processing of the Alzheimer amyloid precursor protein in pancreatic cancer may influence cellular proliferation. Cancer Res. 2003; 63: 7032-7037. [PMID: 14612490].
Barry PH, Lynch JW. Ligand-gated channels. IEEE Trans Nanobioscience. 2005; 4: 70-80. [PMID: 15816173].
Heeschen C, Weis M, Aicher A, Dimmeler S, Cooke JP. A novel angiogenic pathway mediated by non-neuronal nicotinic acetylcholine receptors. J Clin Invest. 2002; 110: 527-536. [PMID: 12189247].
Macklin KD, Maus AD, Pereira EF, Albuquerque EX, Conti-Fine BM. Human vascular endothelial cells express functional nicotinic acetylcholine receptors. J Pharmacol Exp Ther. 1998; 287: 435-439. [PMID: 9765366].
Sharma G, Vijayaraghavan S. Nicotinic receptor signaling in nonexcitable cells. J Neurobiol. 2002; 53: 524-534. [PMID: 12436417].
Arredondo J, Hall LL, Ndoye A, Nguyen VT, Chernyavsky AI, Bercovich D, Orr-Urtreger A, Beaudet AL. Central role of fibroblast alpha3 nicotinic acetylcholine receptor in mediating cutaneous effects of nicotine. Lab Invest. 2003; 83: 207-225. [PMID: 12594236].
Mai H, May WS, Gao F, Jin Z, Deng X. A functional role for nicotine in Bcl2 phosphorylation and suppression of apoptosis. J Biol Chem. 2003; 278: 1886-1891. [PMID: 12421819].
Chowdhury P, Udupa KB. Effect of nicotine on exocytotic pancreatic secretory response: role of calcium signaling. Tob Induc Dis. 2013; 11: 1. [PMID: 23327436].
Sevenich L, Schurigt U, Sachse K, Gajda M, Werner F, Müller S, Vasiljeva O, Schwinde A, et al. Synergistic antitumor effects of combined cathepsin B and cathepsin Z deficiencies on breast cancer progression and metastasis in mice. Proc Natl Acad Sci U S A. 2010; 107: 2497-2502. [PMID: 20133781].
Masamune A, Watanabe T, Kikuta K, Shimosegawa T. Roles of pancreatic stellate cells in pancreatic inflammation and fibrosis. Clin Gastroenterol Hepatol. 2009; 7: S48-54. [PMID: 19896099].
Kolodecik T, Shugrue C, Ashat M, Thrower EC. Risk factors for pancreatic cancer: underlying mechanisms and potential targets. Front Physiol. 2014; 4: 415. [PMID: 24474939].
Baker CH, Trevino JG, Summy JM, Zhang F, Caron A, Nesbit M, Gallick GE, Fidler IJ. Inhibition of PDGFR phosphorylation and Src and Akt activity by GN963 leads to therapy of human pancreatic cancer growing orthotopically in nude mice. Int J Oncol. 2006; 29: 125-138. [PMID: 16773192].
Shin VY, Wu WK, Chu KM, Koo MW, Wong HP, Lam EK, Tai EK, Cho CH. Functional role of beta-adrenergic receptors in the mitogenic action of nicotine on gastric cancer cells. Toxicol Sci. 2007; 96: 21-29. [PMID: 17003101].
Wei PL, Kuo LJ, Huang MT, Ting WC, Ho YS, Wang W, An J, Chang YJ. Nicotine enhances colon cancer cell migration by induction of fibronectin. Ann Surg Oncol. 2011; 18: 1782-1790. [PMID: 21210228].
Russell MA, Jarvis M, Iyer R, Feyerabend C. Relation of nicotine yield of cigarettes to blood nicotine concentrations in smokers. Br Med J. 1980; 280: 972-976. [PMID: 7417765].
Dasgupta P, Rizwani W, Pillai S, Kinkade R, Kovacs M, Rastogi S, Banerjee S, Carless M, et al. Nicotine induces cell proliferation, invasion and epithelial-mesenchymal transition in a variety of human cancer cell lines. International journal of cancer. Journal international du cancer. 2009; 124: 36-45.
Soeda J, Morgan M, McKee C, Mouralidarane A, Lin C, Roskams T, Oben JA. Nicotine induces fibrogenic changes in human liver via nicotinic acetylcholine receptors expressed on hepatic stellate cells. Biochemical and biophysical research communications. 2012; 417: 17-22.
Ebhardt HA. Selected reaction monitoring mass spectrometry: a methodology overview. Methods Mol Biol. 2014; 1072: 209-222. [PMID: 24136525].
Wasinger VC, Zeng M, Yau Y. Current status and advances in quantitative proteomic mass spectrometry. Int J Proteomics. 2013: 180605. [PMID: 23533757].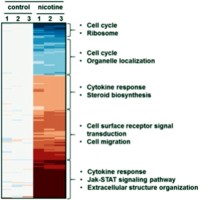 How to Cite
PauloJ. (2014). Nicotine Alters the Proteome of Two Human Pancreatic Duct Cell Lines. JOP. Journal of the Pancreas, 15(5), 465-474. https://doi.org/10.6092/1590-8577/2559
Section
ORIGINAL ARTICLES
Copyright (c) 2014 Joao A Paulo
This work is licensed under a Creative Commons Attribution 4.0 International License.
As a member of Publisher International Linking Association, PILA, iMedPub Group's JOP follows the Creative Commons Attribution License and Scholars Open Access publishing policies. Journal of the Pancreas is the Council Contributor Member of Council of Science Editors (CSE) and following the CSE slogan Education, Ethics, and Evidence for Editors.