The Role of Endoscopic Ultrasound in Primary Pancreatic Lymphoma Presented with Acute Pancreatitis: A Case Report
Seyed Hassan Abedi

Shahid Beheshti University of Medical Sciences, Taleghani Hospital. Tehran, Iran

Alireza Ahmadzadeh

Shahid Beheshti University of Medical Sciences, Taleghani Hospital. Tehran, Iran

Ali Nikmanesh

Shahid Beheshti University of Medical Sciences, Taleghani Hospital. Tehran, Iran

Amir Houshang Mohammad Alizadeh

Shahid Beheshti University of Medical Sciences, Taleghani Hospital. Tehran, Iran
Keywords:
Adenocarcinoma, Lymphoma, Pancreas, Pancreatic Neoplasms
Abstract
Context Primary pancreatic lymphoma (PPL) is rare but manageable malignant tumor of the pancreas which may be confused with pancreatic adenocarcinoma. Case report We report a 38 year-old smoker man with IVDA and history of B (inactive carrier), C (Ia genotype) hepatitis and negative for HIV admitted to our hospital because of nausea, vomiting, epigastric and RUQ pain as a result of long period of alcohol consumption. Due to high amount of amylase (480 U/L) and lipase (326 U/L) Pancreatitis was diagnosed. Four days after admission CT was done that showed enhancement a large tumor of the head of the pancreas. Endoscopic ultrasound (EU) revealed diffusely enlarged of pancreas. There was a mixed echoic mass lesion 37-50 mm at the head of pancreas (R/O walled off necrosis) with adhesion to portal vein and SMV. On the other hand the CBD was 9 mm. Abdominal MRI and MRCP for patient was done. The intra-hepatic bile ducts, main hepatic ducts, CHD and CBD were mildly dilated and displaced to the right side by a large lobulated mass (160×112×130 mm) of pancreatic head with low signal intensity on T1W images and high intensity on T2W images. we did EUS-FNA and there was a mixed echotic lesion (38-40 mm) adhered to head of pancreas with invasion to portal vein, SMA and SMV. The diagnosis of pancreatic lymphoma was established by immunohistochemical study and the assessment of the neoplastic cells revealed B cell lymphoma phenotypes. Conclusion Herein we present an interesting 38 year- old man with pancreas head tumor. Primary pancreatic lymphoma is almost never suspected clinically. It is usually diagnosed by imaging and histological methods. 
Image: Enlarged pancreas and echoic mass lesion.
Downloads
Download data is not yet available.
References
Behrns KE, Sarr MG, Strickler JG. Pancreatic lymphoma: is it a surgical disease? Pancreas. 1994; 9: 662-7. [PMID: 7809023]
Zucca E, Roggero E, Bertoni F, Cavalli F. Primary extranodal non-Hodgkin's lymphomas. Part Gastrointestinal, cutaneous, and genitourinary lymphomas. Ann Oncol. 1997; 8: 727-37. [PMID: 9332679]
Freeman C, Berg JW, Cutler SJ. Occurrence and prognosis of extranodal lymphomas. Cancer. 1972 ;29:252-60. [PMID:5007387]
Baylor SM, Berg JW. Cross-classification and survival characteristics of 5,000 cases of cancer of the pancreas. J Surg Oncol. 1973; 5:335-358.
Nayer H, Weir EG, Sheth S, Ali SZ. Primary pancreatic lymphomas: a cytopathologic analysis of a rare malignancy. Cancer. 2004;102: 315-21. [PMID:15386314]
Grimison PS, Chin MT, Harrison ML, Goldstein D. Primary pancreatic lymphoma--pancreatic tumours that are potentially curable without resection, a retrospective review of four cases. BMC Cancer. 2006; 6:117. [PMID:16674812]
Piesman M, Forcione DG. A case of pancreatic lymphoma. Med Gen Med. 2007;9: 32.
Liakakos T, Misiakos EP, Tsapralis D, Nikolaou I, Karatzas G, Macheras A. A role for surgery in primary pancreatic B-cell lymphoma: a case report. J Med Case Rep. 2008;2:167.
Rose JF, Jie T, Usera P, Ong ES. Pancreaticoduodenectomy for primary pancreatic lymphoma. Gastrointest Cancer Res. 2012 Jan; 5:32-4. [PMID:22574235]
Volmar KE, Routbort MJ, Jones CK, Xie HB. Primary pan- creatic lymphoma evaluated by fine-needle aspiration: findings in 14 cases. Am J Clin Pathol. 2004; 121: 898-903. [PMID:15198364]
Reed K, Vose PC, Jarstfer BS. Pancreatic cancer: 30 year review (1947 to 1977). Am J Surg. 1979; 138: 929-933. [PMID:92204]
Nishimura R, Takakuwa T, Hoshida Y, Tsujimoto M, Aozasa K. Primary pancreatic lymphoma: clinicopathological analysis of 19 cases from Japan and review of the literature. Oncology. 2001; 60: 322-329. [PMID:11408800]
Saif MW. Primary pancreatic lymphomas. J Pancreas 2006; 7: 262-273.
Misdraji J, Fernandez del Castillo C, Ferry JA. Follicle center lymphoma of the ampulla of Vater presenting with jaundice: report of a case. Am J Surg Pathol. 1997; 21: 484-488. [PMID:9130997]
Dawson IM, Cornes JS, Morson BC. Primary malignant lymphoid tumours of the intestinal tract. Report of 37 cases with a study of factors influencing prognosis. Br J Surg. 1961; 49: 80-9. [PMID:13884035]
Bouvet M, Staerkel GA, Spitz FR, et al. Primary pancreatic lymphoma. Surgery. 123: 382-390, 1998.
Goldschmiedt M, Gutta K. Other tumors and diseases of the pancreas. In: Feldman M, S charschmidt BF, S leisenger MH, (Eds). Gastrointestinal and Liver Diseases. 6th ed., Philadelphia: W.B. Saunders Co., pp. 898-899, 1998.
Alexander RE, Nakeeb A, Sandrasegaran K, Robertson MJ, An C, Al-Haddad MA, et al. Primary pancreatic follicle center-derived lymphoma masquerading as carcinoma. Gastroenterol Hepatol (N Y). 2011; 7:834-8. [PMID:22347825]
Hoefs JC, Renner IG, Askhcavai M, et al. Hepatitis B surface antigen in pancreatic and biliary secretions. Gastroenterology. 1980; 79:191-194. [PMID:7399225]
Yoshimura M, Sakurai I, Shimoda T, et al. Detection of HBsAg in the pancreas. Acta Pathol Jpn. 1981; 31:711-717. [PMID:7025575]
Shimoda T, Shikata T, Karasawa T, et al. Light microscopic localization of hepatitis B virus antigens in the human pancreas: Possibility of multiplication of hepatitis B virus in the human pancreas. Gastroenterology. 1981; 81: 998-1005. [PMID:6169587]
Manal M. Hassan, Donghui Li, Adel S. El-Deeb, Robert A. Wolff, Melissa L. Bondy, et al. Association between Hepatitis B Virus and Pancreatic Cancer. J Clin Oncol. 2008; 26:4557-4562. [PMID:18824707]
Gisbert JP, García-Buey L, Pajares JM, Moreno-Otero R. Prevalence of hepatitis C virus infection in B-cell non-Hodgkin's lymphoma: systematic review and meta-analysis. Gastroenterology. 2003; 125: 1723–1732. [PMID:14724825]
Bronowicki JP, Bineau C, Feugier P, Hermine O, Brousse N, et al. Primary lymphoma of the liver: clinical-pathological features and relationship with HCV infection in French patients. Hepatology. 2003; 37:781–787. [PMID:12668970]
Merkle EM, Bender GN, Brams HJ. Imaging findings in pancreatic lymphoma: differential aspects. AJR Am J Roentgenol. 2000, 174: 671-675. [PMID:10701607]
McNulty NJ, Francis IR, Platt JF, Cohan RH, Korobkin M, Gebremariam A. Multi--detector row helical CT of the pancreas: effect of contrast-enhanced multiphasic imaging on enhancement of the pancreas, peripancreatic vasculature, and pancreatic adenocarcinoma. Radiology. 2001; 220: 97-102. [PMID:11425979]
Kelekis NL, Semelka RC. MRI of pancreatic tumors. Eur Radiol. 1997; 7: 875-886.
Sandrasegaran K, Lin C, Akisik FM, Tann M. State-of-the-art pancreatic MRI. AJR Am J Roentgenol. 2010 ; 195:42–53. [PMID:20566796]
Koniaris LG, Lillemoe KD, Yeo CJ, Abrams RA, Colemann J, et al. Is there a role for surgical resection in the treatment of early-stage pancreatic lymphoma? J Am Coll Surg. 2000, 190:319-330. [PMID:10703858]
Liu W, Hua R, Zhang JF, Huo YM, Liu DJ, Sun YW. First report of primary pancreatic natural killer/T-cell nasal type lymphoma. Eur Rev Med Pharmacol Sci. 2013;17:318-22. [PMID:23426534]
Lin H, Li SD, Hu XG, Li ZS. Primary pancreatic lymphoma: Report of six cases. World J Gastroenterol. 2006, 12: 5064-5067. [PMID:16937508]
Miller TP, Dahlberg S, Cassady JR, Adelstein DJ, Spier CM, et al. Chemotherapy alone compared with chemotherapy plus radiotherapy for localized intermediate- and high-grade non-Hodgkin's lymphoma. N Engl J Med. 1998; 339:21–26. [PMID:9647875]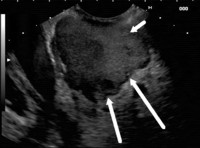 How to Cite
AbediS., AhmadzadehA., NikmaneshA., & Mohammad AlizadehA. (2014). The Role of Endoscopic Ultrasound in Primary Pancreatic Lymphoma Presented with Acute Pancreatitis: A Case Report. JOP. Journal of the Pancreas, 15(5), 493-496. https://doi.org/10.6092/1590-8577/2637
Copyright (c) 2014 Seyed Hassan Abedi, Alireza Ahmadzadeh, Ali Nikmanesh, Amir Houshang Mohammad Alizadeh
This work is licensed under a Creative Commons Attribution 4.0 International License.
As a member of Publisher International Linking Association, PILA, iMedPub Group's JOP follows the Creative Commons Attribution License and Scholars Open Access publishing policies. Journal of the Pancreas is the Council Contributor Member of Council of Science Editors (CSE) and following the CSE slogan Education, Ethics, and Evidence for Editors.