A Case of Pancreatic Cancer as a Recurrence of Intraductal Papillary Mucinous Neoplasm Following Surgical Resection
Sae Byeol Choi

Department of Surgery, Korea University College of Medicine. Seoul, Korea

Hye Sung Jo

Department of Surgery, Korea University College of Medicine. Seoul, Korea

Sang Yong Choi

Department of Surgery, Korea University College of Medicine. Seoul, Korea
Keywords:
Adenocarcinoma, Mucinous, Papillary, Neoplasm Recurrence, Local, Neoplasms, Cystic, and Serous, Pancreatectomy, Pancreatic Neoplasms
Abstract
No abstract available.
Image: Serial TC changes.
Downloads
Download data is not yet available.
References
Salvia R, Fernández-del Castillo C, Bassi C, Thayer SP, Falconi M, Mantovani W, Pederzoli P, et al. Main-duct intraductal papillary mucinous neoplasms of the pancreas - Clinical predictors of malignancy and long-term survival following resection. Ann Surg. 2004; 239: 678-685. [PMID:15082972]
Tanno S, Nakano Y, Koizumi K, Sugiyama Y, Nakamura K, Sasajima J, Nishikawa T, et al. Pancreatic Ductal Adenocarcinomas in Long-Term Follow-Up Patients with Branch Duct Intraductal Papillary Mucinous Neoplasms. Pancreas. 2010; 39: 36-40. [PMID:19745777]
Uehara H, Nakaizumi A, Ishikawa O, Iishi H, Tatsumi K, Takakura R, Ishida T, et al. Development of ductal carcinoma of the pancreas during follow-up of branch duct intraductal papillary mucinous neoplasm of the pancreas. Gut. 2008; 57: 1561-1565. [PMID:18477671]
Ohtsuka T, Kono H, Tanabe R, Nagayoshi Y, Mori Y, Sadakari Y, Takahata S, et al. Follow-up study after resection of intraductal papillary mucinous neoplasm of the pancreas; special references to the multifocal lesions and development of ductal carcinoma in the remnant pancreas. Am J Surg. 2012; 204: 44-48. [PMID:21996346]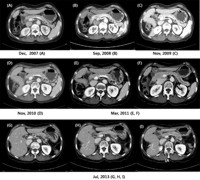 How to Cite
ChoiS., JoH., & ChoiS. (2014). A Case of Pancreatic Cancer as a Recurrence of Intraductal Papillary Mucinous Neoplasm Following Surgical Resection. JOP. Journal of the Pancreas, 15(4), 411-412. https://doi.org/10.6092/1590-8577/2640
Copyright (c) 2014 Sae Byeol Choi, Hye Sung Jo, Sang Yong Choi
This work is licensed under a Creative Commons Attribution 4.0 International License.
As a member of Publisher International Linking Association, PILA, iMedPub Group's JOP follows the Creative Commons Attribution License and Scholars Open Access publishing policies. Journal of the Pancreas is the Council Contributor Member of Council of Science Editors (CSE) and following the CSE slogan Education, Ethics, and Evidence for Editors.