Clinical Observation of Macroamylasemia in Splenosis Due to the Posttraumatic Splenectomy
Natalya B Gubergrits

Department of Internal Medicine, Donetsk National Medical University. Donetsk, Ukraine

Aleksandr Zubov

Donetsk Regional Clinical Territorial Medical Union. Donetsk, Ukraine

Oksana Golubova

Department of Internal Medicine, Donetsk National Medical University. Donetsk, Ukraine

Pavel Fomenko

Department of Internal Medicine, Donetsk National Medical University. Donetsk, Ukraine

Nadezhda Byelyayeva

Department of Internal Medicine, Donetsk National Medical University. Donetsk, Ukraine
Keywords:
Hyperamylasemia, Pancreatitis, Chronic, Splenectomy, Splenosis
Abstract
Context Article analyzes current data on macroamylasemia and splenosis, their etiology and diagnostics in particular. Case Report Authors presented their own clinical observation of a young woman who was diagnosed to have macroamylasemia on the background of splenosis due to the splenectomy after blunt abdominal injury. Conclusion This is the first time such a combination of macroamylasemia on the background of splenosis has been described in the literature.
Image: Spiral CT of abdomen and retroperitoneum
Downloads
Download data is not yet available.
References
Berk JE. Macroamylasemia. In: Haubrich WS, Schaffner F, Berk JE. Bockus gastroenterology. (5th edition) Philadelphia: WB Saunders. 1995; 4:2851-60.
Levitt MD, Duane WC, Cooperband SR. Study of macroamylase complexes. J Lab Clin Med. 1972; 80:414-22. [PMID: 4626678]
Buchbinder JH, Lipkoff CJ. Splenosis: multiple peritoneal splenic implants following abdominal injury. Surgery. 1939; 6:927-40.
Depsames R, Fireman Z, Niv E, Kopelman Y. Macroamylasemia as the first manifestation of celiac disease. Case Rep Gastroenterol. 2008; 2(2):196-8. [PMID: 21490887]
Goto H, Wakui H, Komatsuda A, Imai H, Miura AB, Fujita K. Simultaneous macroamylasemia and macrolipasemia in a patient with systemic lupus erythematosus in remission. Intern Med. 2000; 39(12):1115-8. [PMID: 11197804]
Aoki A, Hagiwara E, Atsumi Y, Shirai A, Igarashi T, Narita M, Matsunaga K, et al. A case report of macroamylasemia with rheumatoid arthritis. Ryumachi. 1989; 29:207-12. [PMID: 2479109]
Eleccion CB, Hathaway AA. Macroamylasemia in HIV infection. Tex Med. 1998; 94(12):77-9. [PMID: 9854422]
Matsuzawa K, Tsukaguchi K, Okamura H, Kasahara R, Tamura M, Kimura H. A case of lung infection due to Mycobacterium abscessus (M. abscessus) complicated with primary macroamylasemia. Nihon Kokyuki Gakkai Zasshi. 2004; 42(6):519-22. [PMID: 15228140]
Headley AJ, Blechman AN. Diagnosis of macroamylasemia in a pregnant patient. J Natl Med Assoc. 2008; 100(11):1359-61. [PMID: 19024234]
Herrero-Morín JD, Calvo Gómez-Rodulfo A, García López E, Fernández González N, Rodríguez García G, González Rodríguez F. Macroamylasemia in paediatrics. An Pediatr (Barc). 2008; 69(1):96-8. [PMID: 18620689]
Um JW, Kim KH, Kang MS, Choe JH, Bae JW, Hong YS, Suh SO, et al. Macroamylasemia in a patient with acute appendicitis: a case report. J Korean Med Sci. 1999; 14(6):679-81. [PMID: 10642949]
Machida T, Shizuka R, Yabe S, Kobayashi Y, Yomoda S, Sawamura M, Murakami M. Identification of amylase-binding monoclonal immunoglobulins in multiple myeloma associated with macroamylasemia. Leuk Lymphoma. 2012; 53(11):2293-5. [PMID: 22475275]
Cho SY, Lee A, Lee HJ, Suh JT. Overlapping presence of macroamylasemia and hyperamylasemia in acute pancreatitis. Korean J Lab Med. 2011; 31(2):98-100. [PMID: 21474984]
Gallucci F, Madrid E, Esposito P, Uomo G. Association of macroamylasemia and type I macro-creatine kinasemia. A case report. JOP 2007; 8(5):605-8. [PMID: 17873467]
Gullo L, Pezzilli R, Tomassetti P. Unusual association of macroamylasemia and hyperlipasemia: report of two cases. Am J Gastroenterol. 1996; 91(11):2441-2. [PMID: 8931441]
Deutsch JC, Sandhu IS, Lawrence SP. Splenosis presenting as an ulcerated gastric mass: endoscopic and endoscopic ultrasonographic imaging. J Clin Gastroenterol. 1999; 28:266-7. [PMID: 10192620]
Morohoshi T, Hamamoto T, Kunimura T, Yoshida E, Kanda M, Funo K, Nagayama T, et al. Epidermoid cyst derived from an accessory spleen in the pancreas. A case report with literature survey. Acta Pathol Jpn. 1991; 41:916-21. [PMID: 1785350]
Hardin VM, Morgan ME. Thoracic splenosis. Clin Nucl Med. 1994; 19(5):438-40. [PMID: 8039320]
Ovnatanian KT. Splenosis of the pericardium. Surg Herald. 1966; 97:59-62.
Koleski FC1, Turk TM, Ouwenga M, Herrell SD, Borge MA, Albala DM. Splenosis as a cause of testicular pain: laparoscopic management J Endourol. 1999; 13(5):373-5. [PMID: 10446800]
Kiroff GK, Mangos A, Cohen R, Chatterton BE, Jamieson GG. Splenic regeneration following splenectomy for traumatic rupture. Aust N Z J Surg. 1983; 53(5):431-4. [PMID: 6579952]
Kumar RJ, Borzi PA. Splenosis in a port site after laparoscopic splenectomy. Surg Endosc. 2001; 15(4):413-4. [PMID: 11395829]
Timerbulatov VM, Fayazov RR, Khasanov AG, Timerbulatov MV, Urazbakhtin IM. Surgery of abdominal injuries. Moscow: MEDpress-inform. 2005.
Normand JP, Rioux M, Dumont M, Bouchard G, Letourneau L. Thoracic splenosis after blunt trauma: frequency and imaging findings. AJR Am J Roentgenol. 1993; 161(4):739-41. [PMID: 8372748]
Popov MV, Galeev YM. Splenic scintigraphy. In: Lishmanova YB, Chernova VI. Radionuclide diagnosis for practitioners: a guide. Tomsk: STT. 2004:262-78.
Working Party of the British Committee for Standards in Haematology Clinical Haematology Task Force. Guidelines for the prevention and treatment of infection in patients with an absent or dysfunctional spleen. BMJ. 1996; 312(7028):430-34.
Barrows D, Berk JE, Fridhandler L. Macroamylasemia survey of prevalence in a mixed population. N Engl J Med. 1972; 286:1352. [PMID: 5027389]
Helfat A, Berk JE, Fridhandler L. The prevalence of macroamylasemia. Further study. Am J Gastroenterol 1974; 62:54-8. [PMID: 4855007]
Klonoff DC. Macroamylasemia and other immunoglobulin-complexed enzyme disorders. West J Med. 1980; 133:392-407. [PMID: 6162278]
Koda T, Kuratsune H, Kurahori T. A simplified method for detecting macroamylasemia by measuring serum amylase activity at different reaction temperatures. Gastroenterol Jpn. 1983; 18:216-22. [PMID: 6192035]
Isham CA, Ridgeway NA, Hedrick R, Cate JC 4th. Screening for macroamylase in a community hospital. Clin Chem. 1984; 30:741-2. [PMID: 6201303]
Boyle CEL, Fraser CG. Macroamylasemia: how common is it? Br Med J. 1985; 291:1389. [PMID: 2415205]
Forsman RW. Macroamylase: prevalence, distribution of age, sex, amylase activity, and electrophoretic mobility. Clin Biochem. 1986; 19:250-3. [PMID: 2428542]
Warshaw AL, Hawboldt MM. Puzzling persistent hyperamylasemia, probably neither pancreatic nor pathologic. Am J Surg. 1988; 155:433-56. [PMID: 2449825]
Van Deun A, Cobbaert C, Van Orshoven A, Claeys G, Lissens W. Comparison of some recent methods for the differentiation of elevated serum amylase and the detection of macroamylasemia. Ann Clin Biochem. 1989; 26:422-26. [PMID: 2479317]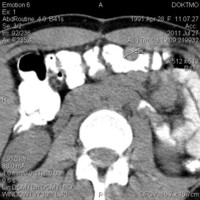 How to Cite
GubergritsN., ZubovA., GolubovaO., FomenkoP., & ByelyayevaN. (2014). Clinical Observation of Macroamylasemia in Splenosis Due to the Posttraumatic Splenectomy. JOP. Journal of the Pancreas, 15(4), 394-398. https://doi.org/10.6092/1590-8577/2648
Copyright (c) 2014 Natalya B Gubergrits, Aleksandr Zubov, Oksana Golubova, Pavel Fomenko, Nadezhda Byelyayeva
This work is licensed under a Creative Commons Attribution 4.0 International License.
As a member of Publisher International Linking Association, PILA, iMedPub Group's JOP follows the Creative Commons Attribution License and Scholars Open Access publishing policies. Journal of the Pancreas is the Council Contributor Member of Council of Science Editors (CSE) and following the CSE slogan Education, Ethics, and Evidence for Editors.