Pharmacogenetics in Neuroendocrine Tumors of the Pancreas
Syed Mujtaba Rizvi

Penn State Hershey Medical Center, Cancer Institute. Hershey, PA, USA

Joyce Wong

Penn State Hershey Medical Center, Cancer Institute. Hershey, PA, USA

Muhammad Wasif Saif

Tufts University School of Medicine, Hematology/Oncology. Boston, MA, USA

Yuxia Jia

Penn State Hershey Medical Center, Cancer Institute. Hershey, PA, USA
Keywords:
Neuroendocrine Tumors, Pancreas, Pharmacogenetics
Abstract
Neuroendocrine tumors (NETs) arise from cells distributed throughout the endocrine system. Although, NETs are heterogeneous in their behavior, they tend to be more aggressive when arising in the pancreas. Pancreatic NET (panNET) represents three percent of all primary pancreatic neoplasms. Symptomatic and progressive panNETs are generally treated with cytotoxic chemotherapy, whereas molecular targeted therapy is used for nonfunctional tumors without aggressive features. Pharmacogenetics has increasingly been used recently to better identify potential targets for therapy and help select patient-specific therapy. In this review, we discuss two abstracts (Abstracts #4113 and #e15169) presented at the ASCO Annual Meeting in Chicago this year, outlining the potential role of tumor gene and gene product profiling in disease management. We describe what is known about the pathogenesis of these tumors, role of decreased gene product expression (MGMT, RRM1, MET) and its application in cytotoxic therapy selection, as well as genetic mutations that can be used for molecular targeted therapy. With an overall shift towards personalized medicine, it has become ever more important to identify the molecular signature of a tumor as it appears to dictate the clinical behavior and response to therapy.
Image: Cellular processing and repair of alkylating agent induced O6meG lesions in DNA by MGMT.
From: Fu et al. Nature Reviews Cancer 2012; 12:104-20.
Downloads
Download data is not yet available.
References
Klöppel G, Perren A, Heitz PU. The gastroenteropancreatic neuroendocrine cell system and its tumors: the WHO classification. Ann N Y Acad Sci 2004; 1014: 13-27.
Fesinmeyer MD, Austin MA, Li CI, De Roos AJ, Bowen DJ. Differences in survival by histologic type of pancreatic cancer. Cancer Epidemiol Biomarkers Prev 2005; 14: 1766-1773. [PMID:16030115]
Panzuto F, Nasoni S, Falconi M, Corleto VD, Capurso G, Cassetta S, Di Fonzo M, et al. Prognostic fa [ctors and survival in endocrine tumor patients: comparison between gastrointestinal and pancreatic localization. Endocr Relat Cancer 2005; 12: 1083-1092. [PMID:16322345]
Lubensky IA, Zhuang Z. Molecular genetics events in gastrointestinal and pancreatic neuroendocrine tumors. Endocr Pathol 2007; 18: 156-162.
Zhuang Z, Vortmeyer AO, Pack S, Huang S, Pham TA, Wang C, Park WS, et al. Somatic mutations of the MEN1 tumor suppressor gene in sporadic gastrinomas and insulinomas. Cancer Res 1997; 57: 4682-4686. [PMID:9354421]
Oberg K, Casanovas O, Castaño JP, Chung D, Delle Fave G, Denèfle P, Harris P, et al. Molecular pathogenesis of neuroendocrine tumors: implications for current and future therapeutic approaches. Clin Cancer Res 2013; 19: 2842-2849. [PMID:23459719]
Raymond E, Hobday T, Castellano D, Reidy-Lagunes D, García-Carbonero R, Carrato A. Therapy innovations: tyrosine kinase inhibitors for the treatment of pancreatic neuroendocrine tumors. Cancer Metastasis Rev 2011; 30 Suppl 1: 19-26. [PMID:21308478]
Yao JC, Phan AT, Jehl V et al. Everolimus in advanced pancreatic neuroendocrine tumors: the clinical experience. Cancer Res 2013; 73: 1449-1453.
Fu D, Calvo JA, Samson LD. Balancing repair and tolerance of DNA damage caused by alkylating agents. Nat Rev Cancer 2012; 12: 104-120.
Igor A. Astsaturov SJC, Paul F. Engstrom, Sherri Z. Millis. Profiling of 1,350 neuroendocrine tumors for identification of multiple potential drug targets. J Clin Oncol 2014; 32:5s, 2014 (suppl; abstr 4113).
Reidy DLOB, Kriplani A, Abou-Alfa GK, Jarnagin WR, Allen PJ, Saltz L, Klimstra DS, et al. MGMT immunohistochemistry (IHC) and exclusion of pancreatic NET (PanNET) patients from treatment with temozolomide-based therapy. J Clin Oncol 2014; 32, 2014 (suppl; abstr e15169).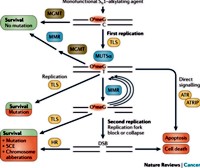 How to Cite
RizviS., WongJ., SaifM., & JiaY. (2014). Pharmacogenetics in Neuroendocrine Tumors of the Pancreas. JOP. Journal of the Pancreas, 15(4), 299-302. https://doi.org/10.6092/1590-8577/2659
Section
Highlights from the "50th ASCO Annual Meeting 2014". Chicago, IL, USA. May 30 - June 3, 2014
Copyright (c) 2014 Syed Mujtaba Rizvi, Joyce Wong, Muhammad Wasif Saif, Yuxia Jia
This work is licensed under a Creative Commons Attribution 4.0 International License.
As a member of Publisher International Linking Association, PILA, iMedPub Group's JOP follows the Creative Commons Attribution License and Scholars Open Access publishing policies. Journal of the Pancreas is the Council Contributor Member of Council of Science Editors (CSE) and following the CSE slogan Education, Ethics, and Evidence for Editors.