KRAS in Pancreatic Cancer
Archana Agarwal

Department of Medicine, Steward Carney Hospital. Boston, MA, USA

Muhammad Wasif Saif

Cancer Center, Tufts Medical Center. Boston, MA, USA
Keywords:
Ascitic Fluid, Computational Biology, Genes, ras, Mutation, Pancreatic Neoplasms, Survival Analysis
Abstract
Pancreatic cancer is one of the most feared malignancies. The most common form of pancreatic cancer is adenocarcinoma arising from the ductal epithelium. KRAS is the most common oncogene that has been found to be mutated. However, targeting KRAS directly has been difficult. We do not know a lot about the relationship between KRAS and other signaling pathways. At the same time, little is known about the non KRAS mutated or wild type (WT) tumors. Most of the data that we have as far, as mutational status is concerned, has been obtained from the tumor itself and not from metastatic lesions. In this review, we discuss two abstracts (Abstracts #e15214 and #e15207) published in conjunction with the 2014 ASCO Annual Meeting. These discuss the relationship between KRAS and other signaling pathways and the differences between mutated KRAS and WT tumors. The studies found low rate of KRAS mutation in cells obtained from ascitic fluid. While the studies are small, these are novel findings that are worth exploring further. They increase our understanding of the biology of the disease and take us a step closer to treating this deadly malignancy.
Image: KRAS mutation and concordance rates with primary tumor.
Downloads
Download data is not yet available.
References
Siegel R, Naishadham D, Jemal A. Cancer statistics, 2013. CA Cancer J Clin. 2013; 63(1):11-30. [PMID: 23335087]
Hezel AF, Kimmelman AC, Stanger BZ, Bardeesy N, DePinho RA. Genetics and biology of pancreatic ductal adenocarcinoma. Genes Dev. 2006; 20(10):1218-1249. [PMID: 16702400]
Lockhart AC, Rothenberg ML, Berlin JD. Treatment for pancreatic cancer: current therapy and continued progress. Gastroenterology. 2005; 128(6):1642-1654. [PMID: 15887156]
Cooper CL, O'Toole SA, Kench JG. Classification, morphology and molecular pathology of premalignant lesions of the pancreas. Pathology (Phila). 2013; 45(3):286-304. [PMID: 23442735]
Hruban RH, Adsay NV. Molecular classification of neoplasms of the pancreas. Hum Pathol. 2009; 40(5):612-623.
Di Magliano MP, Logsdon CD. Roles for KRAS in pancreatic tumor development and progression. Gastroenterology. 2013; 144(6):1220-1229. [PMCID: PMC3902845]
Golan T, Eckhardt SG, Stossel C, Atias D, Wang G, Pitts TM, Aisner D, Weekes CD, Berger R, Tan A-C. RNA-seq and KRAS mutational status in ascitic pancreatic cancer cells: Novel results and distinct subsets. J Clin Oncol [Internet]. 2014; 32(suppl; abstr e15214). Available from: http://meetinglibrary. asco. org/content/127996-144
Golan T, Atias D, Barshack I, Avivi C, Goldstein RS, Berger R. Ascites-derived pancreatic ductal adenocarcinoma primary cell cultures as a platform for personalised medicine. Br J Cancer. 2014; 110(9):2269-2276.
Andrikou K, Piva F, Santoni M, Conti A, Mandolesi A, Bittoni A, Pellei C, Lanese A, Loretelli C, Scarpelli M, Principato G, Cascinu S. KRAS: To be or not to be targeted? Biologic and computational analyses in pancreatic adenocarcinoma. J Clin Oncol [Internet]. 2014; 32(suppl; abstr e15207). Available from: http://meetinglibrary. asco. org/content/129067-144.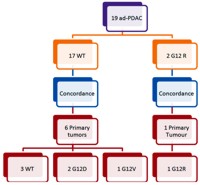 How to Cite
AgarwalA., & SaifM. (2014). KRAS in Pancreatic Cancer. JOP. Journal of the Pancreas, 15(4), 303-305. https://doi.org/10.6092/1590-8577/2660
Section
Highlights from the "50th ASCO Annual Meeting 2014". Chicago, IL, USA. May 30 - June 3, 2014
Copyright (c) 2014 Archana Agarwal, Muhammad Wasif Saif
This work is licensed under a Creative Commons Attribution 4.0 International License.
As a member of Publisher International Linking Association, PILA, iMedPub Group's JOP follows the Creative Commons Attribution License and Scholars Open Access publishing policies. Journal of the Pancreas is the Council Contributor Member of Council of Science Editors (CSE) and following the CSE slogan Education, Ethics, and Evidence for Editors.