Elderly Patients with Pancreatic Cancer
Andromachi S Kougioumtzopoulou

Radiotherapy Unit, Second Department of Radiology, Attikon General Hospital. Athens, Greece

Kostas N Syrigos

Oncology Unit, Third Department of Medicine, University of Athens, Sotiria General Hospital. Athens, Greece

Muhammad Wasif Saif

Department of Medicine and Cancer Center, Tufts Medical Center. Boston, MA, USA
Keywords:
Aged, Neuroendocrine Tumors, Pancreatic Neoplasms, Somatostatin
Abstract
Pancreatic cancer marked significant increase of incidence during the last decades in the elderly population. Despite the certain increase of incidence there are no international guidelines for elderly patients who are suffering from pancreatic cancer. During the ASCO Annual Meeting 2014, two abstracts focusing on elderly patients suffering from different histological types of pancreatic cancer were presented. The first retrospective study (Abstract #4119) showed the benefit of the systemic treatment on overall survival for elderly patients with stage IV pancreatic adenocarcinoma. The second retrospective study (Abstract #4112) demonstrates the positive effect of somatostatin analogue (octreotide-LAR) treatment on overall survival for elderly patients with neuroendocrine pancreatic carcinoma.
Image: Attikon General Hospital. Athens, Greece
Downloads
Download data is not yet available.
References
Siegel R, Naishadham D, Jemal A. Cancer statistics, 2013. CA: a cancer journal for clinicians. 2013; 63(1): 11-30.
Balducci L. Management of cancer in the elderly. Oncology (Williston Park). 2006; 20(2): 135-43; discussion 44-46: 51-2. [PMID:16562648]
Bilimoria KY, Talamonti MS, Sener SF, Bilimoria MM, Stewart AK, Winchester DP, Ko CY, et al. Effect of hospital volume on margin status after pancreaticoduodenectomy for cancer. J Am Coll Surg. 2008; 207(4): 510-9. [PMID:18926452]
Li D, Xie K, Wolff R, Abbruzzese JL. Pancreatic cancer. Lancet. 2004; 363(9414): 1049-57. [PMID:21620466]
Oettle H, Neuhaus P, Hochhaus A, Hartmann JT, Gellert K, Ridwelski K, Niedergethmann M, et al. Adjuvant chemotherapy with gemcitabine and long-term outcomes among patients with resected pancreatic cancer: the CONKO-001 randomized trial. JAMA. 2013; 310(14): 1473-81. [PMID:24104372]
Neoptolemos JP, Stocken DD, Bassi C, Ghaneh P, Cunningham D, Goldstein D, Padbury R, et al. Adjuvant chemotherapy with fluorouracil plus folinic acid vs gemcitabine following pancreatic cancer resection: a randomized controlled trial. JAMA. 2010; 304(10): 1073-81. [PMID:20823433]
Huguet F, Girard N, Guerche CS, Hennequin C, Mornex F, Azria D. Chemoradiotherapy in the management of locally advanced pancreatic carcinoma: a qualitative systematic review. J Clin Oncol. 2009; 27(13): 2269-77. [PMID:19307501]
Cunningham D, Chau I, Stocken DD, Valle JW, Smith D, Steward W, Harper PG, et al. Phase III randomized comparison of gemcitabine versus gemcitabine plus capecitabine in patients with advanced pancreatic cancer. J Clin Oncol. 2009; 27(33): 5513-8. [PMID:19858379]
Chauffert B, Mornex F, Bonnetain F, Rougier P, Mariette C, Bouché O, Bosset JF, et al. Phase III trial comparing intensive induction chemoradiotherapy (60 Gy, infusional 5-FU and intermittent cisplatin) followed by maintenance gemcitabine with gemcitabine alone for locally advanced unresectable pancreatic cancer. Definitive results of the 2000-01 FFCD/SFRO study. Ann Oncol. 2008; 19(9): 1592-9. [PMID:18467316]
Conroy T, Desseigne F, Ychou M, Bouche O, Guimbaud R, Becouarn Y, Adenis A, et al. FOLFIRINOX versus gemcitabine for metastatic pancreatic cancer. The New England journal of medicine. 2011; 364(19): 1817-25.
Maréchal R, Demols A, Gay F, de Maertelaer V, Arvanitaki M, Hendlisz A, Van Laethem JL. Tolerance and efficacy of gemcitabine and gemcitabine-based regimens in elderly patients with advanced pancreatic cancer. Pancreas. 2008; 36(3): e16-21. [PMID:18362833]
Yao JC, Hassan M, Phan A, Dagohoy C, Leary C, Mares JE, Abdalla EK, et al. One hundred years after "carcinoid": epidemiology of and prognostic factors for neuroendocrine tumors in 35,825 cases in the United States. J Clin Oncol. 2008; 26(18): 3063-72. [PMID:18565894]
Oberg K, Kvols L, Caplin M, Delle Fave G, de Herder W, Rindi G, Ruszniewski P, et al. Consensus report on the use of somatostatin analogs for the management of neuroendocrine tumors of the gastroenteropancreatic system. Ann Oncol. 2004; 15(6): 966-73. [PMID:15151956]
Rinke A1, Müller HH, Schade-Brittinger C, Klose KJ, Barth P, Wied M, Mayer C, et al. Placebo-controlled, double-blind, prospective, randomized study on the effect of octreotide LAR in the control of tumor growth in patients with metastatic neuroendocrine midgut tumors: a report from the PROMID Study Group. J Clin Oncol. 2009; 27(28): 4656-63. [PMID:19704057]
Ruszniewski P, Caplin M. A randomized, double-blind, placebo- Controlled study of Lanreotide Antiproliferative Response in patients with gastroenteropancreatic NeuroEndocrine Tumors (CLARINET). 17th ECCO – 38th ESMO – 32nd ESTRO European Cancer Congress. 2013; E17-7103.
Li D, M C, Yu K, M A Lowery, D P Kelsen, O'Reilly EM. Treatment, outcomes, and clinical trial participation in very elderly patients (pts) with metastatic pancreas cancer (mPC). J Clin Oncol. 2014; 32(5s).
Shen C, Shih Y, Xu Y, Yao JC. Octreotide LAR (OCT-L) among elderly patients with stage IV neuroendocrine tumors (NETs): A survival analysis of SEER-Medicare data. J Clin Oncol. 2104; 32(5s).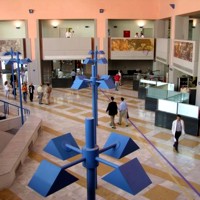 How to Cite
KougioumtzopoulouA., SyrigosK., & SaifM. (2014). Elderly Patients with Pancreatic Cancer. JOP. Journal of the Pancreas, 15(4), 322-325. https://doi.org/10.6092/1590-8577/2682
Section
Highlights from the "50th ASCO Annual Meeting 2014". Chicago, IL, USA. May 30 - June 3, 2014
Copyright (c) 2014 Andromachi S Kougioumtzopoulou, Kostas N Syrigos, Muhammad Wasif Saif
This work is licensed under a Creative Commons Attribution 4.0 International License.
As a member of Publisher International Linking Association, PILA, iMedPub Group's JOP follows the Creative Commons Attribution License and Scholars Open Access publishing policies. Journal of the Pancreas is the Council Contributor Member of Council of Science Editors (CSE) and following the CSE slogan Education, Ethics, and Evidence for Editors.