Pancreatic Neuroendocrine Tumor with Extensive Intraductal Invasion of the Main Pancreatic Duct: A Case Report
Maki Kiyonaga

Department of Radiology, Faculty of Medicine, Oita University. Oita, Japan

Shunro Matsumoto

Department of Radiology, Faculty of Medicine, Oita University. Oita, Japan

Hiromu Mori

Department of Radiology, Faculty of Medicine, Oita University. Oita, Japan

Yasunari Yamada

Department of Radiology, Faculty of Medicine, Oita University. Oita, Japan

Ryo Takaji

Department of Radiology, Faculty of Medicine, Oita University. Oita, Japan

Naoki Hijiya

Department of Molecular Pathology, Faculty of Medicine, Oita University. Oita, Japan

Fumitaka Yoshizumi

Department of Surgery, Usuki Cosmos Hospital. Usuki, Japan

Masanori Aramaki

Department of Surgery, Usuki Cosmos Hospital. Usuki, Japan
Keywords:
Neuroendocrine Tumors, Pancreas
Abstract
Context Pancreatic neuroendocrine tumors account for only 1-3% of all pancreatic neoplasms and the intraductal invasion of the main pancreatic duct (MPD) is rare. Case report We report a case of a 26-year-old woman with an endocrine tumor of the pancreas extensively invading into the MPD. She presented abdominal pain and her laboratory data showed abnormal liver function. Contrast-enhanced computed tomography demonstrated a well-enhanced mass on the arterial dominant phase in the head of the pancreas. The mass grew within the lumen of the MPD in the body of the pancreas, with dilatation of the upstream MPD. The contrast-enhancement pattern between the main tumor of the head and the intraductal lesion of the body was different. On T2-weighted magnetic resonance (MR) imaging, the pancreatic head lesion showed non homogeneously low signal intensity, while the intraductal lesion of the pancreatic body showed high signal intensity. MR cholangiopancreatography showed obstruction of the MPD in the pancreatic head to body, with dilatation of the upstream MPD. An endocrine tumor or acinar cell carcinoma of the pancreas was considered as preoperative diagnosis, and pancreaticoduodenectomy was performed. As a result, pancreatic endocrine tumor (G2) was confirmed pathologically. Conclusion A rare case of pancreatic neuroendocrine tumor with extensive growth within the MPD was presented. The intraductal extension is a unique growth pattern of nonfunctioning pancreatic neuroendocrine tumor, and the desmoplastic reaction in this tumor may reflect the increased invasiveness.
Image: Histopathological findings (H&E stain). The pancreatic head lesion is comprised of small nests and cords of uniform cells.
Downloads
Download data is not yet available.
References
Kent RB 3rd, van Heerden JA, Weiland LH. Nonfunctioning islet cell tumors. Ann Surg. 1981; 193: 185-190. [PMID: 6258500]
Heitz PU, Kasper M, Polak JM, Klöppel G. Pancreatic endocrine tumors. Hum Pathol. 1982; 13: 263-271. [PMID: 7076209]
Kitami CE, Shimizu T, Sato O, Kurosaki I, Mori S, Yanagisawa Y, Ajioka Y, Hatakeyama K. Malignant islet cell tumor projecting into the main pancreatic duct. J Hepatobiliary Pancreat Surg. 2000; 7: 529-533. [PMID: 11180883]
Yazawa N, Imaizumi T, Okada K, Matsuyama M, Dowaki S, Tobita K, Ohtani Y, Ogoshi K, et al. Nonfunctioning pancreatic endocrine tumor with extension into the main pancreatic duct: report of a case. Surg Today. 2011; 41: 737-740. [PMID: 21533954]
Akatsu T, Wakabayashi G, Aiura K, Suganuma K, Takigawa Y, Wada M, Kawachi S, Tanabe M, et al. Intraductal growth of a nonfunctioning endocrine tumor of the pancreas. J Gastroenterol. 2004; 39: 584-588. [PMID: 15235878]
Shimizu K, Shiratori K, Toki F, Suzuki M, Imaizumi T, Takasaki K, Kobayashi M, Hayashi N. Nonfunctioning islet cell tumor with a unique pattern of tumor growth. Dig Dis Sci. 1999; 44: 547-551. [PMID: 10080148]
Inagaki M, Watanabe K, Yoshikawa D, Suzuki S, Ishizaki A, Matsumoto K, Haneda M, Tokusashi Y, et al. A malignant nonfunctioning pancreatic endocrine tumor with a unique pattern of intraductal growth. J Hepatobiliary Pancreat Surg. 2007; 14: 318-323. [PMID: 17520210]
Seki M, Ohta H, Ninomiya E, Aruga A, Murakami Y, Yanagisawa A. Pancreatic endocrine tumor : pancreatographic features Suizou (pancreas). 2001; 16: 438-447.
Bachem MG, Schünemann M, Ramadani M, Siech M, Beger H, Buck A, Zhou S, Schmid-Kotsas A, et al. Pancreatic carcinoma cells induce fibrosis by stimulating proliferation and matrix synthesis of stellate cells. Gastroenterology. 2005; 128: 907-921. [PMID: 15825074]
Vonlaufen A, Joshi S, Qu C, Phillips PA, Xu Z, Parker NR, Toi CS, Pirola RC, et al. Pancreatic stellate cells: partners in crime with pancreatic cancer cells. Cancer Res. 2008; 68: 2085-2093. [PMID: 18381413]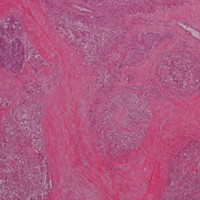 How to Cite
KiyonagaM., MatsumotoS., MoriH., YamadaY., TakajiR., HijiyaN., YoshizumiF., & AramakiM. (2014). Pancreatic Neuroendocrine Tumor with Extensive Intraductal Invasion of the Main Pancreatic Duct: A Case Report. JOP. Journal of the Pancreas, 15(5), 497-500. https://doi.org/10.6092/1590-8577/2741
Copyright (c) 2014 Maki Kiyonaga, Shunro Matsumoto, Hiromu Mori, Yasunari Yamada, Ryo Takaji, Naoki Hijiya, Fumitaka Yoshizumi, Masanori Aramaki
This work is licensed under a Creative Commons Attribution 4.0 International License.
As a member of Publisher International Linking Association, PILA, iMedPub Group's JOP follows the Creative Commons Attribution License and Scholars Open Access publishing policies. Journal of the Pancreas is the Council Contributor Member of Council of Science Editors (CSE) and following the CSE slogan Education, Ethics, and Evidence for Editors.