GLP-1 Based Therapy for Diabetes and Potential of Thyroid Cancer
Mehmet Akif Büyükbeşe

World Diabetes Center, Dunyadiyabet Dunyagoz Hospitals Group. Atakoy-Istanbul, Turkey
Keywords:
Congresses, Diabetes Mellitus, English Abstract, Neoplasms
Abstract
Despite incredible effort on understanding and awareness of diabetes, management procedure is becoming more challenging since the complications of the disease as well as the newly discovered or yet put on market drugs that may have a suspicious association with cancer. This metabolic disorder itself does already have high prevalence of cancer such as pancreas and colon. Thyroid cancer itself is also increasing and thyroid disorders associated with diabetes is well known endocrinological problem. Rise in thyroid cancer patients in diabetics are also emphasized in meta-analyses. Obesity does seem to be another factor for thyroid cancer; however, it is also commonly associated with patients who have type 2 diabetes. GLP-1 based therapy does not only help diminish blood glucose but help satiety and lose weight as well which is a desired effect of diabetes therapy since losing weight corrects many other cardiovascular risk factors. Thyroid cancer and its connectivity to GLP-1 analogue therapy is a concern, yet not proven; although may diminish the rate of prescription by some diabetologists, although some suggest outweigh the clinical positive effect.
Image: Thyroid gland.
Downloads
Download data is not yet available.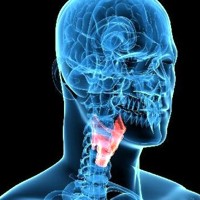 How to Cite
BüyükbeşeM. (2014). GLP-1 Based Therapy for Diabetes and Potential of Thyroid Cancer. JOP. Journal of the Pancreas, 15(5), 538. https://doi.org/10.6092/1590-8577/2788
Section
FRONTIERS IN MEDICAL SCIENCES (FIMS'2014): Diabetes, Cancer and Their Connection. Istanbul, Turkey. July 6-8, 2014
Copyright (c) 2014 Mehmet Akif Büyükbeşe
This work is licensed under a Creative Commons Attribution 4.0 International License.
As a member of Publisher International Linking Association, PILA, iMedPub Group's JOP follows the Creative Commons Attribution License and Scholars Open Access publishing policies. Journal of the Pancreas is the Council Contributor Member of Council of Science Editors (CSE) and following the CSE slogan Education, Ethics, and Evidence for Editors.