Hemosuccus Pancreaticus Due to a Noninflammatory Pancreatic Pseudotumor
Darling Ruiz Cerrato

Department of Medicine, Saint Agnes Hospital. Baltimore, MD, USA

Besem Beteck

Department of Surgery, Saint Agnes Hospital. Baltimore, MD, USA

Neeraj Sardana

Department of Medicine, Saint Agnes Hospital. Baltimore, MD, USA

Saleem Farooqui

Department of Radiology, Saint Agnes Hospital. Baltimore, MD, USA

Danisha Allen

Department of Pathology, Saint Agnes Hospital. Baltimore, MD, USA

Steven C Cunningham

Department of Surgery, Saint Agnes Hospital. Baltimore, MD, USA
Keywords:
Gastrointestinal Hemorrhage, Pancreas, Pancreatectomy, Pancreatic Ducts, Pancreatic Neoplasms
Abstract
Context Hemosuccus pancreaticus is a rare source of gastrointestinal bleeding, the most frequent cause of which is pancreatitis, followed by tumors, but nearly all these tumors are true neoplasms, and not pseudotumors. Furthermore, nearly all pseudotumors of the pancreas and retroperitoneum are inflammatory. Case report We present a case of hemosuccus pancreaticus associated with a nonneoplastic noninflammatory pseudotumor of the pancreas. Conclusions Pancreatic pseudotumors are not always inflammatory and should be considered in the differential diagnosis of gastrointestinal bleeding associated with hemosuccus pancreaticus.
Image: View at EGD, with gross blood emanating from major papilla.
Downloads
Download data is not yet available.
References
Lower WE, Farrell JI. Aneurysm of the splenic artery: Report of a case and review of the literature. Arch Surg. 1931; 23: 182-190.
Sandblom P. Gastrointestinal hemorrhage through the pancreatic duct. Ann Surg. 1970; 171: 61-66.
Adsay NV, Basturk O, Klimstra DS, Kloppel G. Pancreatic pseudotumors: non-neoplastic solid lesions of the pancreas that clinically mimic pancreas cancer. Semin Diagn Pathol. 2004; 21: 260-267. [PMID:16273945]
Han B, Song ZF, Sun B. Hemosuccus pancreaticus: a rare cause of gastrointestinal bleeding. Hepatobiliary Pancreat Dis Int. 2012; 11: 479-488. [PMID:23060392]
Sakorafas GH, Sarr MG, Farley DR, Que FG, Andrews JC, et al. Hemosuccus pancreaticus complicating chronic pancreatitis: an obscure cause of upper gastrointestinal bleeding. Langenbecks Arch Surg. 2000; 385: 124-128. [PMID:10796050]
Anil Kothari R, Leelakrishnan V, Krishnan M. Hemosuccus pancreaticus: a rare cause of gastrointestinal bleeding. Ann Gastroenterol, 2013; 26: 175-177.
Williams DM, Shetzline MA, Guarisco SA, Branch MS. Presumed arteriovenous malformation mimicking hemosuccus pancreaticus of Santorini's duct with normal pancreatic anatomy. Gastrointest Endosc. 1996; 44: 348-350. [PMID:8885362]
Kuzuya A, Mizuno K, Miyake H, Iyomasa S, Matsuda M. Hemosuccus pancreaticus caused by rupture of a true splenic artery aneurysm following a failure of coil embolization. Ann Vasc Surg. 2006; 20: 130-133. [PMID:16374536]
Inoue H, Katurahara M, Hamada Y, Ninomiya K, Tano S, et al. Hemosuccus pancreaticus caused by in situ carcinoma of the pancreas. Endoscopy. 2012; 44 Suppl 2 UCTN: E336-337. [PMID:23012009]
Singh P, Gelrud A, Schmulewitz N, Chauhan S. Hemosuccus pancreaticus after EUS-FNA of pancreatic cyst (with video). Gastrointest Endosc. 2008; 67: 543.
Keswani RN. Hemosuccus pancreaticus after endoscopic ultrasound-guided fine needle aspiration of a pancreatic cyst. Endoscopy. 2010; 42 Suppl 2: E79. [PMID:20195975]
Cheruvattath R, Diehl DL. Hemosuccus pancreaticus after EUS-FNA of a pancreatic tail cyst. Gastrointest Endosc. 2009; 70: 817. [PMID:19788989]
Tulsyan N, Kashyap VS, Greenberg RK, Sarac TP, Clair DG, et al. The endovascular management of visceral artery aneurysms and pseudoaneurysms. J Vasc Surg. 2007; 45: 276-283. [PMID:17264002]
Salam TA, Lumsden AB, Martin LG, Smith RB 3rd. Nonoperative management of visceral aneurysms and pseudoaneurysms. Am J Surg. 1992; 164: 215-219. [PMID:1415917]
Mandel SR, Jaques PF, Sanofsky S, Mauro MA. Nonoperative management of peripancreatic arterial aneurysms. A 10-year experience. Ann Surg. 1987; 205: 126-128.
Ikeda O, Tamura Y, Nakasone Y, Iryou Y, Yamashita Y. Nonoperative management of unruptured visceral artery aneurysms: treatment by transcatheter coil embolization. J Vasc Surg. 2008; 47: 1212-1219. [PMID:18440188]
Boudghene F, L'Hermine C, Bigot JM. Arterial complications of pancreatitis: diagnostic and therapeutic aspects in 104 cases. J Vasc Interv Radiol. 1993; 4: 551-558. [PMID:8353353]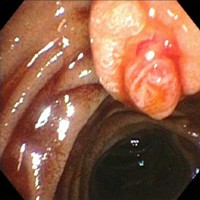 How to Cite
CerratoD., BeteckB., SardanaN., FarooquiS., AllenD., & CunninghamS. (2014). Hemosuccus Pancreaticus Due to a Noninflammatory Pancreatic Pseudotumor. JOP. Journal of the Pancreas, 15(5), 501-503. https://doi.org/10.6092/1590-8577/2798
Copyright (c) 2014 Darling Ruiz Cerrato, Besem Beteck, Neeraj Sardana, Saleem Farooqui, Danisha Allen, Steven C Cunningham
This work is licensed under a Creative Commons Attribution 4.0 International License.
As a member of Publisher International Linking Association, PILA, iMedPub Group's JOP follows the Creative Commons Attribution License and Scholars Open Access publishing policies. Journal of the Pancreas is the Council Contributor Member of Council of Science Editors (CSE) and following the CSE slogan Education, Ethics, and Evidence for Editors.