Renal Cell Carcinoma Mimicking Igg4-Related Pseudotumor in Autoimmune Pancreatitis
Muhammad Ali Khan

Internal Medicine, University of Toledo. Toledo, OH, USA

Sehrish Kamal

Internal Medicine, University of Toledo. Toledo, OH, USA

Usman Ahmad

Gastroenterology, University of Toledo. Toledo, OH, USA

Mohammed Andaleeb Chowdhury

Internal Medicine, University of Toledo. Toledo, OH, USA

Ali Nawras

Gastroenterology, University of Toledo. Toledo, OH, USA
Keywords:
Carcinoma, Renal Cell, Immunoglobulin G, Pancreatitis
Abstract
Context Autoimmune pancreatitis is classified into two distinct clinical profiles. Case report Type 1 autoimmune pancreatitis (AIP) is considered to be a manifestation of a novel clinicopathological entity called IgG4 related sclerosing disease, diagnosed using the Mayo Clinic HISORt criteria. Extra-pancreatic manifestations can include involvement of bile ducts, salivary gland, lung nodules, thyroiditis, tubulointerstitial nephritis, renal masses, and retroperitoneal fibrosis. Type 2 autoimmune pancreatitis on the other hand is confirmed by histologically seen duct centric pancreatitis without elevation of IgG4 or involvement of other organs. In type 1 autoimmune pancreatitis, extrapancreatic manifestations like bile duct strictures, tubulointerstitial nephritis, renal nodules, retroperitoneal fibrosis respond to steroid therapy. Conclusion We present a case of type 1 autoimmune pancreatitis in which the renal mass did not respond to steroid therapy and was later on found to be renal cell carcinoma. To the best of our knowledge this is only the third reported case of autoimmune pancreatitis in which the patient had renal cell carcinoma. Our case highlights the importance of close follow up of lesions that do not respond to steroid treatment which in this case proved to be renal cell cancer.
Image: CT of the abdomen showing enlarged pancreas with loss of normal fatty lobulation.
Downloads
Download data is not yet available.
References
Chari ST. Diagnosis of autoimmune pancreatitis using its five cardinal features: introducing the Mayo Clinic's HISORt criteria. Journal of gastroenterology. 2007; 18: 39-41. [PMID: 17520222].
Chari ST, Takahashi N, Levy MJ, Smyrk TC, Clain JE, Pearson RK. A diagnostic strategy to distinguish autoimmune pancreatitis from pancreatic cancer. Clinical gastroenterology and hepatology: the official clinical practice journal of the American Gastroenterological Association. 2009; 7:1097-1103.
Cornell LD, Chicano SL, Deshpande V, Collins AB, Selig MK, Lauwers GY, Barisoni L, Colvin RB. Pseudotumors due to IgG4 immune-complex tubulointerstitial nephritis associated with autoimmune pancreatocentric disease. The American journal of surgical pathology. 2007; 31: 1586-1597. [PMID: 17895762].
Nishimori I, Tamakoshi A, Otsuki M, Research Committee on Intractable Diseases of the Pancreas MoHL, Welfare of J. Prevalence of autoimmune pancreatitis in Japan from a nationwide survey in 2002. Journal of gastroenterology. 2007; 18: 6-8. [PMID: 17520216].
Saeki T, Nishi S, Ito T, Yamazaki H, Miyamura S, Emura I, Imai N, Ueno M, et al. Renal lesions in IgG4-related systemic disease. Internal medicine. 2007; 46: 1365-1371. [PMID: 17827834].
Kawano M, Saeki T, Nakashima H, Nishi S, Yamaguchi Y, Hisano S, Hisano S, Yamanaka N, Inoue D, et al. Proposal for diagnostic criteria for IgG4-related kidney disease. Clinical and experimental nephrology. 2011; 15: 615-626. [PMID: 21898030].
Saeki T, Nishi S, Imai N, Ito T, Yamazaki H, Kawano M, Yamamoto M, Takahashi H, et al. Clinicopathological characteristics of patients with IgG4-related tubulointerstitial nephritis. Kidney international. 2010; 78: 1016-1023. [PMID: 20720530].
Shoji S, Nakano M, Usui Y. IgG4-related inflammatory pseudotumor of the kidney. International journal of urology : official journal of the Japanese Urological Association. 2010; 17: 389-390. [PMID: 20409237].
Deshpande V, Zen Y, Chan JK, Yi EE, Sato Y, Yoshino T, Klöppel G, Heathcote JG, Khosroshahi A, et al. Consensus statement on the pathology of IgG4-related disease. Modern pathology: an official journal of the United States and Canadian Academy of Pathology, Inc. 2012; 25: 1181-1192. [PMID: 22596100].
Nishikawa G, Nakamura K, Yamada Y, Yoshizawa T, Kato Y, Katsuda R, Katsuda R, Zennami K, Tobiume M, et al. Inflammatory pseudotumors of the kidney and the lung presenting as immunoglobulin G4-related disease: a case report. Journal of medical case reports. 2011; 5: 480. [PMID: 21943114].
Miura H, Kitamura S, Yamada H. An autopsy case of autoimmune pancreatitis after a 6-year history of steroid therapy accompanied by malignant dissemination of unknown origin. European journal of gastroenterology & hepatology. 2008; 20: 930-934.
Oae M, Okubo K, Uemura Y, Atsuta T, Kimura H, Makino Y, Matsui Y, Imamura M, Shimizu Y, et al. [IgG4-related tubulointerstitial nephritis presented with multiple renal nodular lesions]. Hinyokika kiyo Acta Urologica Japonica. 2011; 57: 309-313.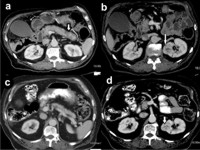 How to Cite
KhanM., KamalS., AhmadU., ChowdhuryM., & NawrasA. (2014). Renal Cell Carcinoma Mimicking Igg4-Related Pseudotumor in Autoimmune Pancreatitis. JOP. Journal of the Pancreas, 15(5), 520-522. https://doi.org/10.6092/1590-8577/2808
Copyright (c) 2014 Muhammad Ali Khan, Sehrish Kamal, Usman Ahmad, Mohammed Andaleeb Chowdhury, Ali Nawras
This work is licensed under a Creative Commons Attribution 4.0 International License.
As a member of Publisher International Linking Association, PILA, iMedPub Group's JOP follows the Creative Commons Attribution License and Scholars Open Access publishing policies. Journal of the Pancreas is the Council Contributor Member of Council of Science Editors (CSE) and following the CSE slogan Education, Ethics, and Evidence for Editors.