Acute Pancreatitis Induced Fluid Collections - The Naming Game
Dana M Christopher

Geisinger Medical Center. Danville, PA, USA

Kimberly J Chaput

Geisinger Medical Center. Danville, PA, USA

Kimberly J Fairley

Geisinger Medical Center. Danville, PA, USA

Andrew D Mowery

Geisinger Medical Center. Danville, PA, USA

Christopher Valente

Geisinger Medical Center. Danville, PA, USA

Blake A Stewart

Geisinger Medical Center. Danville, PA, USA

Steven R Bonebrake

Geisinger Medical Center. Danville, PA, USA

Harshit Khara

Geisinger Medical Center. Danville, PA, USA

Amitpal S Johal

Geisinger Medical Center. Danville, PA, USA
Abstract
No abstract available.
Image: Geisinger Medical Center. Danville, PA, USA.
Downloads
Download data is not yet available.
References
Banks PA, Bollen TL, Dervenis C, Gooszen HG, Johnson CD, Sarr MG, et al. Classification of acute pancreatitis – 2012: revision of the Atlanta classification and definitions by international consensus. Gut 2013; 62:102-111. [PMID: 23100216]
Thoeni R. The Revised Atlanta Classification of Acute Pancreatitis: It is Importance for the Radiologist and Its Effect on Treatment. Radiology 2012; 262:3. [PMID: 22357880]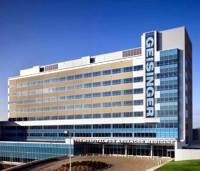 How to Cite
ChristopherD., ChaputK., FairleyK., MoweryA., ValenteC., StewartB., BonebrakeS., KharaH., & JohalA. (2015). Acute Pancreatitis Induced Fluid Collections - The Naming Game. JOP. Journal of the Pancreas, 16(2), 214-215. https://doi.org/10.6092/1590-8577/2950
Copyright (c) 2015 Dana M Christopher, Kimberly J Chaput, Kimberly J Fairley, Andrew D Mowery, Christopher Valente, Blake A Stewart, Steven R Bonebrake, Harshit Khara, Amitpal S Johal
This work is licensed under a Creative Commons Attribution 4.0 International License.
As a member of Publisher International Linking Association, PILA, iMedPub Group's JOP follows the Creative Commons Attribution License and Scholars Open Access publishing policies. Journal of the Pancreas is the Council Contributor Member of Council of Science Editors (CSE) and following the CSE slogan Education, Ethics, and Evidence for Editors.