Ultrasound-Assisted Focused Open Necrosectomy in the Treatment of Necrotizing Pancreatitis
Guntars Pupelis

Department of General and Emergency Surgery, Riga East Clinical University Hospital. Riga, Latvia

Vladimir Fokin

Department of General and Emergency Surgery, Riga East Clinical University Hospital. Riga, Latvia

Kaspars Zeiza

Department of General and Emergency Surgery, Riga East Clinical University Hospital. Riga, Latvia

Ita Kazaka

Department of General and Emergency Surgery, Riga East Clinical University Hospital. Riga, Latvia

Jelizaveta Pereca

Department of General and Emergency Surgery, Riga East Clinical University Hospital. Riga, Latvia

Vita Skuja

Department of General and Emergency Surgery, Riga East Clinical University Hospital. Riga, Latvia

Viesturs Boka

Department of General and Emergency Surgery, Riga East Clinical University Hospital. Riga, Latvia
Keywords:
Intraoperative Care, Preoperative Care, Surgery, Ultrasonography
Abstract
Context The surgical treatment of necrotizing pancreatitis includes percutaneous drainage of acute necrotic collections and sequestrectomy in the late phase of the disease. Objective The aim of the study was to compare the conventional open necrosectomy (CON) approach with the alternative focused open necrosectomy (FON) approach in patients with infected necrosis and progression of sepsis. Methods Patients with acute necrotizing pancreatitis were included in the study prospectively from January 2004 to July 2014. All patients had been admitted with the first or a new episode of disease. Symptomatic large fluid collections were drained percutaneously. The step-up approach was used in patients with several distant localizations of infected necrosis. The methods were analysed by comparing the individual severity according to the ASA, APACHE II and SOFA scores, infection rate, postoperative complication rate and mortality. Results A total of 31 patients were included in the FON group and 39 in the CON group. The incidence of infection was similar in groups. More ASA III comorbid conditions, a higher APACHE II score, a more frequent need for renal replacement therapy was observed in the CON group. The postoperative complication rate was in the range of 32% to 44%; mortality reached 6.5% in the FON group and 12.8% in the CON group. Conclusions Comorbid conditions, organ failure, and infection are the main risk factors in patients with necrotizing pancreatitis. The step-up approach and perioperative ultrasonography navigation improves the clinical outcome and reduces the extent of invasive surgical intervention in patients unsuited to other minimally invasive procedures.
Image: Drainage of infected acute necrotic collection.
Downloads
Download data is not yet available.
References
References
Werner J, Feuerbach S, Uhl W, Büchler MW. Management of acute pancreatitis: from surgery to interventional intensive care. Gut 2005; 54:426-36. [PMID: 15710995]
Fabbri C, Luigiano C, Maimone A, Polifemo AM, Tarantino I, Cennamo V. Endoscopic ultrasound-guided drainage of pancreatic fluid collections. World J Gastrointest Endosc 2012; 4:479-88. [PMID: 23189219]
Gardner TB, Chahal P, Papachristou GI, Vege SS, Petersen BT, Gostout CJ, et al. A comparison of direct endoscopic necrosectomy with transmural endoscopic drainage for the treatment of walled-off pancreatic necrosis. Gastrointest Endosc 2009; 69:1085-94. [PMID: 19243764]
van Santvoort HC, Besselink MG, Bakker OJ, Hofker HS, Boermeester MA, Dejong CH, et al; Dutch Pancreatitis Study Group. A step-up approach or open necrosectomy for necrotizing pancreatitis. N Engl J Med 2010; 362:1491-502. [PMID: 20410514]
Mathew MJ, Parmar AK, Sahu D, Reddy PK. Laparoscopic necrosectomy in acute necrotizing pancreatitis: Our experience. J Minim Access Surg 2014; 10:126-31. [PMID: 25013328]
Dellinger EP, Forsmark CE, Layer P, Lévy P, Maraví-Poma E, Petrov MS, et al; Pancreatitis Across Nations Clinical Research and Education Alliance (PANCREA). Determinant-based classification of acute pancreatitis severity: an international multidisciplinary consultation. Ann Surg 2012; 256:875-80. [PMID: 22735715]
Götzinger P, Sautner T, Kriwanek S, Beckerhinn P, Barlan M, Armbruster C, et al. Surgical treatment for severe acute pancreatitis: extent and surgical control of necrosis determine outcome. World J Surg 2002; 26:474–8. [PMID: 11910483]
da Costa DW, Boerma D, van Santvoort HC, Horvath KD, Werner J, Carter CR, et al. Staged multidisciplinary step-up management for necrotizing pancreatitis. Br J Surg 2014; 101:e65-79. [PMID: 24272964]
Doctor N, Philip S, Gandhi V, Hussain M, Barreto SG. Analysis of the delayed approach to the management of infected pancreatic necrosis. World J Gastroenterol 2011; 17:366-71. [PMID: 21253397]
Pupelis G, Fokin V, Zeiza K, Plaudis H, Suhova A, Drozdova N, et al. Focused open necrosectomy in necrotizing pancreatitis. HPB (Oxford) 2013; 15:535-40. [PMID: 23458703]
Whitcomb DC. Clinical practice. Acute pancreatitis. N Engl J Med 2006; 354:2142-50. [PMID: 16707751]
Warshaw AL. Improving the treatment of necrotizing pancreatitis - a step up. N Engl J Med 2010; 362:1535-7. [PMID: 20410519]
Banks PA, Bollen TL, Dervenis C, Gooszen HG, Johnson CD, Sarr MG, et al; Acute Pancreatitis Classification Working Group. Classification of acute pancreatitis – 2012: revision of the Atlanta classification and definitions by international consensus. Gut 2013; 62:102-11. [PMID: 23100216]
Beger HG, Rau B, Isenmann R. Necrosectomy or anatomically guided resection in acute pancreatitis. Chirurg. 2000; 71:274-80. [PMID: 10789044]
Werner J, Hartwig W, Hackert T, Büchler MW. Surgery in the treatment of acute pancreatitis - open pancreatic necrosectomy. Scand J Surg 2005; 94:130-4. [PMID: 16111095]
Morise Z, Yamafuji K, Asami A, Takeshima K, Hayashi N, Endo T, et al. Direct retroperitoneal open drainage via a long posterior oblique incision for infected necrotizing pancreatitis: report of three cases. Surg Today 2003; 33:315-8. [PMID: 12707833]
Chang YC, Tsai HM, Lin XZ, Chang CH, Chuang JP. No debridement is necessary for symptomatic or infected acute necrotizing pancreatitis: delayed, mini-retroperitoneal drainage for acute necrotizing pancreatitis without debridement and irrigation. Dig Dis Sci 2006; 51:1388-95. [PMID: 16855881]
Bello B, Matthews JB. Minimally invasive treatment of pancreatic necrosis. World J Gastroenterol 2012; 18: 6829-35. [PMID: 23239921]
Karakayali FY. Surgical and interventional management of complications caused by acute pancreatitis World J Gastroenterol 2014; 20:13412-23. [PMID: 25309073]
van Brunschot S, van Grinsven J, Voermans RP, Bakker OJ, Besselink MG, Boermeester MA, et al; Dutch Pancreatitis Study Group. Transluminal endoscopic step-up approach versus minimally invasive surgical step-up approach in patients with infected necrotising pancreatitis (TENSION trial): design and rationale of a randomised controlled multicenter trial [ISRCTN09186711]. BMC Gastroenterol 2013; 13:161. [PMID: 24274589]
Zerem E. Treatment of severe acute pancreatitis and its complications. World J Gastroenterol. 2014; 20:13879-92.
Shyu JY, Sainani NI, Sahni VA, Chick JF, Chauhan NR, Conwell DL, et al. Necrotizing pancreatitis: diagnosis, imaging, and intervention. Radiographics. 2014; 34:1218-39. [PMID: 25208277]
da Costa DW, Boerma D, van Santvoort HC, Horvath KD, Werner J, Carter CR, et al. Staged multidisciplinary step-up management for necrotizing pancreatitis. Br J Surg 2014; 101:e65–79. [PMID: 24272964]
Seewald S, Groth S, Omar S, Imazu H, Seitz U, de Weerth A, et al. Aggressive endoscopic therapy for pancreatic necrosis and pancreatic abscess: a new safe and effective treatment algorithm (videos). Gastrointest Endosc 2005; 62:92-100. [PMID: 15990825]
Voermans RP, Veldkamp MC, Rauws EA, Bruno MJ, Fockens P. Endoscopic transmural debridement of symptomatic organized pancreatic necrosis (with videos). Gastrointest Endosc 2007; 66:909-16. [PMID: 17963877]
Ang TL, Kwek AB, Tan SS, Ibrahim S, Fock KM, Teo EK. Direct endoscopic necrosectomy: a minimally invasive endoscopic technique for the treatment of infected walled-off pancreatic necrosis and infected pseudocysts with solid debris. Singapore Med J 2013; 54:206-211. [PMID: 23624447]
Tan V, Charachon A, Lescot T, Chafaï N, Le Baleur Y, Delchier JC, Paye F. Endoscopic transgastric versus surgical necrosectomy in infected pancreatic necrosis. Clin Res Hepatol Gastroenterol 2014; 38:770-6. [PMID: 25153999]
Working Group IAP/APA Acute Pancreatitis Guidelines. IAP/APA evidencebased guidelines for the management of acute pancreatitis. Pancreatology 2013; 13:e1-15. [PMID: 24054878]
Zacherl J, Scheuba C, Imhof M, Zacherl M, Längle F, Pokieser P. Current value of intraoperative sonography during surgery for hepatic neoplasms. World J Surg 2002; 26:550-4. [PMID: 12098044]
D'Onofrio M, Vecchiato F, Faccioli N, Falconi M, Pozzi Mucelli R. Ultrasonography of the pancreas. 7. Intraoperative imaging. Abdom Imaging 2007; 32:200-6. [PMID: 16858661]
Lane RJ, Glazer G. Intra-operative B-mode ultrasound scanning of the extrahepatic biliary system and pancreas. Lancet 1980; 2:334-7. [PMID: 6105476]
Sun MR, Brennan DD, Kruskal JB, Kane RA. Intraoperative ultrasonography of the pancreas. Radiographics 2010; 30:1935-53. [PMID: 21057128]
Cwik G, Solecki M, Wallner G. Intraoperative ultrasound in the treatment of pancreatic diseases. Pol Przegl Chir 2014; 86:268-78. [PMID: 25205697]
Cirimbei S, Puşcu C, Lucenco L, Brătucu E. The role of intraoperative ultrasound in establishing the surgical strategy regarding hepato-biliopancreatic pathology. Chirurgia (Bucur). 2013; 108:643-51. [PMID: 24157106]
Rau B, Bothe A, Beger HG. Surgical treatment of necrotizing pancreatitis by necrosectomy and closed lavage: changing patient characteristics and outcome in a 19-year, single-center series. Surgery 2005; 138:28-39. [PMID: 16003313]
Beger HG, Rau BM. Severe acute pancreatitis: Clinical course and management. World J Gastroenterol 2007; 13: 5043-51. [PMID: 17876868]
Besselink MG, van Santvoort HC, Boermeester MA, Nieuwenhuijs VB, van Goor H, Dejong CH, et al; Dutch Acute Pancreatitis Study Group. Timing and impact of infections in acute pancreatitis. Br J Surg 2009; 96:267-73. [PMID: 19125434]
Guo Q, Li A, Xia Q, Liu X, Tian B, Mai G. The role of organ failure and infection in necrotizing pancreatitis: a prospective study. Ann Surg 2014; 259:1201-7. [PMID: 24169172]
Isenmann R, Schwarz M, Rau B, Trautmann M, Schober W, Beger HG. Characteristics of infection with Candida species in patients with necrotizing pancreatitis. World J Surg 2002; 26:372-6. [PMID: 11865377]
Rau BM, Kemppainen EA, Gumbs AA, Büchler MW, Wegscheider K, Bassi C, et al. Early assessment of pancreatic infections and overall prognosis in severe acute pancreatitis by procalcitonin (PCT): a prospective international multicenter study. Ann Surg 2007; 245:745-54. [PMID: 17457167]
van Baal MC, Bollen TL, Bakker OJ, van Goor H, Boermeester MA, Dejong CH, et al; Dutch Pancreatitis Study Group. The role of routine fine-needle aspiration in the diagnosis of infected necrotizing pancreatitis. Surgery 2014; 155:442-8. [PMID: 24287142]
Cacopardo B, Pinzone M, Berretta S, Fisichella R, Di Vita M, Zanghì G. Localized and systemic bacterial infections in necrotizing pancreatitis submitted to surgical necrosectomy or percutaneous drainage of necrotic secretions. BMC Surg 2013, 13:S50. [PMID: 24267612]
Noor MT, Radhakrishna Y, Kochhar R, Ray P, Wig JD, Sinha SK, Singh K: Bacteriology of infection in severe acute pancreatitis. JOP 2011; 12:19-25. [PMID: 21206096]
Beger HG, Rau B, Isenmann R, Schwarz M, Gansauge F, Poch B. Antibiotic prophylaxis in severe acute pancreatitis. Pancreatology 2005; 5:10-19. [PMID: 15775694]
Dhingra R, Srivastava S, Behra S, Vadiraj PK, Venuthurimilli A, Shalimar, et al. Single or multiport percutaneous endoscopic necrosectomy performed with the patient under conscious sedation is a safe and effective treatment for infected pancreatic necrosis (with video). Gastrointest Endosc 2014; pii: S0016-5107(14)02053-7. Epub ahead of print. [PMID: 25293824]
Freeman ML, Werner J, van Santvoort HC, Baron TH, Besselink MG, Windsor JA, et al; International Multidisciplinary Panel of Speakers and Moderators. Interventions for necrotizing pancreatitis: summary of a multidisciplinary consensus conference. Pancreas 2012; 41:1176-94. [PMID: 23086243]
Connor S, Alexakis N, Raraty MG, Ghaneh P, Evans J, Hughes M. Early and late complications after pancreatic necrosectomy. Surgery 2005; 137:499-505. [PMID: 15855920]
Howard TJ, Patel JB, Zyromski N, Sandrasegaran K, Yu J, Nakeeb A, et al. Declining morbidity and mortality rates in the surgical management of pancreatic necrosis. J Gastrointest Surg 2007; 11:43-9. [PMID 17390185]
Gou S, Xiong J, Wu H, Zhou F, Tao J, Liu T, Wang C. Five-year cohort study of open pancreatic necrosectomy for necotizing pancreatitis suggests it is a safe and effective operation. J Gastrointest Surg 2013; 17:1634-42. [PMID: 23868057]
Carnovale A, Rabitti PG, Manes G, Esposito P, Pacelli L, Uomo G. Mortality in acute pancreatitis: is it an early or a late event? JOP 2005; 6:438-44. [PMID: 16186665]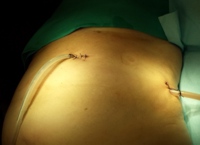 How to Cite
PupelisG., FokinV., ZeizaK., KazakaI., PerecaJ., SkujaV., & BokaV. (2015). Ultrasound-Assisted Focused Open Necrosectomy in the Treatment of Necrotizing Pancreatitis. JOP. Journal of the Pancreas, 16(2), 150-158. https://doi.org/10.6092/1590-8577/2953
Section
ORIGINAL ARTICLES
Copyright (c) 2015 Guntars Pupelis, Vladimir Fokin, Kaspars Zeiza, Ita Kazaka, Jelizaveta Pereca, Vita Skuja, Viesturs Boka
This work is licensed under a Creative Commons Attribution 4.0 International License.
As a member of Publisher International Linking Association, PILA, iMedPub Group's JOP follows the Creative Commons Attribution License and Scholars Open Access publishing policies. Journal of the Pancreas is the Council Contributor Member of Council of Science Editors (CSE) and following the CSE slogan Education, Ethics, and Evidence for Editors.