Does Etiology of Acute Pancreatitis Matter? A Review of 391 Consecutive Episodes
Gunther Weitz

Gastroenterology, Medical Department I, University Hospital of Schleswig-Holstein, Campus Lübeck. Lübeck, Germany

Julia Woitalla

Gastroenterology, Medical Department I, University Hospital of Schleswig-Holstein, Campus Lübeck. Lübeck, Germany

Peter Wellhöner

Gastroenterology, Medical Department I, University Hospital of Schleswig-Holstein, Campus Lübeck. Lübeck, Germany

Klaus Schmidt

Gastroenterology, Medical Department I, University Hospital of Schleswig-Holstein, Campus Lübeck. Lübeck, Germany

Jürgen Büning

Gastroenterology, Medical Department I, University Hospital of Schleswig-Holstein, Campus Lübeck. Lübeck, Germany

Klaus Fellermann

Gastroenterology, Medical Department I, University Hospital of Schleswig-Holstein, Campus Lübeck. Lübeck, Germany
Keywords:
Pancreatitis /etiology, Retrospective Studies
Abstract
Context Acute pancreatitis can be triggered by a variety of factors ranging from short lasting to sustained disruptions. It is plausible that the characteristics and course of disease differ among etiologies. Data distinguishing characteristics of patients with pancreatitis of biliary, alcoholic, idiopathic or other origin are scarce and conflicting. Objective To compare patients' characteristics, baseline parameters on admission, and outcome in patients with an episode of acute pancreatitis in whom the etiology was thoroughly determined. Design Retrospective study. Setting Single center. Patients Three-hundreds and 91 consecutive episodes of acute pancreatitis through the years 2008 to 2011. Main outcome measures Gender, age, body mass index, Charlson comorbidity index, history of pancreatitis, heart rate, blood pressure, plasma lipase, hematocrit, plasma creatinine, white blood cell count, rate of persistent organ failure and necrosis, maximum C-reactive protein, duration of hospitalization, mortality. Results There were marked differences between the groups. Biliary etiology was associated with higher age and body weight, female predominance, higher plasma lipase, and a favourable outcome. Alcoholic etiology had male predominance, a tendency for initial hemoconcentration, a lower plasma lipase, and the highest rate of necrosis. Idiopathic etiology had the highest rate of persistent organ failure and the highest mortality. Conclusions Biliary, alcoholic and idiopathic acute pancreatitis should be treated as distinct entities. While alcoholic episodes have the highest risk of necrosis, the worst outcome was observed in the idiopathic group. Hence, finding no causality for an episode of acute pancreatitis after thorough investigation might be a predictor for poor outcome. Larger studies are warranted to confirm this.
Image: Age and gender distribution of the episodes of acute pancreatitis sorted by etiology.
Downloads
Download data is not yet available.
References
Wang GJ, Gao CF, Wei D, Wang C, Ding SQ. Acute pancreatitis: etiology and common pathogenesis. World J Gastroenterol 2009; 15:1427-30. [PMID: 19322914]
Kylänpää L, Rakonczay Z, Jr., O'Reilly DA. The clinical course of acute pancreatitis and the inflammatory mediators that drive it. Int J Inflam 2012; 2012:360685. [PMID: 23304633]
Gullo L, Migliori M, Pezzilli R, Olah A, Farkas G, Levy P et al. An update on recurrent acute pancreatitis: data from five European countries. Am J Gastroenterol 2002; 97:1959-62. [PMID: 12190160]
Lankisch PG, Breuer N, Bruns A, Weber-Dany B, Löwenfels AB, Maisonneuve P. Natural history of acute pancreatitis: a long-term population-based study. Am J Gastroenterol 2009; 104:2797-805. [PMID: 19603011]
Zheng Y, Zhou Z, Li H, Li J, Li A, Ma B et al. A Multicenter Study on Etiology of Acute Pancreatitis in Beijing During 5 Years. Pancreas 2014. [PMID: 25438072]
Lankisch PG, Assmus C, Maisonneuve P, Löwenfels AB. Epidemiology of pancreatic diseases in Lüneburg County. A study in a defined german population. Pancreatology 2002; 2:469-77. [PMID: 12378115]
Frey CF, Zhou H, Harvey DJ, White RH. The incidence and case-fatality rates of acute biliary, alcoholic, and idiopathic pancreatitis in California, 1994-2001. Pancreas 2006; 33:336-44. [PMID: 17079936]
Uhl W, Isenmann R, Curti G, Vogel R, Beger HG, Buchler MW. Influence of etiology on the course and outcome of acute pancreatitis. Pancreas 1996; 13:335-43. [PMID: 8899793]
Uomo G, Pezzilli R, Gabbrielli A, Castoldi L, Zerbi A, Frulloni L et al. Diagnostic assessment and outcome of acute pancreatitis in Italy: results of a prospective multicentre study. ProInf-AISP: Progetto informatizzato pancreatite acuta, Associazione Italiana Studio Pancreas, phase II. Dig Liver Dis 2007; 39:829-37. [PMID: 17625994]
Choi JH, Kim MH, Oh D, Paik WH, Park dH, Lee SS et al. Clinical relevance of the revised Atlanta classification focusing on severity stratification system. Pancreatology 2014; 14:324-9. [PMID: 25174301]
Omdal T, Dale J, Lie SA, Iversen KB, Flaatten H, Ovrebo K. Time trends in incidence, etiology, and case fatality rate of the first attack of acute pancreatitis. Scand J Gastroenterol 2011; 46:1389-98. [PMID: 21830851]
Lankisch PG, Assmus C, Pflichthofer D, Struckmann K, Lehnick D. Which etiology causes the most severe acute pancreatitis? Int J Pancreatol 1999; 26:55-7. [PMID: 10597400]
Talukdar R, Clemens M, Vege SS. Moderately severe acute pancreatitis: prospective validation of this new subgroup of acute pancreatitis. Pancreas 2012; 41:306-9. [PMID: 22015971]
de Beaux AC, Palmer KR, Carter DC. Factors influencing morbidity and mortality in acute pancreatitis; an analysis of 279 cases. Gut 1995; 37:121-6. [PMID: 7672660]
Bai Y, Liu Y, Jia L, Jiang H, Ji M, Lv N et al. Severe acute pancreatitis in China: etiology and mortality in 1976 patients. Pancreas 2007; 35:232-7. [PMID: 17895843]
Chen Y, Zak Y, Hernandez-Boussard T, Park W, Visser BC. The epidemiology of idiopathic acute pancreatitis, analysis of the nationwide inpatient sample from 1998 to 2007. Pancreas 2013; 42:1-5. [PMID: 22750972]
Ortega AR, Gomez-Rodriguez R, Romero M, Fernandez-Zapardiel S, Cespedes MM, Carrobles JM. Prospective comparison of endoscopic ultrasonography and magnetic resonance cholangiopancreatography in the etiological diagnosis of "idiopathic" acute pancreatitis. Pancreas 2011; 40:289-94. [PMID: 21206330]
Freeman ML, Werner J, van Santvoort HC, Baron TH, Besselink MG, Windsor JA et al. Interventions for necrotizing pancreatitis: summary of a multidisciplinary consensus conference. Pancreas 2012; 41:1176-94. [PMID: 23086243]
Banks PA, Bollen TL, Dervenis C, Gooszen HG, Johnson CD, Sarr MG et al. Classification of acute pancreatitis - 2012: revision of the Atlanta classification and definitions by international consensus. Gut 2013; 62:102-11. [PMID: 23100216]
Weitz G, Woitalla J, Wellhoner P, Schmidt K, Buning J, Fellermann K. Detrimental effect of high volume fluid administration in acute pancreatitis - A retrospective analysis of 391 patients. Pancreatology 2014; 14(6):478-483.
Perez-Mateo M. How we predict the etiology of acute pancreatitis. JOP 2006; 7:257-61. [PMID: 25451185]
Yadav D, O'Connell M, Papachristou GI. Natural history following the first attack of acute pancreatitis. Am J Gastroenterol 2012; 107:1096-103. [PMID: 22613906]
Vipperla K, Papachristou GI, Easler J, Muddana V, Slivka A, Whitcomb DC et al. Risk of and factors associated with readmission after a sentinel attack of acute pancreatitis. Clin Gastroenterol Hepatol 2014; 12:1911-9. [PMID: 24815327]
Cavestro GM, Leandro G, Di Leo M, Zuppardo RA, Morrow OB, Notaristefano C et al. A single-centre prospective, cohort study of the natural history of acute pancreatitis. Dig Liver Dis 2014. [PMID: 25475611]
Pezzilli R, Billi P, Miglioli M, Gullo L. Serum amylase and lipase concentrations and lipase/amylase ratio in assessment of etiology and severity of acute pancreatitis. Dig Dis Sci 1993; 38:1265-9. [PMID: 7686843]
Cornett DD, Spier BJ, Eggert AA, Pfau PR. The causes and outcome of acute pancreatitis associated with serum lipase >10,000 u/l. Dig Dis Sci 2011; 56:3376-81. [PMID: 21614591]
James MF, Duthie AM, Duffy BL, McKeag AM, Rice CP. Analgesic effect of ethyl alcohol. Br J Anaesth 1978; 50:139-41. [PMID: 341934]
Baillargeon JD, Orav J, Ramagopal V, Tenner SM, Banks PA. Hemoconcentration as an early risk factor for necrotizing pancreatitis. Am J Gastroenterol 1998; 93:2130-4. [PMID: 9820385]
Gan SI, Romagnuolo J. Admission hematocrit: a simple, useful and early predictor of severe pancreatitis. Dig Dis Sci 2004; 49:1946-52. [PMID: 15628731]
de Madaria E, Soler-Sala G, Sanchez-Paya J, Lopez-Font I, Martinez J, Gomez-Escolar L et al. Influence of fluid therapy on the prognosis of acute pancreatitis: a prospective cohort study. Am J Gastroenterol 2011; 106:1843-50. [PMID: 21876561]
Lankisch PG, Pflichthofer D, Lehnick D. No strict correlation between necrosis and organ failure in acute pancreatitis. Pancreas 2000; 20:319-22. [PMID: 10766460]
Thandassery RB, Yadav TD, Dutta U, Appasani S, Singh K, Kochhar R. Dynamic nature of organ failure in severe acute pancreatitis: the impact of persistent and deteriorating organ failure. HPB (Oxford) 2013; 15:523-8. [PMID: 23750495]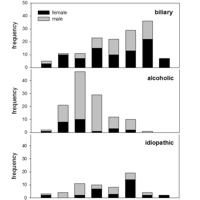 How to Cite
WeitzG., WoitallaJ., WellhönerP., SchmidtK., BüningJ., & FellermannK. (2015). Does Etiology of Acute Pancreatitis Matter? A Review of 391 Consecutive Episodes. JOP. Journal of the Pancreas, 16(2), 171-175. https://doi.org/10.6092/1590-8577/2959
Section
ORIGINAL ARTICLES
Copyright (c) 2015 Gunther Weitz, Julia Woitalla, Peter Wellhöner, Klaus Schmidt, Jürgen Büning, Klaus Fellermann
This work is licensed under a Creative Commons Attribution 4.0 International License.
As a member of Publisher International Linking Association, PILA, iMedPub Group's JOP follows the Creative Commons Attribution License and Scholars Open Access publishing policies. Journal of the Pancreas is the Council Contributor Member of Council of Science Editors (CSE) and following the CSE slogan Education, Ethics, and Evidence for Editors.