Acute Pancreatitis Secondary to Diabetic Ketoacidosis Induced Hypertriglyceridemia in a Young Adult with Undiagnosed Type 2 Diabetes
Animesh A Singla

University of New South Wales. Kensington, NSW, Australia

Francis Ting

Prince of Wales Hospital. Randwick, NSW, Australia

Apresh Singla

St Vincent's Hospital. Darlinghurst, NSW, Australia
Keywords:
Diabetic Ketoacidosis, Hypertriglyceridemia, Pancreatitis
Abstract
Context The triad of acute pancreatitis, hypertriglyceridemia and diabetes is a rare occurrence. Case report A previously well 19-year-old male presented to the emergency department with 24-hour history of epigastric pain, associated with polyuria and nausea. Biochemical markers showed the presence of hyperglycemia (blood sugar level 15 mmol/L) and ketonemia (5.3 mmol/L). Further investigation revealed severe hypertriglyceridemia (4,009 mg/dL) and elevated lipase (1,714 U/L). Abdominal ultrasound confirmed the diagnosis of acute pancreatitis. He was transferred to intensive care, where he received i.v. hydration, insulin and dextrose infusion. His metabolic derangements gradually resolved. His glycosylated hemoglobin was 13%, indicating the presence of chronically elevated blood sugars. Conclusion The possible pathophysiology and management of this unusual triad: diabetic ketoacidosis, hypertriglyceridemia and acute pancreatitis, are explored in this paper.
Image: Edematous pancreas and adjacent fluid collection.
Downloads
Download data is not yet available.
References
Low J, Felner E, Muir A, Brown M, Dorcelet M, Limin P. Do obese children with diabetic ketoacidosis have type 1 or type 2 diabetes? Prim Care Diabetes 2012; 6:61-5. [PMID: 22230097]
Rewers A, Klingensmith G, Davis C, Pettiti D, Pihoker C, Rodriguez B, et al. Presence of diabetic ketoacidosis at diagnosis of diabetes mellitus in youth: the search for diabetes in youth study. Pediatrics 2008; 121:1258-66. [PMID: 18450868]
Chiasson J, Aris-Jilwan N, Belanger R, Bertrand S, Beauregard H, Ekoe J, et al. Diagnosis and treatment of diabetic ketoacidosis and the hyperglycemic hyperosmolar state. CMAJ 2003; 168:859–66. [PMID: 12668546]
Kitabchi A, Umpierrez G, Murphy M, Barrett E, Kreisberg R, Malone J, et al. Hyperglycemic crises in diabetes. Diabetes Care 2004; 27:S94–S102. [PMID: 19564476]
Kota S, Jammula S, Kota S, Meher L, Modi K. Acute pancreatitis in association with diabetic ketoacidosis in a newly diagnosed type 1 diabetes mellitus patient; case based review. IJCCI 2012; 4:54-60.
Kota S, Krishna S, Lakhtakia S, Modi K. Metabolic pancreatitis: etiopathogenesis and management. Indian J Endocrinol Metab 2013; 17:799-805. [PMID: 24083160]
Nair S, Pitchumoni C. Diabetic Ketoacidosis, hyperlipidemia, and acute pancreatitis: the enigmatic triangle. Am J Gastroenterol 1997; 92:1-4. [PMID: 9317089]
Lufti R, Huang J, Wong H. Plasmapheresis to treat hypertriglyceridemia in a child with diabetic ketoacidosis and pancreatitis. Pediatrics 2012; 129:195-98. [PMID: 22201145]
Hahn S, Park J, Lee J, Lee J, Kim K. Severe Hypertriglycerdiemia in diabetic ketoacidosis accompanied by acute pancreatitis: case report. Endocrinol, Nutr Metab 2010; 25:1375-78. [PMCID: 2923793 ]
Soejima S, Umeno Y, Fujita T, Dohmen K, Miyamoto Y. A case of diabetic ketoacidosis complicated by severe hypertriglyceridemia and acute pancreatitis. JDS 2000; 43:561-566.
Rius F, Pizarro E, Reverter J, Gener J, Bechini J, Salinas I. Acute pancreatitis in newly diagnosed type 1 diabetes mellitus with diabetic ketoacidosis and hypertriglyceridemia. Medicina Clinica 1993; 101:622-624. [PMID: 8271867]
Wallace T, Matthews D. Recent advances in the monitoring and management of diabetic ketoacidosis. Q J Med 2004; 97: 773-780. [PMID: 15569808]
Chase W, Barker D, Russel W, Burns R. Serum amylase and lipase in the evaluation of acute abdominal pain. Am Surg 1996; 62:1028-33. [PMID: 8955242]
Yadav D, Nair S, Norkus E, Pitchumoni C. Nonspecific hyperamylasemia and hyperlipasemia in diabetic ketoacidosis: incidence and correlation with biochemical abnormalities. Am J Gastroenterol 2000; 95:3123–8. [PMID: 11095328]
Arugeta E, Nugent, K. Acute pancreatitis in a patient with diabetic ketoacidosis and normal lipase levels. ICU Director 2013; 4:166-69. [PMID: 11051350]
Umpierrez G, Freire A. Abdominal pain in patients with hyperglycemic crises. J Critical Care 2002; 17: 63-7. [PMID: 12040551]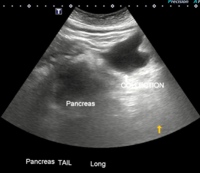 How to Cite
SinglaA., TingF., & SinglaA. (2015). Acute Pancreatitis Secondary to Diabetic Ketoacidosis Induced Hypertriglyceridemia in a Young Adult with Undiagnosed Type 2 Diabetes. JOP. Journal of the Pancreas, 16(2), 201-204. https://doi.org/10.6092/1590-8577/2961
Copyright (c) 2015 Animesh A Singla, Francis Ting, Apresh Singla
This work is licensed under a Creative Commons Attribution 4.0 International License.
As a member of Publisher International Linking Association, PILA, iMedPub Group's JOP follows the Creative Commons Attribution License and Scholars Open Access publishing policies. Journal of the Pancreas is the Council Contributor Member of Council of Science Editors (CSE) and following the CSE slogan Education, Ethics, and Evidence for Editors.