Solid-Pseudopapillary Neoplasm of the Pancreas: Case Series and Literature Review
José Roberto Alves

Department of Integrated Medicine, University Hospital Onofre Lopes, Federal University of Rio Grande do Norte. Natal, Brazil

Enio Campos Amico

Department of Integrated Medicine, University Hospital Onofre Lopes, Federal University of Rio Grande do Norte. Natal, Brazil
Keywords:
Cystadenoma, Cystadenocarcinoma, Pancreas, Pancreatic Neoplasm
Abstract
The solid-pseudopapillary neoplasm of the pancreas is a rare disease, although since 2000, it has been often identified. The current study aims to present a 10-case series of solid-pseudopapillary neoplasm of the pancreas and a literature review on the topic. The cohort consisted of nine female patients and one male. The mean age in the group was 31.2 year-old. These patients underwent surgical treatment at the University Hospital between May 2007 and July 2014. Since there was a previous systematic literature review on solid-pseudopapillary neoplasm of the pancreas (prior to September 20th, 2012), a complementary review was done after this period using PubMed's data base. The search identified 225 studies on this subject, but only 13 were selected for detailed analysis, after applying the inclusion and exclusion criteria. As a result, most of the information about the disease's epidemiology, clinical manifestations, malignity risk factors, metastasis and relapse were gathered, however, early diagnosis remained a challenge. Radical surgical resection is established as the standard treatment protocol for the disease, it is also recommended to perform metastasectomy, vascular resections and/or resections of other compromised organs in order to ensure therapeutic success in 95% of the cases. However, a post-operative follow up of at least 5 years is required to identify the possibility of relapses. Further studies are still needed mainly to define this disease's true prevalence among men, protocols for early diagnosis and the possible role of adjuvant therapies.
Image: Intraoperative picture demonstrating a SPN in pancreatic head attached to the portal vein.
Downloads
Download data is not yet available.
References
Ye J, Ma M, Cheng D, et al. Solid-pseudopapillary tumor of the pancreas: clinical features, pathological characteristics, and origin. J Surg Oncol 2012; 106: 728-735. [PMID: 22688864]
Yu PF, Hu ZH, Wang XB, et al. Solid pseudopapillary tumor of the pancreas: a review of 553 cases in Chinese literature. World J Gastroenterol 2010; 16:1209-1214. [PMID: 20222163]
Wang WB, Zhang TP, Sun WQ, et al. Solid pseudopapillary tumor of the pancreas with liver metastasis: clinical features and management. Eur J Surg Oncol 2014; 40:1572-1577. [PMID: 24961631]
Cai J, Ran X, Xie S, et al. Surgical management and long-term follow-up of solid pseudopapillary tumor of pancreas: a large series from a single institution. J Gastrointest Surg 2014; 18:935-940. [PMID: 24519038]
Papavramidis T, Papavramidis S. Solid pseudopapillary tumors of the pancreas: review of 718 patients reported in English literature. J Am Coll Surg 2005; 200:965-972. [PMID: 15922212]
Zhu H, Xia D, Wang B, et al. Extrapancreatic solid pseudopapillary neoplasm: Report of a case of primary retroperitoneal origin and review of the literature. Oncol Lett 2013; 5:1501-1504. [PMID: 23760027]
Chakhachiro ZI, Zaatari G. Solid-pseudopapillary neoplasm - A pancreatic enigma. Arch Pathol Lab Med 2009; 133:1989–1993. [PMID: 19961258]
Kang CM, Choi SH, Kim SC, et al. Predicting recurrence of pancreatic solid pseudopapillary tumors after surgical resection – A multicenter analysis in Korea. Ann Surg 2014; 260:348-355. [PMID: 24743622]
Law JK, Ahmed A, Singh VK, et al. A systematic review of solid-pseudopapillary neoplasms – Are these rare lesions? Pancreas 2014; 43:331-337. [PMID: 24622060]
Kim MJ, Choi DW, Choi SH, et al. Surgical treatment of solid pseudopapillary neoplasms of the pancreas and risk factors for malignancy. Br J Surg 2014; 1266-1271. [PMID: 25052300]
Estrella JS, Li L, Rashid A, et al. Solid pseudopapillary neoplasm of the pancreas: clinicopathologic and survival analyses of 64 cases from a single institution. Am J Surg Pathol 2014; 38:146-157. [PMID: 24418850].
Wang LJ, Bai L, Su D, et al. Retrospective analysis of 102 cases of solid pseudopapillary neoplasm of the pancreas in China. J Int Med Res 2013; 41:1266-1271. [PMID: 23812113]
Amico EC, Alves JR, João SA. Splenic vein graft for the reconstruction of the mesenteric-portal trunk after gastroduodenopancreatectomy. Rev Col Bras Cir 2014; 41:381-383. [PMID: 25467106]
Amico EC, Alves JR, João AS, et al. Complications after pancreatectomies: prospective study after ISGFP and ISGPS new classifications. Arq Bras Cir Dig 2013; 26: 213-218. [PMID: 24190380]
Park MJ, Lee JH, Kim JK, et al. Mutidetector CT imaging features of solid pseudopapillary tumours of the pancreas in male patients: distinctive imaging features with female patients. Br J Radiol. 2014; 87:20130513. [PMID: 24472726]
Hu S, Huang W, Lin X, et al. Solid pseudopapillary tumour of the pancreas: distinct patterns of computed tomography manifestation for male versus female patients. Radiol Med 2014; 119:83-89. [PMID: 24277508]
Raman SP, Kawamoto S, Law JK, et al. Institutional experience with solid pseudopapillary neoplasms: focus on computed tomography, magnetic resonance imaging, conventional ultrasound, endoscopic ultrasound, and predictors of aggressive histology. J Comput Assist Tomogr 2013; 37:824-833. [PMID: 24045264]
Park JK, Cho EJ, Ryu JK, et al. Natural history and malignant risk factors of solid pseudopapillary tumors of the pancreas. Postgrad Med 2013; 125:92-99. [PMID: 23816775]
Bosman FT, Carneiro F, Hruban RH, et al. WHO Classification of tumours of the digestive system. International Agency for Research on Cancer: Lyon, 2010. [NLMID: 101553728]
Jiang L, Cui L, Wang J, et al. Solid Pseudopapillary Tumors of the Pancreas: Findings From Routine Screening Sonographic Examination and the Value of Contrast-Enhanced Ultrasound. J Clin Ultra-sound. 2014. [PMID: 25502923]
Kim Y, Kim S, Paen JC, et al. Comparison of F-18-FDG PET/CT findings between pancreatic solid pseudopapillary tumor and pancreatic ductal adenocarcinoma. Radiology 2014; 83: 231-235. [PMID: 24290142]
Akiyama H, Ono K, Takano M, et al. Solid pseudopapillary tumor of the pancreatic head causing marked distal atrophy. Int J Pancreatol 2002; 32:47–52. [PMID: 12630770]
Frantz V. Tumor of the pancreas. Atlas of Tumor Pathology. 1st series. Washington, DC: US Armed Forces Institute of Pathology; 1959:32Y33.
Yin Q, Wang M, Wang C, et al. Differentiation between benign and malignant solid pseudopapillary tumor of the pancreas by MDCT. Eur J Radiol 2012; 81: 3010-3018. [PMID: 22520082]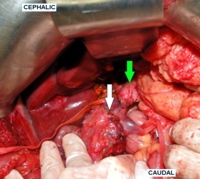 How to Cite
AlvesJ., & AmicoE. (2015). Solid-Pseudopapillary Neoplasm of the Pancreas: Case Series and Literature Review. JOP. Journal of the Pancreas, 16(3), 218-226. https://doi.org/10.6092/1590-8577/2986
Copyright (c) 2015 José Roberto Alves, Enio Campos Amico
This work is licensed under a Creative Commons Attribution 4.0 International License.
As a member of Publisher International Linking Association, PILA, iMedPub Group's JOP follows the Creative Commons Attribution License and Scholars Open Access publishing policies. Journal of the Pancreas is the Council Contributor Member of Council of Science Editors (CSE) and following the CSE slogan Education, Ethics, and Evidence for Editors.