Acquired 5-Fluorouracil Resistance in Human Pancreatic Carcinoma Cells. A Paradigm for Chemoresistance Mechanisms in Pancreatic Cancer
Marvin Schober

Division of Gastroenterology, Endocrinology and Metabolism, University Hospital, Philipps-Universitaet Marburg. Marburg, Germany

Ralf Jesenofsky

Department of Medicine II and Department of Gastroenterology, Hepatology and Infectious Diseases, University Medical Center Mannheim (UMM). Mannheim, Germany

Ralf Faissner

Department of Medicine II and Department of Gastroenterology, Hepatology and Infectious Diseases, University Medical Center Mannheim (UMM). Mannheim, Germany

Sebastian Krug

Division of Gastroenterology, Endocrinology and Metabolism, University Hospital, Philipps-Universitaet Marburg. Marburg, Germany

Cornelius Weidenauer

Department of Medicine II and Department of Gastroenterology, Hepatology and Infectious Diseases, University Medical Center Mannheim (UMM). Mannheim, Germany

Wolfgang Hagmann

German Cancer Research Center (DKFZ), Epigenomics and Cancer Risk Factors, Lung Cancer Genomics/Epigenomics. Heidelberg, Germany

Stephan L Haas

Gastrocentrum, Karolinska University Hospital of Stockholm. Stockholm, Sweden

Rainer L Heuchel

Department of Clinical Science, Intervention and Technology (CLINTEC), Karolinska Institutet. Stockholm, Sweden

Matthias J Löhr

Department of Clinical Science, Intervention and Technology (CLINTEC), Karolinska Institutet. Stockholm, Sweden
Keywords:
Pancreatic Neoplasms
Abstract
Context Pancreatic ductal adenocarcinoma is a dismal disease with one of the worst prognoses amongst solid tumors. Its ability to develop chemoresistance mechanisms towards cytotoxic drugs is the main cause of treatment failure. Objective Here, we have established a drug-resistance model for pancreatic cancer in which Capan-1 pancreatic carcinoma cells (designated Capan-1 5-FU2000) acquired 5-fluorouracil (5-FU) resistance and were used as a paradigm to reveal alterations in intracellular signaling cascades that. Those alterations may contribute to the circumvention of apoptosis during the course of the disease, culminating in treatment failure. Methods We made use of 2-D-gelelectrophoresis, mass-spectrometry, sandwich-ELISA and western blotting to compare the proteomic expression patterns of respective mediators involved in pro- and antiapoptotic as well as inflammatory processes in both cell lines. An ATP-based chemosensitivity assay validated the chemoresistant phenotype of the Capan-1 5-FU2000 clones. Results We detected specific changes in our resistant cell clones in particular a decreased expression of S100A4. We also found a decreased basal phosphorylation of SAPK/JNK and P38. The expression of the pro-apoptotic mediators Bok and Bad was down- and up-regulated in these cells, respectively. In case of NfkB p65 and IkB-alpha treatment with 5-FU (2,000 µg/mL for 96 h) markedly induced phosphorylation in native Capan-1 cells. In contrast in resistant clones it decreased phosphorylation of NfkB p65 and did not affect IkB-alpha phosphorylation. Basal phosphorylation of S6-ribosomal-protein was markedly increased in resistant clones, treatment with 5-FU decreased this phosphorylation, while in native Capan-1 cells it was vice versa. Conclusion Thus we can conclude that several pathways were found to be altered in chemoresistant Capan-1 5-FU2000 cells. Moreover these alterations are most likely the consequence of a multistep adaption towards gradual cytotoxic exposure finally culminating in a chemoresistant phenotype. Interfering with these pathways may possibly reverse the phenotype and thus open up alternative treatment options.
Image: Effect of 5-FU treatment on NfkB p65 phosphorylation in native and 5-FU resistant cells.
Downloads
Download data is not yet available.
References
Hidalgo M. Pancreatic cancer. The New England journal of medicine 2010; 362:1605-17. [PMID: 20427809].
Kleeff J, Michalski C, Friess H, Buchler MW. Pancreatic cancer: From bench to 5-year survival. Pancreas 2006; 33:111-8. [PMID: 16868475].
Löhr M. Is it possible to survive pancreatic cancer? Nature clinical practice. Gastroenterology & hepatology 2006; 3:236-7. [PMID: 16672986].
Siegel R, Naishadham D, Jemal A. Cancer statistics, 2012. CA: a cancer journal for clinicians 2012; 62:10-29. [PMID: 22237781].
Rahib L, Smith BD, Aizenberg R, Rosenzweig AB, Fleshman JM, Matrisian LM. Projecting cancer incidence and deaths to 2030: The unexpected burden of thyroid, liver, and pancreas cancers in the united states. Cancer research 2014; 74:2913-21. [PMID: 24840647].
Lowenfels AB, Maisonneuve P. Risk factors for pancreatic cancer. Journal of cellular biochemistry 2005; 95:649-56. [PMID: 15849724].
Raimondi S, Maisonneuve P, Löhr JM, Lowenfels AB. Early onset pancreatic cancer: Evidence of a major role for smoking and genetic factors. Cancer epidemiology, biomarkers & prevention : a publication of the American Association for Cancer Research, cosponsored by the American Society of Preventive Oncology 2007; 16:1894-7. [PMID: 17855711].
Raimondi S, Maisonneuve P, Lowenfels AB. Epidemiology of pancreatic cancer: An overview. Nature reviews. Gastroenterology & hepatology 2009; 6:699-708. [PMID: 19806144].
Lüttges J, Kloppel G. [pancreatic ductal adenocarcinoma and its precursors]. Der Pathologe 2005; 26:12-7. [PMID: 15630571].
Conroy T, Desseigne F, Ychou M, Bouche O, Guimbaud R, Becouarn Y, Adenis A, et al. Folfirinox versus gemcitabine for metastatic pancreatic cancer. The New England journal of medicine 2011; 364:1817-25. [PMID: 21561347].
Hwang IG, Jang JS, Oh SY, Lee S, Kwon HC, Lee GW, Go S, et al. A phase ii trial of erlotinib in combination with gemcitabine and cisplatin in advanced pancreatic cancer. Investigational new drugs 2012. [PMID: 22302349].
Lim KH, Chung E, Khan A, Cao D, Linehan D, Ben-Josef E, Wang-Gillam A. Neoadjuvant therapy of pancreatic cancer: The emerging paradigm? The oncologist 2012. [PMID: 22250057].
Reni M, Balzano G, Aprile G, Cereda S, Passoni P, Zerbi A, Tronconi MC, et al. Adjuvant pefg (cisplatin, epirubicin, 5-fluorouracil, gemcitabine) or gemcitabine followed by chemoradiation in pancreatic cancer: A randomized phase ii trial. Annals of surgical oncology 2012. [PMID: 22237835].
Katz MH, Fleming JB, Lee JE, Pisters PW. Current status of adjuvant therapy for pancreatic cancer. The oncologist 2010; 15:1205-13. [PMID: 21045189].
Borst P, Schinkel AH, Smit JJ, Wagenaar E, Van Deemter L, Smith AJ, Eijdems EW, et al. Classical and novel forms of multidrug resistance and the physiological functions of p-glycoproteins in mammals. Pharmacology & therapeutics 1993; 60:289-99. [PMID: 7912835].
Burger H, Nooter K, Zaman GJ, Sonneveld P, van Wingerden KE, Oostrum RG, Stoter G. Expression of the multidrug resistance-associated protein (mrp) in acute and chronic leukemias. Leukemia 1994; 8:990-7. [PMID: 7911548].
Grant CE, Valdimarsson G, Hipfner DR, Almquist KC, Cole SP, Deeley RG. Overexpression of multidrug resistance-associated protein (mrp) increases resistance to natural product drugs. Cancer research 1994; 54:357-61. [PMID: 8275468].
Bell DR, Gerlach JH, Kartner N, Buick RN, Ling V. Detection of p-glycoprotein in ovarian cancer: A molecular marker associated with multidrug resistance. Journal of clinical oncology : official journal of the American Society of Clinical Oncology 1985; 3:311-5. [PMID: 2857774].
Kartner N, Riordan JR, Ling V. Cell surface p-glycoprotein associated with multidrug resistance in mammalian cell lines. Science 1983; 221:1285-8. [PMID: 6137059].
Kartner N, Shales M, Riordan JR, Ling V. Daunorubicin-resistant chinese hamster ovary cells expressing multidrug resistance and a cell-surface p-glycoprotein. Cancer research 1983; 43:4413-9. [PMID: 6135505].
Ling V, Kartner N, Sudo T, Siminovitch L, Riordan JR. Multidrug-resistance phenotype in chinese hamster ovary cells. Cancer treatment reports 1983; 67:869-74. [PMID: 6354434].
Riordan JR, Deuchars K, Kartner N, Alon N, Trent J, Ling V. Amplification of p-glycoprotein genes in multidrug-resistant mammalian cell lines. Nature 1985; 316:817-9. [PMID: 2863759].
Schober M, Jesenofsky R, Faissner R, Weidenauer C, Hagmann W, Michl P, Heuchel RL, et al. Desmoplasia and chemoresistance in pancreatic cancer. Cancers (Basel) 2014; 6:2137-54. [PMID: 25337831].
Hagmann W, Jesnowski R, Faissner R, Guo C, Lohr JM. Atp-binding cassette c transporters in human pancreatic carcinoma cell lines. Upregulation in 5-fluorouracil-resistant cells. Pancreatology 2009; 9:136-44. [PMID: 19077464].
Nambaru PK, Hubner T, Kock K, Mews S, Grube M, Payen L, Guitton J, et al. Drug efflux transporter multidrug resistance-associated protein 5 affects sensitivity of pancreatic cancer cell lines to the nucleoside anticancer drug 5-fluorouracil. Drug Metab Dispos 2010; 39:132-9. [PMID: 20930123].
Hagmann W, Jesenofsky R, Lohr JM. Interdependence of gemcitabine treatment, transporter expression, and resistance in human pancreatic carcinoma cells. Neoplasia 2010; 12:740-7. [PMID: 20824050].
Moore PS, Sipos B, Orlandini S, Sorio C, Real FX, Lemoine NR, Gress T, et al. Genetic profile of 22 pancreatic carcinoma cell lines. Analysis of k-ras, p53, p16 and dpc4/smad4. Virchows Archiv : an international journal of pathology 2001; 439:798-802. [PMID: 11787853].
Sipos B, Moser S, Kalthoff H, Torok V, Lohr M, Kloppel G. A comprehensive characterization of pancreatic ductal carcinoma cell lines: Towards the establishment of an in vitro research platform. Virchows Archiv : an international journal of pathology 2003; 442:444-52. [PMID: 12692724].
Kyriazis AP, Kyriazis AA, Scarpelli DG, Fogh J, Rao MS, Lepera R. Human pancreatic adenocarcinoma line capan-1 in tissue culture and the nude mouse: Morphologic, biologic, and biochemical characteristics. The American journal of pathology 1982; 106:250-60. [PMID: 6278935].
Andreotti PE, Cree IA, Kurbacher CM, Hartmann DM, Linder D, Harel G, Gleiberman I, et al. Chemosensitivity testing of human tumors using a microplate adenosine triphosphate luminescence assay: Clinical correlation for cisplatin resistance of ovarian carcinoma. Cancer research 1995; 55:5276-82. [PMID: 7585588].
Kurbacher CM, Cree IA. Chemosensitivity testing using microplate adenosine triphosphate-based luminescence measurements. Methods in molecular medicine 2005; 110:101-20. [PMID: 15901931].
Hunter EM, Sutherland LA, Cree IA, Dewar JA, Preece PE, Wood RA, Linder D, et al. Heterogeneity of chemosensitivity in human breast carcinoma: Use of an adenosine triphosphate (atp) chemiluminescence assay. European journal of surgical oncology : the journal of the European Society of Surgical Oncology and the British Association of Surgical Oncology 1993; 19:242-9. [PMID: 8314382].
Lohr JM, Faissner R, Koczan D, Bewerunge P, Bassi C, Brors B, Eils R, et al. Autoantibodies against the exocrine pancreas in autoimmune pancreatitis: Gene and protein expression profiling and immunoassays identify pancreatic enzymes as a major target of the inflammatory process. The American journal of gastroenterology 2010; 105:2060-71. [PMID: 20407433].
Hagmann W, Faissner R, Schnölzer M, Löhr JM, Jesnowski R. Membrane drug transporters and chemoresistance in human pancreatic carcinoma. Cancers 2011; 3:106-125. [PMID: 24212609].
Kikuchi N, Horiuchi A, Osada R, Imai T, Wang C, Chen X, Konishi I. Nuclear expression of s100a4 is associated with aggressive behavior of epithelial ovarian carcinoma: An important autocrine/paracrine factor in tumor progression. Cancer Sci 2006; 97:1061-9. [PMID: 16984379].
Cabezon T, Celis JE, Skibshoj I, Klingelhofer J, Grigorian M, Gromov P, Rank F, et al. Expression of s100a4 by a variety of cell types present in the tumor microenvironment of human breast cancer. Int J Cancer 2007; 121:1433-44. [PMID: 17565747].
Mahon PC, Baril P, Bhakta V, Chelala C, Caulee K, Harada T, Lemoine NR. S100a4 contributes to the suppression of bnip3 expression, chemoresistance, and inhibition of apoptosis in pancreatic cancer. Cancer research 2007; 67:6786-95. [PMID: 17638890].
Ohuchida K, Mizumoto K, Egami T, Yamaguchi H, Fujii K, Konomi H, Nagai E, et al. S100p is an early developmental marker of pancreatic carcinogenesis. Clinical cancer research : an official journal of the American Association for Cancer Research 2006; 12:5411-6. [PMID: 17000674].
Akada M, Crnogorac-Jurcevic T, Lattimore S, Mahon P, Lopes R, Sunamura M, Matsuno S, et al. Intrinsic chemoresistance to gemcitabine is associated with decreased expression of bnip3 in pancreatic cancer. Clinical cancer research : an official journal of the American Association for Cancer Research 2005; 11:3094-101. [PMID: 15837765].
Fernandez-Fernandez MR, Veprintsev DB, Fersht AR. Proteins of the s100 family regulate the oligomerization of p53 tumor suppressor. Proc Natl Acad Sci U S A 2005; 102:4735-40. [PMID: 15781852].
Kyriakis JM, Avruch J. Mammalian mitogen-activated protein kinase signal transduction pathways activated by stress and inflammation. Physiological reviews 2001; 81:807-69. [PMID: 11274345].
Raman M, Chen W, Cobb MH. Differential regulation and properties of mapks. Oncogene 2007; 26:3100-12. [PMID: 17496909].
Zarubin T, Han J. Activation and signaling of the p38 map kinase pathway. Cell research 2005; 15:11-8. [PMID: 15686620].
Leppa S, Bohmann D. Diverse functions of jnk signaling and c-jun in stress response and apoptosis. Oncogene 1999; 18:6158-62. [PMID: 10557107].
Raingeaud J, Gupta S, Rogers JS, Dickens M, Han J, Ulevitch RJ, Davis RJ. Pro-inflammatory cytokines and environmental stress cause p38 mitogen-activated protein kinase activation by dual phosphorylation on tyrosine and threonine. The Journal of biological chemistry 1995; 270:7420-6. [PMID: 7535770].
Whitmarsh AJ, Davis RJ. Structural organization of map-kinase signaling modules by scaffold proteins in yeast and mammals. Trends in biochemical sciences 1998; 23:481-5. [PMID: 9868371].
Davis RJ. Signal transduction by the c-jun n-terminal kinase. Biochemical Society symposium 1999; 64:1-12. [PMID: 10207617].
Ichijo H. From receptors to stress-activated map kinases. Oncogene 1999; 18:6087-93. [PMID: 10557099].
Roux PP, Blenis J. Erk and p38 mapk-activated protein kinases: A family of protein kinases with diverse biological functions. Microbiology and molecular biology reviews : MMBR 2004; 68:320-44. [PMID: 15187187].
Peterson RT, Schreiber SL. Translation control: Connecting mitogens and the ribosome. Current biology : CB 1998; 8:R248-50. [PMID: 9545190].
Jefferies HB, Fumagalli S, Dennis PB, Reinhard C, Pearson RB, Thomas G. Rapamycin suppresses 5'top mrna translation through inhibition of p70s6k. The EMBO journal 1997; 16:3693-704. [PMID: 9218810].
Iwenofu OH, Lackman RD, Staddon AP, Goodwin DG, Haupt HM, Brooks JS. Phospho-s6 ribosomal protein: A potential new predictive sarcoma marker for targeted mtor therapy. Modern pathology : an official journal of the United States and Canadian Academy of Pathology, Inc 2008; 21:231-7. [PMID: 18157089].
Hsu SY, Kaipia A, McGee E, Lomeli M, Hsueh AJ. Bok is a pro-apoptotic bcl-2 protein with restricted expression in reproductive tissues and heterodimerizes with selective anti-apoptotic bcl-2 family members. Proc Natl Acad Sci U S A 1997; 94:12401-6. [PMID: 9356461].
Yang E, Zha J, Jockel J, Boise LH, Thompson CB, Korsmeyer SJ. Bad, a heterodimeric partner for bcl-xl and bcl-2, displaces bax and promotes cell death. Cell 1995; 80:285-91. [PMID: 7834748].
Inohara N, del Peso L, Koseki T, Chen S, Nunez G. Rick, a novel protein kinase containing a caspase recruitment domain, interacts with clarp and regulates cd95-mediated apoptosis. The Journal of biological chemistry 1998; 273:12296-300. [PMID: 9575181].
Zha J, Harada H, Yang E, Jockel J, Korsmeyer SJ. Serine phosphorylation of death agonist bad in response to survival factor results in binding to 14-3-3 not bcl-x(l). Cell 1996; 87:619-28. [PMID: 8929531].
Korsmeyer SJ, Shutter JR, Veis DJ, Merry DE, Oltvai ZN. Bcl-2/bax: A rheostat that regulates an anti-oxidant pathway and cell death. Seminars in cancer biology 1993; 4:327-32. [PMID: 8142617].
Jones S, Zhang X, Parsons DW, Lin JC, Leary RJ, Angenendt P, Mankoo P, et al. Core signaling pathways in human pancreatic cancers revealed by global genomic analyses. Science 2008; 321:1801-6. [PMID: 18772397].
Hanahan D, Weinberg RA. Hallmarks of cancer: The next generation. Cell 2011; 144:646-74. [PMID: 21376230].
Hanahan D, Weinberg RA. The hallmarks of cancer. Cell 2000; 100:57-70. [PMID: 10647931].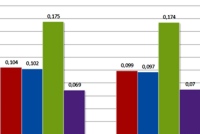 How to Cite
SchoberM., JesenofskyR., FaissnerR., KrugS., WeidenauerC., HagmannW., HaasS., HeuchelR., & LöhrM. (2015). Acquired 5-Fluorouracil Resistance in Human Pancreatic Carcinoma Cells. A Paradigm for Chemoresistance Mechanisms in Pancreatic Cancer. JOP. Journal of the Pancreas, 16(3), 256-265. https://doi.org/10.6092/1590-8577/2992
Section
ORIGINAL ARTICLES
Copyright (c) 2015 Marvin Schober, Ralf Jesenofsky, Ralf Faissner, Sebastian Krug, Cornelius Weidenauer, Wolfgang Hagmann, Stephan L Haas, Rainer L Heuchel, Matthias J Löhr
This work is licensed under a Creative Commons Attribution 4.0 International License.
As a member of Publisher International Linking Association, PILA, iMedPub Group's JOP follows the Creative Commons Attribution License and Scholars Open Access publishing policies. Journal of the Pancreas is the Council Contributor Member of Council of Science Editors (CSE) and following the CSE slogan Education, Ethics, and Evidence for Editors.