Outcome of Laparoscopic Surgery in Patients with Cystic Lesions in the Distal Pancreas
Kim V Ånonsen

Department of Gastroenterology, Oslo University Hospital and University of Oslo. Oslo, Norway

Trond Buanes

Department of Gastroenterological Surgery, Oslo University Hospital and University of Oslo. Oslo, Norway

Bård Ingvald Røsok

Department of Gastroenterological Surgery, Oslo University Hospital and University of Oslo. Oslo, Norway

Truls Hauge

Department of Gastroenterology, Oslo University Hospital and University of Oslo. Oslo, Norway

Bjørn Edwin

The Interventional Centre and Institute of Clinical Medicine, Oslo University Hospital and University of Oslo. Oslo, Norway
Abstract
Context Recent guidelines for the management of cystic lesions of the pancreas recommend observation for selected neoplasms using imaging criteria. However, current imaging modalities lack diagnostic accuracy, and the indication for surgery is debated. Objective In this study we have explored the outcome of laparoscopic distal pancreatic resections in all patients referred with potential pancreatic cystic neoplasms, with histological diagnosis as endpoint. Methods Between 1997 and 2009 all patients referred to our tertiary referral centre having a cystic neoplasm of the distal pancreas accepted for surgery were included in the present observational study. Results A total of 69 patients were included. Sixty-two patients underwent distal pancreatectomies, in whom 19 were spleen-preserving, and 7 enucleations were performed. Two procedures were converted to open technique. The lesions removed in 27 patients (39%) were either malignant or premalignant. The final diagnoses were serous cystic neoplasm (n=29), mucinous cystic neoplasm (n=12), pseudocyst (n=11), solid pseudopapillary neoplasm (n=10), intraductal papillary mucinous neoplasm (n=5) and other (n=2). Overall morbidity was 33%; 56% of the complications were classified as mild. Fistula rate was 10%. One patient died postoperatively from a cerebral haemorrhage. Conclusion Most complications after laparoscopic distal resection of cystic pancreatic lesions are mild, but the proportion of patients with benign lesions (61%) has to be reduced by focused preoperative investigations. Endoscopic ultrasound examination (EUS), enabling aspiration of cyst fluid and fine needle aspiration is an additional option for the preoperative workup.
Image: Histological diagnosis of the resected specimens.
Downloads
Download data is not yet available.
References
Tanaka M, Fernandez-Del Castillo C, Adsay V, Chari S, Falconi M, Jang JY, et al. International consensus guidelines 2012 for the management of IPMN and MCN of the pancreas. Pancreatology 2012; 12:183-197. [PMID: 22687371].
Del Chiaro M, Verbeke C, Salvia R, Kloppel G, Werner J, McKay C et al. European experts consensus statement on cystic tumors of the pancreas. Dig Liver Dis 2013. [PMID: 23415799].
Khalid A, Brugge W. ACG practice guidelines for the diagnosis and management of neoplastic pancreatic cysts. Am J Gastroenterol 2007; 102:2339-2349. [PMID: 17764489].
Correa-Gallego C, Ferrone CR, Thayer SP, Wargo JA, Warshaw AL, Fernandez-Del Castillo C. Incidental pancreatic cysts: do we really know what we are watching? Pancreatology 2010; 10:144-150. [PMID: 20484954].
Del Chiaro M, Segersvard R, Pozzi Mucelli R, Rangelova E, Kartalis N, Ansorge C et al. Comparison of Preoperative Conference-Based Diagnosis with Histology of Cystic Tumors of the Pancreas. Ann Surg Oncol 2014. [PMID: 24385209].
Fritz S, Klauss M, Bergmann F, Hackert T, Hartwig W, Strobel O et al. Small (Sendai Negative) Branch-Duct IPMNs: Not Harmless. Ann Surg 2012; 256:313-320. [PMID: 22791105].
Schmidt CM. Is surgical intervention for cystic neoplasms of the pancreas being underutilized? J Gastrointest Surg 2014; 18:184-186. [PMID: 24170607].
Allen PJ. Operative resection is currently overutilized for cystic lesions of the pancreas. J Gastrointest Surg 2014; 18:182-183. [PMID: 24165874].
Tanaka M, Chari S, Adsay V, Fernandez-del Castillo C, Falconi M, Shimizu M et al. International consensus guidelines for management of intraductal papillary mucinous neoplasms and mucinous cystic neoplasms of the pancreas. Pancreatology 2006; 6:17-32. [PMID: 16327281].
Pryor A, Means JR, Pappas TN. Laparoscopic distal pancreatectomy with splenic preservation. Surg Endosc 2007; 21:2326-2330. [PMID: 17593458].
Crippa S, Bassi C, Salvia R, Falconi M, Butturini G, Pederzoli P. Enucleation of pancreatic neoplasms. Br J Surg 2007; 94:1254-1259. [PMID: 17583892].
Rosok BI, Marangos IP, Kazaryan AM, Rosseland AR, Buanes T, Mathisen O et al. Single-centre experience of laparoscopic pancreatic surgery. Br J Surg 2010; 97:902-909. [PMID: 20474000].
Porembka MR, Hall BL, Hirbe M, Strasberg SM. Quantitative weighting of postoperative complications based on the accordion severity grading system: demonstration of potential impact using the american college of surgeons national surgical quality improvement program. J Am Coll Surg 2010; 210:286-298. [PMID: 20193891].
Bassi C, Dervenis C, Butturini G, Fingerhut A, Yeo C, Izbicki J et al. Postoperative pancreatic fistula: an international study group (ISGPF) definition. Surgery 2005; 138:8-13. [PMID: 16003309].
Klöppel G. Histological typing of tumours of the exocrine pancreas. 2nd ed. ed. Berlin: Springer, 1996.
Bosnan FT. WHO classification of tumours of the digestive system. Lyon: IARC, 2010.
Song KB, Kim SC, Park JB, Kim YH, Jung YS, Kim MH et al. Single-center experience of laparoscopic left pancreatic resection in 359 consecutive patients: changing the surgical paradigm of left pancreatic resection. Surg Endosc 2011; 25:3364-3372. [PMID: 21556993].
Mabrut JY, Fernandez-Cruz L, Azagra JS, Bassi C, Delvaux G, Weerts J et al. Laparoscopic pancreatic resection: results of a multicenter European study of 127 patients. Surgery 2005; 137:597-605. [PMID: 15962401].
Katz DS, Friedel DM, Kho D, Georgiou N, Hines JJ. Relative accuracy of CT and MRI for characterization of cystic pancreatic masses. AJR Am J Roentgenol 2007; 189:657-661. [PMID: 17715114].
Fisher WE, Hodges SE, Yagnik V, Moron FE, Wu MF, Hilsenbeck SG et al. Accuracy of CT in predicting malignant potential of cystic pancreatic neoplasms. HPB (Oxford) 2008; 10:483-490. [PMID: 19088937].
Visser BC, Yeh BM, Qayyum A, Way LW, McCulloch CE, Coakley FV. Characterization of cystic pancreatic masses: relative accuracy of CT and MRI. AJR Am J Roentgenol 2007; 189:648-656. [PMID: 17715113].
Curry CA, Eng J, Horton KM, Urban B, Siegelman S, Kuszyk BS et al. CT of primary cystic pancreatic neoplasms: can CT be used for patient triage and treatment? AJR Am J Roentgenol 2000; 175:99-103. [PMID: 10882255].
Pongpornsup S, Piyapittayanan S, Charoensak A. MDCT imaging findings for characterization pancreatic cystic lesion: differentiation between benign and malignant pattern. J Med Assoc Thai 2011; 94:369-378. [PMID: 21560846].
Visser BC, Muthusamy VR, Yeh BM, Coakley FV, Way LW. Diagnostic evaluation of cystic pancreatic lesions. HPB (Oxford) 2008; 10:63-69. [PMID: 18695762].
Procacci C, Biasiutti C, Carbognin G, Accordini S, Bicego E, Guarise A et al. Characterization of cystic tumors of the pancreas: CT accuracy. J Comput Assist Tomogr 1999; 23:906-912. [PMID: 10589565].
Khashab MA, Shin EJ, Amateau S, Canto MI, Hruban RH, Fishman EK et al. Tumor size and location correlate with behavior of pancreatic serous cystic neoplasms. Am J Gastroenterol 2011; 106:1521-1526. [PMID: 21468008].
Sun HY, Kim SH, Kim MA, Lee JY, Han JK, Choi BI. CT imaging spectrum of pancreatic serous tumors: based on new pathologic classification. Eur J Radiol 2010; 75:e45-55. [PMID: 20056368].
Tatsuta M, Iishi H, Ichii M, Noguchi S, Yamamoto R, Yamamura H et al. Values of carcinoembryonic antigen, elastase 1, and carbohydrate antigen determinant in aspirated pancreatic cystic fluid in the diagnosis of cysts of the pancreas. Cancer 1986; 57:1836-1839. [PMID: 2420441].
van der Waaij LA, van Dullemen HM, Porte RJ. Cyst fluid analysis in the differential diagnosis of pancreatic cystic lesions: a pooled analysis. Gastrointest Endosc 2005; 62:383-389. [PMID: 16111956].
Fernandez-Cruz L, Martinez I, Gilabert R, Cesar-Borges G, Astudillo E, Navarro S. Laparoscopic distal pancreatectomy combined with preservation of the spleen for cystic neoplasms of the pancreas. J Gastrointest Surg 2004; 8:493-501. [PMID: 15120376].
Teh SH, Tseng D, Sheppard BC. Laparoscopic and open distal pancreatic resection for benign pancreatic disease. J Gastrointest Surg 2007; 11:1120-1125. [PMID: 17623260].
Melotti G, Butturini G, Piccoli M, Casetti L, Bassi C, Mullineris B et al. Laparoscopic distal pancreatectomy: results on a consecutive series of 58 patients. Ann Surg 2007; 246:77-82. [PMID: 17592294].
Kim SC, Park KT, Hwang JW, Shin HC, Lee SS, Seo DW et al. Comparative analysis of clinical outcomes for laparoscopic distal pancreatic resection and open distal pancreatic resection at a single institution. Surg Endosc 2008; 22:2261-2268. [PMID: 18528619].
Kooby DA, Gillespie T, Bentrem D, Nakeeb A, Schmidt MC, Merchant NB et al. Left-sided pancreatectomy: a multicenter comparison of laparoscopic and open approaches. Ann Surg 2008; 248:438-446. [PMID: 18791364].
DiNorcia J, Schrope BA, Lee MK, Reavey PL, Rosen SJ, Lee JA et al. Laparoscopic distal pancreatectomy offers shorter hospital stays with fewer complications. J Gastrointest Surg 2010; 14:1804-1812. [PMID: 20589446].
Vijan SS, Ahmed KA, Harmsen WS, Que FG, Reid-Lombardo KM, Nagorney DM et al. Laparoscopic vs open distal pancreatectomy: a single-institution comparative study. Arch Surg 2010; 145:616-621. [PMID: 20644122].
Yoon WJ, Lee JK, Lee KH, Ryu JK, Kim YT, Yoon YB. Cystic neoplasms of the exocrine pancreas: an update of a nationwide survey in Korea. Pancreas 2008; 37:254-258. [PMID: 18815545].
Gaujoux S, Brennan MF, Gonen M, D'Angelica MI, DeMatteo R, Fong Y et al. Cystic lesions of the pancreas: changes in the presentation and management of 1,424 patients at a single institution over a 15-year time period. J Am Coll Surg 2011; 212:590-600; discussion 600-593. [PMID: 21463795].
Yoon WJ, Brugge WR. Pancreatic cystic neoplasms: diagnosis and management. Gastroenterol Clin North Am 2012; 41:103-118. [PMID: 22341252].
Tseng JF, Warshaw AL, Sahani DV, Lauwers GY, Rattner DW, Fernandez-del Castillo C. Serous cystadenoma of the pancreas: tumor growth rates and recommendations for treatment. Ann Surg 2005; 242:413-419; discussion 419-421. [PMID: 16135927].
Malleo G, Bassi C, Rossini R, Manfredi R, Butturini G, Massignani M et al. Growth pattern of serous cystic neoplasms of the pancreas: observational study with long-term magnetic resonance surveillance and recommendations for treatment. Gut 2011. [PMID: 21940725].
Park WG, Mascarenhas R, Palaez-Luna M, Smyrk TC, O'Kane D, Clain JE et al. Diagnostic performance of cyst fluid carcinoembryonic antigen and amylase in histologically confirmed pancreatic cysts. Pancreas 2011; 40:42-45. [PMID: 20966811].
Marangos IP, Buanes T, Rosok BI, Kazaryan AM, Rosseland AR, Grzyb K et al. Laparoscopic resection of exocrine carcinoma in central and distal pancreas results in a high rate of radical resections and long postoperative survival. Surgery 2012; 151:717-723. [PMID: 22284762].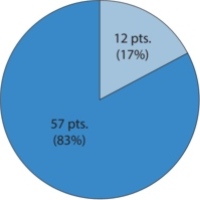 How to Cite
ÅnonsenK., BuanesT., RøsokB., HaugeT., & EdwinB. (2015). Outcome of Laparoscopic Surgery in Patients with Cystic Lesions in the Distal Pancreas. JOP. Journal of the Pancreas, 16(3), 266-270. https://doi.org/10.6092/1590-8577/2993
Section
ORIGINAL ARTICLES
Copyright (c) 2015 Kim V Ånonsen, Trond Buanes, Bård Ingvald Røsok, Truls Hauge, Bjørn Edwin
This work is licensed under a Creative Commons Attribution 4.0 International License.
As a member of Publisher International Linking Association, PILA, iMedPub Group's JOP follows the Creative Commons Attribution License and Scholars Open Access publishing policies. Journal of the Pancreas is the Council Contributor Member of Council of Science Editors (CSE) and following the CSE slogan Education, Ethics, and Evidence for Editors.