Spleen Autotransplantation Following Laparoscopic Distal Pancreatosplenectomy and Cholecystectomy
Sung Hwan Lee

Department of Hepatobiliary and Pancreatic Surgery, Yonsei University College of Medicine. Pancreaticobiliary Cancer Clinic, Yonsei Cancer Center, Severance Hospital. Seoul, South Korea

Dong Hyun Kim

Department of Surgery, Yonsei University Wonju College of Medicine. Wonju, South Korea

Ho Kyoung Hwang

Department of Hepatobiliary and Pancreatic Surgery, Yonsei University College of Medicine. Pancreaticobiliary Cancer Clinic, Yonsei Cancer Center, Severance Hospital. Seoul, South Korea

Chang Moo Kang

Department of Hepatobiliary and Pancreatic Surgery, Yonsei University College of Medicine. Pancreaticobiliary Cancer Clinic, Yonsei Cancer Center, Severance Hospital. Seoul, South Korea

Woo Jung Lee

Department of Hepatobiliary and Pancreatic Surgery, Yonsei University College of Medicine. Pancreaticobiliary Cancer Clinic, Yonsei Cancer Center, Severance Hospital. Seoul, South Korea
Keywords:
Pancreatectomy, Spleen, Transplantation, Autologous
Abstract
Context The lifelong risk of post-splenectomy overwhelming sepsis is major complication after splenectomy. Laparoscopic distal pancreatectomy is an accepted as safe, and adequate procedure for pancreatic pathologies requiring resection of the distal part of the pancreas. However, attempts to preserve the spleen are not always successful and sometimes require unnecessary splenectomy. Spleen autotransplantation can be regarded as inducing iatrogenic splenosis in the abdominal cavity. Case report In this report, we present a case of spleen autotransplantation (about 30 g of splenic tissue) following laparoscopic distal pancreatectomy and inadvertent splenectomy for benign intraductal papillary tumor of the pancreas. Conclusion This procedure may be the last option spleen preservation considered in the era of laparoscopic distal pancreatectomy.
Image: Laparoscopic view after completion of spleen autotransplantation.
Downloads
Download data is not yet available.
References
Schwartz PE, Sterioff S, Mucha P, Melton LJ, Offord KP. Postsplenectomy sepsis and mortality in adults. JAMA 1982; 248:2279-83. [PMID: 7131680]
Shoup M, Brennan MF, McWhite K, Leung DH, Klimstra D, Conlon KC. The value of splenic preservation with distal pancreatectomy Arch Surg 2002; 137:164-8. [PMID: 11822953]
Rodriguez JR, Madana MG, Healy BC, Thayer SP, Warshaw AL, Frenandez-del Castillo C. Distal pancreatectomy with splenic preservation revisited. Surgery 2007; 141:619-25. [PMID: 17462461]
Fremont RD, Rice TW. Splenosis: A review. South Med J 2007; 100:589-93. [PMID: 17591312]
Perason HA, Johnston D, Smith KA, et al. The born-again spleen: return of splenic function after splenectomy for trauma. N Engl J Med 1978; 298:1389-92. [PMID: 652006]
Zoli G, Corazza GR, D'Amato G, Bartoli R, Baldoni F, Gasbarrini G. Splenic autotransplantation after splenectomy: tuftsin activity correlates with residual splenic function. Br J Surg 1994; 81:716-8. [PMID: 8044558]
Lansdale N, Marven S, Welch J, Vora A, Sprigg A. Intra-abdominal splenosis following laparoscopic splenectomy causing recurrence in a child with chronic immune thrombocytopenic purpura. J Laparoendosc Adv Surg Tech A 2007; 17:387-90. [PMID: 17570795]
Petroianu A, Cabezas-Andrade MA, Neto RB. Laparoscopic splenic autotransplantation. Surg Laparosc Endosc Percutan Tech 2006; 16:259-62. [PMID: 16921309]
Lee SH, Kang CM, Hwang HK, Choi SH, Lee WJ, Chi HS. Minimally invasive RAMPS in well-selected left-sided pancreatic cancer within Yonsei criteria: long-term (>median 3 years) oncologic outcomes. Surg Endosc 2014; 28:2848-55. [PMID: 24853839]
Choi SH, Seo MA, Hwang HK, Kang CM, Lee WJ. Is it worthwhile to preserve adult spleen in laparoscopic distal pancreatectomy? Perioperative and patient-reported outcome analysis. Surg Endosc 2012; 26:3149-56. [PMID: 22580876]
Xu JL, Tang CW, Feng WM, Bao Y. Hematological benefits after spleen-preserving distal pancreatectomy: perioperative and long-term outcome analysis. Hepatogastroenterology 2013; 60:2103-6. [PMID: 24088313]
Kim SC, Park KT, Hwang JW, et al. Comparative analysis of clinical outcomes for laparoscopic distal pancreatic resection and open distal pancreatic resection at single institution. Surg Endo 2008; 22:2261-8. [PMID: 18528619]
Melotti G, Buturini G, Piccoli M, Casetti L, et al. Laparoscopic distal panceatectomy. Result on a consecutive series of 58 patients. Ann Surg 2007; 246:77-82. [PMID: 17592294]
The SH, Tseng D, Shppard BC. Laparoscopic and open distal pancreatic resection for benign pancreatic disease. J Gastroint Surg 2007; 11:1120-25. [PMID: 17623260]
Mabrut JY, Fernandez-Cruz L, Azagra JS, BassiC,et al. Laparoscopic pancreatic resection: results of a multicenter European study of 127 patients. Surgery 2005; 137:597-605. [PMID: 15962401]
Leemans R, Manson W, Snijder JAM, et al. Immune response capacity after human splenic autotransplanation. Ann Surg 1999; 229:279-85. [PMC ID: 1191642]
Holdsworth RJ, Regeneration of the spleen and splenic autotransplanatation. Br J Surg 1991; 78:270-8.
Corazza GR, Tarozzi C, Vaira D, Frisoni M, Gasbarrini G. Return of splenic function after splenectomy: how much tissue is needed? Br Med J 1984; 289:861-4 [PMID: 6434114]
Iinuma H, Okinaga K, Sato S, et al. Optimal site and amount of splenic tissue for autotransplantation. J Surg Res 1992; 53:109-116. [PMID: 1405598]
Leemans R, Harms G, Rijkers GT, Timens W. Spleen autotransplantation provides restoration of functional splenic lymphoid compartments and improves the humoral immune response to pneumococcal polysaccharide vaccine. Clin Exp Immunol 1999; 117:596-604. [PMID: 10469068]
Tzoracoleftherakis E, Alivizatos V, KalfarentzosF,Androulakis J. Complications of splenic tissue reimplantation. Ann R Coll Surg Engl 1991; 73:83-86. [PMID: 2018325]
Sasaki K. Splenic autotransplantation in nude mice. APMIS 1990; 98:507-13. [PMID: 2383395]
WillfuÈhr KU, Westermann J, Pabst R. Splenic autotransplantation provides protection against fatal sepsis in young but not in old rats. J Pediatr Surg 1992; 27:1207-12. [PMID: 1432531]
Warshaw A. Letter to the editor. Techniques of preserving the spleen in distal pancreatectomy J Am CollSurg 1999; 188:255-60.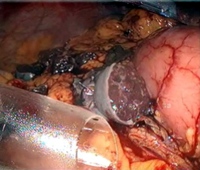 How to Cite
LeeS., KimD., HwangH., KangC., & LeeW. (2015). Spleen Autotransplantation Following Laparoscopic Distal Pancreatosplenectomy and Cholecystectomy. JOP. Journal of the Pancreas, 16(3), 299-302. https://doi.org/10.6092/1590-8577/3000
Copyright (c) 2015 Sung Hwan Lee, Dong Hyun Kim, Ho Kyoung Hwang, Chang Moo Kang, Woo Jung Lee
This work is licensed under a Creative Commons Attribution 4.0 International License.
As a member of Publisher International Linking Association, PILA, iMedPub Group's JOP follows the Creative Commons Attribution License and Scholars Open Access publishing policies. Journal of the Pancreas is the Council Contributor Member of Council of Science Editors (CSE) and following the CSE slogan Education, Ethics, and Evidence for Editors.