Pancreatic Panniculitis: A Rare Manifestation of Acute Pancreatitis
Ronak Patel

University of Alabama at Birmingham. Birmingham, AL, USA

Ali Safdar Khan

University of Alabama at Birmingham. Birmingham, AL, USA

Sami Naveed

University of Alabama at Birmingham. Birmingham, AL, USA

Jason Brazleton

University of Alabama at Birmingham. Birmingham, AL, USA

Mel Wilcox

University of Alabama at Birmingham. Birmingham, AL, USA
Keywords:
Panniculitis, Nodular Nonsuppurative, Pancreatic Pseudocyst, Pancreatitis
Abstract
Context Pancreatic panniculitis is a very rare complication associated with pancreatic disease and perhaps even a presage to pancreatic pathology. Case report We present a case of pancreatic panniculitis in a 61 year old patient who was treated for sudden onset of abdominal pain associated with nausea and vomiting secondary to acute pancreatitis of unknown etiology. He subsequently developed skin lesions consistent with pancreatic panniculitis which gradually improved after resolution of his acute condition and treatment with topical steroid cream. Conclusion We discuss and review the literature along with highlighting for the readers the important clinical and histopathologic features of acute pancreatitis associated pancreatic panniculitis.
Image: Initial dermatologic manifestation on lower extremities.
Downloads
Download data is not yet available.
References
García-Romero D, Vanaclocha F. Pancreatic Panniculitis. Dermatologic Clinics 2008; 26:465-470. [PMID: 18793978]
Requena L, Sánchez Yus E. Panniculitis. Part II. Mostly lobular panniculitis. J Am Acad Dermatol 2001; 45:325-361. [PMID: 11511831]
Szymanski FJ, Bluefarb SM. Nodular fat necrosis and pancreatic diseases. Arch Dermatol 1961; 83: 224-229. [PMID: 13774711]
Chiari H. Über die sogenannte fettnekrose. Prag Med Wochenschr 1883; 8: 255-256.
Chee C. Panniculitis in a patient presenting with a pancreatic tumor and polyarthritis: a case report. J Med Case Reports 2009; 3:7331. [PMID: 19830189]
Bagazgoitia L, Alonso T, Ríos-Buceta L, Ruedas A, Carrillo R, Muñoz-Zato E. Pancreatic panniculitis: an atypical clinical presentation. Eur J Dermato 2009; 19:191–192. [PMID: 19106060]
Preiss JC, Faiss S, Loddenkemper C, et al. Pancreatic panniculitis in an 88-year-old man with neuroendocrine carcinoma. Digestion 2002; 66:193-196 [PMID: 12481166]
Laureano A, Mestre T, el Ricardo, Rodrigues AM, Cardoso J. Pancreatic panniculitis – a cutaneous manifestation of acute pancreatitis. J Dermatol Case Rep 2014; 8: 35-37. [PMID: 24748910]
Zellman GL. Pancreatic panniculitis. J Am Acad Dermatol 1996; 35:282-283. [PMID: 8708043]
Makhoul E, Yazbeck C, Urbain D, Mana F, Mahanna S, Akiki B, Elias E. Pancreatic panniculitis: a rare complication of pancreatitis secondary to ERCP. Arab Journal of Gastroenterology 2014; 15:38-9. [PMID: 24630514]
Poelman SM, Nguyen K. Pancreatic panniculitis associated with acinar cell pancreatic carcinoma. J Cutan Med Surg 2008; 12:38–42. [PMID: 18258147]
Colantonio S, Beecker J. Pancreatic panniculitis. CMAJ 2012; 184:E159. [PMID: 22158400]
Lyon MJ. Metabolic panniculitis: alpha-1 antitrypsin deficiency panniculitis and pancreatic panniculitis. Dermatol Ther 2010; 23:368–374. [PMID: 20666824]
Guo ZZ, Huang ZY, Huang LB, Tang CW. Pancreatic panniculitis in acute pancreatitis. J Dig Dis 2014; 15:327-30. [PMID: 24620854]
Francombe J, Kingsnorth AN, Tunn E. Panniculitis, arthritis and pancreatitis. Br J Rheumatol 1995; 34:680–683. [PMID: 7670790]
Gorovoy IR, McSorley J, Gorovoy JB. Pancreatic panniculitis secondary to acinar cell carcinoma of the pancreas. Cutis 2013; 91:186-90. [PMID: 23763078]
Banfill KE, Oliphant TJ, Prasad KR. Resolution of pancreatic panniculitis following metastasectomy. Clin Exp Dermatol 2012; 37:440-1. [PMID: 22582914]
Stauffer JA, Bray JM, Nakhleh RE, Bowers SP. Image of the Month. Acinar cell carcinoma. Arch Surg 2011; 146:1099-1100. [PMID: 21931007]
Zheng ZJ, Gong J, Xiang GM, Mai G, Liu XB. Pancreatic Panniculitis Associated with Acinar Cell Carcinoma of the Pancreas: A Case Report. Ann Dermatol 2011; 23:225-8. [PMID: 21747626]
Holt BA, Hawes R, Varadarajulu S. Hemosuccus Pancreaticus Caused by Superior Mesenteric Artery Fistula Presenting as Pancreatic Panniculitis and Anemia. Clin Gastroenterol Hepatol 2014; S1542-3565(14)00447-9. [PMID: 24681082]
Sotoude H, Mozafari R, Mohebbi Z, Mirfazaelian H. "Pancreatic Panniculitis". Am J Emerg Med 2014 944.e1-2. [PMID: 24602897]
Alsubaie S, Almalki MH. Metformin induced acute pancreatitis. Dermatoendocrinol 2013; 5:317-8. [PMID: 24194972]
Pfaundler N, Kessebohm K, Blum R, Stieger M, Stickel F. Adding pancreatic panniculitis to the panel of skin lesions associated with triple therapy of chronic hepatitis C. Liver Int 2013; 33:648-9. [PMID: 23410147]
Souza FH, Siqueira EB, Mesquita L, Fabricio LZ, Tuon FF. Pancreatic panniculitis as the first manifestation of visceral disease-case report. An Bras Dermatol 2011; 86:S125-8. [PMID: 22068791]
Qian DH, Shen BY, Zhan X, Peng C, Cheng D. Liquefying panniculitis associated with intraductal papillary mucinous neoplasm. JRSM Short Rep 2011; 2:38. [PMID: 21637399]
Moro M, Moletta L, Blandamura S, Sperti C. Acinar Cell Carcinoma of the Pancreas Associated with Subcutaneous Panniculitis. JOP. J Pancreas (Online) 2011; 12:292-296. [PMID: 21546712]
Hu JC, Gutierrez MA. Pancreatic panniculitis after endoscopic retrograde cholangiopancreatography. Journal of the American Academy of Dermatology 2011; 64:e72-e74. [PMID: 21496686]
Vasdev V, Bhakuni D, Narayanan K, Jain R. Intramedullary fat necrosis, polyarthritis and panniculitis with pancreatic tumor: a case report. Int J Rheum Dis 2010; 13:e74-8. [PMID: 21199459]
Prikis M, Norman D, Rayhill S, Olyaei A, Troxell M, Mittalhenkle A. Preserved endocrine function in a pancreas transplant recipient with pancreatic panniculitis and antibody-mediated rejection. Am J Transplant 2010; 10:2717-22. [PMID: 21114649]
Gandhi RK, Bechtel M, Peters S, Zirwas M, Darabi K. Pancreatic panniculitis in a patient with BRCA2 mutation and metastatic pancreatic adenocarcinoma. Int J Dermatol 2010; 49:1419-20. [PMID: 21091678]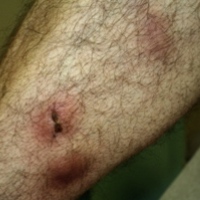 How to Cite
PatelR., KhanA., NaveedS., BrazletonJ., & WilcoxM. (2015). Pancreatic Panniculitis: A Rare Manifestation of Acute Pancreatitis. JOP. Journal of the Pancreas, 16(3), 303-306. https://doi.org/10.6092/1590-8577/3001
Copyright (c) 2015 Ronak Patel, Ali Safdar Khan, Sami Naveed, Jason Brazleton, Mel Wilcox
This work is licensed under a Creative Commons Attribution 4.0 International License.
As a member of Publisher International Linking Association, PILA, iMedPub Group's JOP follows the Creative Commons Attribution License and Scholars Open Access publishing policies. Journal of the Pancreas is the Council Contributor Member of Council of Science Editors (CSE) and following the CSE slogan Education, Ethics, and Evidence for Editors.