Carcinosarcoma of the Pancreas: How a Common Blood Disorder Can Hide an Extremely Rare Tumour
Anastasios Katsourakis

Department of Surgery, Agios Dimitrios General Hospital. Thessaloniki, Greece

Christos Svoronos

Department of Surgery, Agios Dimitrios General Hospital. Thessaloniki, Greece

Efthimios Chatzitheoklitos

Department of Surgery, Agios Dimitrios General Hospital. Thessaloniki, Greece

Iosif Hadjis

Department of Surgery, Agios Dimitrios General Hospital. Thessaloniki, Greece

Michael Alatsakis

Department of Surgery, Agios Dimitrios General Hospital. Thessaloniki, Greece

Charalambos Mirelis

Department of Surgery, Agios Dimitrios General Hospital. Thessaloniki, Greece

Apostolos Sovatzidis

Department of Surgery, Agios Dimitrios General Hospital. Thessaloniki, Greece

George Noussios

Laboratory of Anatomy of Department of Physical Education (at Serres), Aristotle University of Thessaloniki. Thessaloniki, Greece
Keywords:
Anemia, Carcinosarcoma, Pancreas
Abstract
Context Sarcomas represent a relatively rare malignancy. Primary sarcomas of the pancreas represent an extremely rare pathology. Case report We report a case of primary pancreatic carcinoma that presented with anaemia. The patient underwent a Kausch-Whipple operation, and, 16 months after the operation, the patient is disease free. Conclusion This unique case describes an extremely rare gastrointestinal tumour that was found during the patient's anaemia assessment.
Image: Gastro-duodenoscopy demonstrating a tumor at the ampulla of Vater.
Downloads
Download data is not yet available.
References
Baylor SM, Berg JW. Cross classification and survival characteristics of 5000 cases of cancer of the pancreas. J Surg Oncol 1973; 5:335-358. [PMID: 4355621]
Hyun-Soo K, Sun Hyung J, Dal Mo Y. Carcinosarcoma of the Pancreas: A Unique Case with Emphasis on Metaplastic Transformation and the Presence of Undifferentiated Pleomorphic High-Grade Sarcoma. J Gastrointestin Liver Dis 2011; 20:197-200. [PMID: 21725518]
Abeln EC, Smit VT, Wessels JW, et al. Molecular genetic evidence for the conversion hypothesis of the origin of malignant mixed mullerian tumours. J Pathol 1997; 183: 424-431. [PMID: 9028738]
Wada H, Enomoto T, Fujita M. Molecular evidence that most but not all carcinosarcomas of the uterus are combination tumors. Cancer Res 1997; 57:5379-5385. [PMID: 9393763]
Bloomston M, Chanona-Vilchis J,Ellison EC, et al. Carcinosarcoma of the pancreas arising in a mucinous cystic neoplasm. Am Surg 2006; 72:351-355. [PMID: 16676863]
Darvishian F, Sullivan J, Teichberg S, et al. Carcinosarcoma of the pancreas: A case report and review of the literature. Arch Pathol Lab Med 2002; 126:1114-1117. [PMID: 12204065]
Gelos M, Behringer D, Philippou S, et al. Pancreatic carcinosarcoma. Case report of multimodal therapy and review of the literature. JOP. J Pancreas (Online) 2008; 9:50-55. [PMID: 18182744]
Nakano T, Sonobe H, Usui T. Immunohistochemistry and k-ras sequence of pancreatic carcinosarcoma. Pathol Int 2008; 58:672-677. [PMID: 18801090]
Watanabe M, Miura H. Mixed osteoclastic/pleomorphic-type giant cell tumor of the pancreas with ductal adenocarcinoma: Histochemical and immunohistochemical study with review of the literature. Pancreas 1997; 15:201-208. [PMID: 9260206]
Ambe P, Kautz C, Shadouh S, et al. Primary sarcoma of the pancreas, a rare histopathological entity. A case report with review of literature. WJSO 2011; 9:85 [PMID: 21812970]
Yamazaki K. A unique pancreatic ductal adenocarcinoma with carcinosarcomatous histology, immunohistochemical distribution of hcG-beta, and the elevation of serum alpha-feto-protein. J Submicrosc Cytol Pathol 2003; 35:343-349. [PMID: 15137676]
Millis JM, Chang B, Zinner MJ and Barsky SH Malignant mixed tumor (carcinosarcoma) of the pancreas: a case report supporting organ-induced differentiation of malignancy. Surgery 1994; 115:132-137. [PMID: 82844754]
Wenig BM, Albores-Saavedra J, Buetow PC, Heffess CS. Pancreatic mucinous cystic neoplasm with sarcomatous stroma: a report of three cases. Am J Surg Pathol 1997; 21:70-80. [PMID: 8990143]
Barkatullah SA, Deziel DJ, Jakate SM, KluskensL, Komanduri S. Pancreatic carcinosarcoma with unique triphasic histological pattern. Pancreas 2005; 31:291-2. [PMID: 16163064]
Feather HE, Kuhn CL. Total pancreatectomy for sarcoma of the pancreas. Ann Surg 1951; 134:904-912. [PMID: 14885957]
Huszar M, Herczeg E, Lieberman Y, et al. Distinctive immunofluorescent labeling of epithelial and mesenchymal elements of carcinosarcoma with antibodies specific for different intermediate filaments. Hum Pathol 1984; 15:532-8. [PMID: 6373564]
Oettle H, Post S, Neuhaus P, et al. Adjuvant chemotherapy with gemcitabine vs observation in patients undergoing curative-intent resection of pancreatic cancer: a randomized controlled trial. JAMA 2007; 297:267-7. [PMID: 17227978]
Palmer DH, Stocken DD, Hewitt H, et al. A randomized phase 2 trial of neoadjuvant chemotherapy in resectable pancreatic cancer: gemcitabine alone versus gemcitabine combined with cisplatin. Ann Surg Oncol 2007; 14:2088-96. [PMID: 17453298]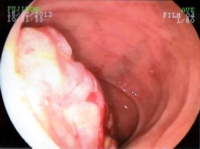 How to Cite
KatsourakisA., SvoronosC., ChatzitheoklitosE., HadjisI., AlatsakisM., MirelisC., SovatzidisA., & NoussiosG. (2015). Carcinosarcoma of the Pancreas: How a Common Blood Disorder Can Hide an Extremely Rare Tumour. JOP. Journal of the Pancreas, 16(3), 310-312. https://doi.org/10.6092/1590-8577/3003
Copyright (c) 2015 Anastasios Katsourakis, Christos Svoronos, Efthimios Chatzitheoklitos, Iosif Hadjis, Michael Alatsakis, Charalambos Mirelis, Apostolos Sovatzidis, George Noussios
This work is licensed under a Creative Commons Attribution 4.0 International License.
As a member of Publisher International Linking Association, PILA, iMedPub Group's JOP follows the Creative Commons Attribution License and Scholars Open Access publishing policies. Journal of the Pancreas is the Council Contributor Member of Council of Science Editors (CSE) and following the CSE slogan Education, Ethics, and Evidence for Editors.