Consecutive Laparoscopic En-Block Left Pancreato-Nephro-Splenectomy and Later Pancreaticoduodenectomy: Pushing Back the Limits of Laparoscopic Pancreatic Resections
Ignasi Poves

Unit of Hepato-Biliary and Pancreatic Surgery, Department of Surgery, Hospital del Mar, Autonomous University of Barcelona. Barcelona, Spain

Fernando Burdio

Unit of Hepato-Biliary and Pancreatic Surgery, Department of Surgery, Hospital del Mar, Autonomous University of Barcelona. Barcelona, Spain

Albert Frances

Unit of Hepato-Biliary and Pancreatic Surgery, Department of Urology, Hospital del Mar, Autonomous University of Barcelona. Barcelona, Spain

Luis Grande

Unit of Hepato-Biliary and Pancreatic Surgery, Department of Surgery, Hospital del Mar, Autonomous University of Barcelona. Barcelona, Spain
Keywords:
Pancreatic Carcinoma, Pancreaticoduodenectomy
Abstract
Context Laparoscopic distal pancreatectomy is a widely accepted treatment for non-malignant lesions of the left pancreas. However, the role of laparoscopy in more complex procedures such as pancreaticoduodenectomy or treatment of pancreatic adenocarcinoma remains controversial. Case report A seventy-seven-year-old woman underwent surgery twice: first for a PADC of the tail infiltrating the spleen and left kidney, and then for a second PADC of the neck and head of the pancreas diagnosed during follow-up (11 months) of the first tumor. In both procedures a totally laparoscopic approach was applied. The first procedure was an en-bloc resection including the left kidney, spleen and left pancreas. Final diagnosis showed a PADC (49x42x40 mm) involving one of the 17 lymph nodes harvested (R0). Postoperative course was uneventful, and lasted five days. Later, due to the appearance of a new tumor in the right pancreas, an extended pylorus-preserving PD was performed with the patient in supine position with the legs apart. In the postoperative period she presented chylous ascites and required hospitalization for 17 days. Definitive biopsy showed a 2 cm PADC (PanIn 2 and 3 lesions in the rest of the gland). Two out of 21 nodes isolated were found to be affected (R0). No chemotherapy was administered after the second operation. Conclusions Our report may help to redefine the limits of laparoscopy in pancreatic oncologic surgery. It describes several features of added technical difficulty, and may prompt further reflection on the current limits and indications of laparoscopic pancreatectomy.
Image: Positioning of the trocars and incision.
Downloads
Download data is not yet available.
References
Fernández-Cruz L, Cosa R, Blanco L, Levi S, López-Boado MA, Navarro S: Curative laparoscopic resection for pancreatic neoplasms: a critical analysis from a single institution. J Gastrointest Surg 2007; 11:1607-21. [PMID: 17896167]
Poves I, Burdío F, Dorcaratto D, Grande L: Results of the laparoscopic approach in left-sided pancreatectomy. Cir Esp 2013; 91:25-30. [PMID: 23218526]
Palanivelu V, Rajan PS, Rangarajan M, Vaithiswaran V, Senthilnathan P, Parthasarathi R, Praveen Raj P: Evolution in techniques of laparoscopic pancreaticoduodenectomy: a decade long experience from a tertiary center. J Hepatobiliary Pancreat Surg 2009; 16:731-40. [PMID: 19652900]
Jin T, Altaf K, Xiong JJ, Huang W, Javed MA, Mai G, Liu XB, Hu WM, Xia Q: A systematic review and meta-analysis of studies comparing laparoscopic and open distal pancreatectomy. HPB (Oxford) 2012, 14:711–724. [PMID: 23043660]
Venkat R, Edil BH, Schulick RD, Lidor AO, Makary MA, Wolfgang CL: Laparoscopic distal pancreatectomy is associated with significantly less overall morbidity compared to the open technique. A systematic review and meta-analysis. Ann Surg 2012; 255:1048–1059. [PMID: 22511003]
Kendrick ML, Cusati D: Total laparoscopic pancreaticoduodenectomy: feasibility and outcomen in an early experience. Arch Surg 2010; 145:19-23. [PMID: 20083750]
Asbun HJ, Stauffer JA: Laparoscopic vs open pancreaticoduodenectomy: overall outcomes and severity of complications using the accordion severity grading system. J Am Coll Surg 2012; 215:810-819. [PMID: 22999327]
Kendrick ML, Sclabas GM: Major venous resection during total laparoscopic pancreaticoduodenectomy. HPB (Oxford) 2011; 13:454-8. [PMID: 21689228]
Poves I, Burdío F, Membrilla E, Alonso S, Grande L: Laparoscopic radical antegrade modular pancreatosplenectomy. Cir Esp 2010; 88:51-3. [PMID: 19783242]
Rotellar F, Pardo F, Benito A, Martí-Cruchaga P, Zozaya G, Cienfuegos JA: Laparoscopic resection of the uncinate process of the pancreas: the inframesocolic approach and hanging maneuver of the mesenteric root. Surg Endosc 2011; 25:3426-7. [PMID: 21614666]
Rotellar F, Pardo F: Laparoscopic middle pancreatectomy minimizes the procedure and maximizes the benefit. Surgery 2010; 147:895. [PMID: 20494216]
Mazza O, Santibañes M, Cristiano A, Pekolj J, Santibañes E: Laparoscopic enucleation of a peripheral branch intraductal papillary mucinous neoplasm situated in the pancreatic head. A new alterantive. Cir Esp 2014; 92:291-3. [PMID: 23827930]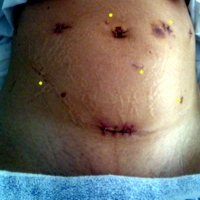 How to Cite
PovesI., BurdioF., FrancesA., & GrandeL. (2015). Consecutive Laparoscopic En-Block Left Pancreato-Nephro-Splenectomy and Later Pancreaticoduodenectomy: Pushing Back the Limits of Laparoscopic Pancreatic Resections. JOP. Journal of the Pancreas, 16(3), 313-315. https://doi.org/10.6092/1590-8577/3004
Copyright (c) 2015 Ignasi Poves, Fernando Burdio, Albert Frances, Luis Grande
This work is licensed under a Creative Commons Attribution 4.0 International License.
As a member of Publisher International Linking Association, PILA, iMedPub Group's JOP follows the Creative Commons Attribution License and Scholars Open Access publishing policies. Journal of the Pancreas is the Council Contributor Member of Council of Science Editors (CSE) and following the CSE slogan Education, Ethics, and Evidence for Editors.