Substance P and Calcitonin Gene Related Peptide Mediate Pain in Chronic Pancreatitis and Their Expression is Driven by Nerve Growth Factor
LianSheng Liu

Division of Gastroenterology and Hepatology, Stanford University Medical Center. Stanford, CA, USA

Mohan Shenoy

Division of Gastroenterology and Hepatology, Stanford University Medical Center. Stanford, CA, USA

Pankaj Jay Pasricha

Division of Gastroenterology and Hepatology, Stanford University Medical Center. Stanford, CA, USA
Keywords:
Calcitonin Gene-Related Peptide, Nerve Growth Factor, Pancreatitis, Chronic, Rats, Substance P
Abstract
Context Calcitonin gene-related peptide (CGRP), substance P and nerve growth factor play an important role in inflammatory pain in various somatic pain models but their role in chronic pancreatitis has not been well studied. Objectives The aim of this study was to investigate the effects of intrathecal administration of calcitonin gene-related peptide antagonist and substance P receptor antagonist on pain behavior in a rat model of chronic pancreatitis and to determine whether nerve growth factor drives the up-regulation of expression of these neuropeptides in sensory neurons. Methods Pancreatitis was induced by retrograde infusion of trinitobenzene sulfonic acid into the pancreatic duct of adult rats. Three weeks post infusion continuous intrathecal infusion of the calcitonin gene-related peptide antagonist alpha CGRP8-37 or neurokinin-1 receptor antagonist CP-96345 or its inactive enantiomer CP-96344 was administered for seven days. The effects of treatment on pancreatic hyperalgesia were assessed by sensitivity of the abdominal wall to von Frey filament probing as well as by the nocifensive response to electrical stimulation of the pancreas. In a separate experiment chronic pancreatitis was induced and pancreas specific dorsal root ganglion neurons labeled with DiI were assessed for calcitonin gene-related peptide and substance P immunoreactivity. Results Intrathecal infusion of calcitonin gene-related peptide and neurokinin-1 receptor antagonists significantly attenuated behavioral pain responses in rats with chronic pancreatitis. Further, treatment of chronic pancreatitis rats with nerve growth factor antibody significantly reduced pancreas specific neurons expressing calcitonin gene-related peptide and substance P in thoracic dorsal root ganglion. Conclusions Calcitonin gene-related peptide and substance P mediate pancreatic hyperalgesia in chronic pancreatitis and nerve growth factor in turn sustains the up-regulation of these neuropeptides in pancreatic sensory neurons.
Image: Anti-NGF treatment results in downregulation of substance P and CGRP.
Downloads
Download data is not yet available.
References
Mullady DK, Yadav D, Amann ST, O'Connell MR, Barmada MM, Elta GH, et al. Type of pain, pain-associated complications, quality of life, disability and resource utilisation in chronic pancreatitis: a prospective cohort study. Gut 2010;60:77-84. [PMID 21148579]
Ammann RW, Akovbiantz A, Largiader F, Schueler G. Course and outcome of chronic pancreatitis. Longitudinal study of a mixed medical-surgical series of 245 patients. Gastroenterology 1984;86:820-8. [PMID 6706066]
Anaparthy R, Pasricha PJ. Pain and chronic pancreatitis: is it the plumbing or the wiring? Curr Gastroenterol Rep 2008;10:101-6. [PMID 18462594]
Ceyhan GO, Demir IE, Rauch U, Bergmann F, Muller MW, Buchler MW, et al. Pancreatic neuropathy results in ''neural remodeling'' and altered pancreatic innervation in chronic pancreatitis and pancreatic cancer. Am J Gastroenterol 2009; 194:2555-65. [PMID 19568227]
Ceyhan GO, Bergmann F, Kadihasanoglu M, Altintas B, Demir IE, Hinz U, et al. Pancreatic neuropathy and neuropathic pain--a comprehensive pathomorphological study of 546 cases. Gastroenterology 2009;136:177-86. [PMID 18992743]
Di Sebastiano P, Fink T, Weihe E, Friess H, Innocenti P, Beger HG, Buchler MW. Immune cell infiltration and growth-associated protein 43 expression correlate with pain in chronic pancreatitis. Gastroenterology 1997;112:1648-55. [PMID 9136844]
Winston JH, He ZJ, Shenoy M, Xiao SY, Pasricha PJ. Molecular and behavioral changes in nociception in a novel rat model of chronic pancreatitis for the study of pain. Pain 2005;117:214-22. [PMID 16098667]
Hughes M, Shenoy M, Liu L, Colak T, Mehta K, Pasricha PJ. Brain derived neurotrophic factor is upregulated in rats with chronic pancreatitis and mediates pain behavior. Pancreas 2011; 40:551-6. [PMID 21499209]
Xu GY, Winston JH, Shenoy M, Yin H, Pasricha PJ. Enhanced excitability and suppression of A-type K+ current of pancreas-specific afferent neurons in a rat model of chronic pancreatitis. Am J Physiol Gastrointest Liver Physiol 2006;291:G424-31. [PMID 16645160]
Xu GY, Winston JH, Shenoy M, Yin H, Pendyala S, Pasricha PJ. Transient receptor potential vanilloid 1 mediates hyperalgesia and is up-regulated in rats with chronic pancreatitis. Gastroenterology 2007;133:1282-92. [PMID 17698068]
Pawlak M, Schmidt RF, Nitz C, Hanesch U. The neurokinin-2 receptor is not involved in the sensitization of primary afferents of the rat knee joint. Neurosci Lett 2002;326:113-6. [PMID 12057841]
Trafton JA, Abbadie C, Basbaum AI. Differential contribution of substance P and neurokinin A to spinal cord neurokinin-1 receptor signaling in the rat. J Neurosci 2001;21:3656-64. [PMID 11331395]
Sun RQ, Tu YJ, Lawand NB, Yan JY, Lin Q, Willis WD. Calcitonin gene-related peptide receptor activation produces PKA- and PKC-dependent mechanical hyperalgesia and central sensitization. J Neurophysiol 2004;92:2859-66. [PMID 15486424]
Wick EC, Hoge SG, Grahn SW, Kim E, Divino LA, Grady EF, et al. Transient receptor potential vanilloid 1, calcitonin gene-related peptide, and substance P mediate nociception in acute pancreatitis. Am J Physiol Gastrointest Liver Physiol 2006;290:G959-69. [PMID 16399878]
Shrikhande SV, Friess H, di Mola FF, Tempia-Caliera A, Conejo Garcia JR, Zhu Z, et al. NK-1 receptor gene expression is related to pain in chronic pancreatitis. Pain 2001;91:209-17. [PMID 11275376]
Buchler M, Weihe E, Friess H, Malfertheiner P, Bockman E, Muller S, et al. Changes in peptidergic innervation in chronic pancreatitis. Pancreas 1992;7:183-92. [PMID 1372738]
Buerkle H, Yang LC, Marcus MA, Brodner G, Dunbar S, Van Aken H. Opioidergic and cholinergic peripheral pain mechanisms. Acta Anaesthesiol Scand Suppl 1997; 111:184-6. [PMID 9421005]
Friess H, Zhu ZW, di Mola FF, Kulli C, Graber HU, Andren-Sandberg A, et al. Nerve growth factor and its high-affinity receptor in chronic pancreatitis. Ann Surg 1999;230:615-24. [PMID 10561084]
Woolf CJ, Costigan M. Transcriptional and posttranslational plasticity and the generation of inflammatory pain. Proc Natl Acad Sci U S A 1999;96:7723-30. [PMID 10393888]
Woolf CJ, Ma QP, Allchorne A, Poole S. Peripheral cell types contributing to the hyperalgesic action of nerve growth factor in inflammation. J Neurosci 1996;16:2716-23. [PMID 8786447]
McMahon SB. NGF as a mediator of inflammatory pain. Philos Trans R Soc Lond B Biol Sci 1996;351:431-40. [PMID 8730782]
Woolf CJ, Safieh-Garabedian B, Ma QP, Crilly P, Winter J. Nerve growth factor contributes to the generation of inflammatory sensory hypersensitivity. Neuroscience 1994;62:327-31. [PMID 7530342]
Malcangio M, Garrett NE, Tomlinson DR. Nerve growth factor treatment increases stimulus-evoked release of sensory neuropeptides in the rat spinal cord. Eur J Neurosci 1997;9:1101-4. [PMID 9182964]
Zhu Y, Colak T, Shenoy M, Liu L, Pai R, Li C, et al. Nerve growth factor modulates TRPV1 expression and function and mediates pain in chronic pancreatitis. Gastroenterology 2011; April 4. [PMID 21473865]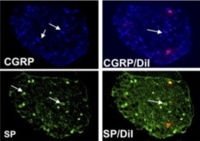 How to Cite
LiuL., ShenoyM., & PasrichaP. (2011). Substance P and Calcitonin Gene Related Peptide Mediate Pain in Chronic Pancreatitis and Their Expression is Driven by Nerve Growth Factor. JOP. Journal of the Pancreas, 12(4), 389-394. https://doi.org/10.6092/1590-8577/3226
Section
ORIGINAL ARTICLES
Copyright (c) 2011 LianSheng Liu, Mohan Shenoy, Pankaj Jay Pasricha
This work is licensed under a Creative Commons Attribution 4.0 International License.
As a member of Publisher International Linking Association, PILA, iMedPub Group's JOP follows the Creative Commons Attribution License and Scholars Open Access publishing policies. Journal of the Pancreas is the Council Contributor Member of Council of Science Editors (CSE) and following the CSE slogan Education, Ethics, and Evidence for Editors.