Pharmacogenetics and Other Molecular Targets in the Management of Pancreatic Adenocarcinoma
Eirini Merika

West London Renal and Transplant Centre, Hammersmith Hospital, Imperial College London. London, United Kingdom

Konstantinos N Syrigos

Oncology Unit, Third Department of Medicine, Athens Medical School. Athens, Greece

Muhammad Wasif Saif

Section of Medical Oncology, Yale University School of Medicine. New Haven, CT, USA
Keywords:
BRAF protein, human, epidermal growth factor receptor-neu receptor, KRAS protein, Pancreatic Neoplasms, Pharmacogenetics, Polymorphism, Single Nucleotide
Abstract
Among various abstracts presented at the Annual Meeting of the American Society of Clinical Oncology (ASCO) held in Chicago, June 2010, four interesting abstracts focusing on pancreatic cancer merit further discussion in this post-ASCO commentary as they potentially provide insight to clinicians and hope to patients. These abstracts point to the future of pancreatic cancer management through identification of molecular targets and prognostic factors to overcome the limits of efficacious chemotherapy delivery.
Image: XPD protein (with permission of Department of Energy, Lawrence Berkeley National Laboratory, CA, USA).
Downloads
Download data is not yet available.
References
Jemal A, Siegel R, Ward E, Hao Y, Xu J, Murray T, Thun MJ. Cancer Statistics, 2008. CA Cancer J Clin 2008; 58:71-96. [PMID 18287387]
Ellenrieder V, Alber B, Lacher U, Hendler SF, Menke A, Boeck W, et al. Role of MT-MMPs and MMP-2 in pancreatic cancer progression. Int J Cancer 2000; 85:14-20. [PMID 10585576]
Määttä M, Soini Y, Liakka A, Autio-Harmainen H. Differential expression of matrix metalloproteinase (MMP)-2, MMP-9, and membrane type 1-MMP in hepatocellular and pancreatic adenocarcinoma: implications for tumor progression and clinical prognosis. Clin Cancer Res 2000; 6:2726-34. [PMID 10914717]
Okada A, Bellocq JP, Rouyer N, Chenard MP, Rio MC, Chambon P, Basset P. Membrane-type matrix metalloproteinase (MT-MMP) gene is expressed in stromal cells of colon, breast, and head and neck carcinomas. Proc Natl Acad Sci U S A 1995; 92:2730-4. [PMID 7708715]
Sato H, Takino T, Okada Y, Cao J, Shinagawa A, Yamamoto E, Seiki M. A matrix metalloproteinase expressed on the surface of invasive tumor cells. Nature 1994; 370:61-5. [PMID 8015608]
Brown PD, Bloxidge RE, Stuart NS, Gatter KC, Carmichael J. Association between expression of activated 72-kilodalton gelatinase and tumor spread in non-small-cell lung carcinoma. J Natl Cancer Inst 1993; 85:574-8. [PMID 8384265]
Krantz SB, Dangi-Garimella S, Shields MA, Grippo PJ, Bentrem HG, Munshi HG. Role of MT1-MMP and Kras in invasive pancreatic tumors with pronounced fibrosis. J Clin Oncol 2010; 28(15 Suppl):4158.
E. Van Cutsem, I. Lang, G. D'Haens, V. Moiseyenko, J. Zaluski, G. Folprecht, et al. KRAS status and efficacy in the first-line treatment of patients with metastatic colorectal cancer (mCRC) treated with FOLFIRI with or without cetuximab: The CRYSTAL experience. J Clin Oncol 2008; 26(15 Suppl):2.
Bokemeyer C, Bondarenko I, Hartmann JT, De Braud FG, Volovat C, Nippgen J, et al. KRAS status and efficacy of first-line treatment of patients with metastatic colorectal cancer (mCRC) with FOLFOX with or without cetuximab: The OPUS experience. J Clin Oncol 2008; 26(15 Suppl):4000.
Punt CJ, Tol J, C. Rodenburg CJ, Cats A, Creemers G, Schrama JG, et al. Randomized phase III study of capecitabine, oxaliplatin, and bevacizumab with or without cetuximab in advanced colorectal cancer (ACC), the CAIRO2 study of the Dutch Colorectal Cancer Group (DCCG). J Clin Oncol 2008; 26(15 Suppl):LBA4011.
Allegra CJ, Jessup JM, Somerfield MR, Hamilton SR, Hammond EH, Hayes DF, et al. American Society of Clinical Oncology provisional clinical opinion: testing for KRAS gene mutations in patients with metastatic colorectal carcinoma to predict response to anti-epidermal growth factor receptor monoclonal antibody therapy. J Clin Oncol 2009; 27:2091-6. [PMID 19188670]
Maitra A, Kern SE, Hruban RH. Molecular pathogenesis of pancreatic cancer. Best Pract Res Clin Gastroenterol 2006; 20:211-26. [PMID 16549325]
Schultz NA, Roslind A, Heeran M, Christensen IJ, Hogdall EV, Horn T, et al. KRAS, BRAF mutations, and HER2 expression in patients operated for pancreatic adenocarcinomas. J Clin Oncol 2010; 28(15 Suppl):4043.
Lo M, Wang YZ, Gout PW. The x(c)- cystine/glutamate antiporter: a potential target for therapy of cancer and other diseases. J Cell Physiol 2008; 215:593-602. [PMID 18181196]
Lo M, Ling V, Wang YZ, Gout PW. The xc- cystine/glutamate antiporter: a mediator of pancreatic cancer growth with a role in drug resistance. Br J Cancer 2008; 99:464-72. [PMID 18648370]
Huang TJ, Li D, Weatherly J, Tang H, Gout PW, Wolff RA, et al. Prognostic significance of xCT gene single nucleotide polymorphisms (SNPs) in patients (pts) with advanced pancreatic cancer (PC) treated with gemcitabine (GEM) plus platinum analogues (PLTA). J Clin Oncol 2010; 28(15 Suppl):4065.
Pacetti P, Giovannetti E, Reni M, Mambrini A, Ghidini M, Gleon L, et al. Association between DNA repair polymorphisms and survival in pancreatic cancer patients treated with combination chemotherapy. J Clin Oncol 2010; 28(15 Suppl):4098.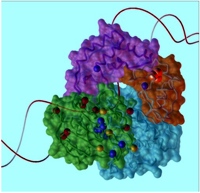 How to Cite
MerikaE., SyrigosK., & SaifM. (2010). Pharmacogenetics and Other Molecular Targets in the Management of Pancreatic Adenocarcinoma. JOP. Journal of the Pancreas, 11(4), 328-330. https://doi.org/10.6092/1590-8577/3615
Section
Highlights from the "2010 ASCO Annual Meeting". Chicago, IL, USA. June 4-8, 2010
Copyright (c) 2010 Eirini Merika, Konstantinos N Syrigos, Muhammad Wasif Saif
This work is licensed under a Creative Commons Attribution 4.0 International License.
As a member of Publisher International Linking Association, PILA, iMedPub Group's JOP follows the Creative Commons Attribution License and Scholars Open Access publishing policies. Journal of the Pancreas is the Council Contributor Member of Council of Science Editors (CSE) and following the CSE slogan Education, Ethics, and Evidence for Editors.