Celiaco-Mesenterial Arterial Aberrations in Patients Undergoing Extended Pancreatic Resections: Correlation of CT Angiography with Findings at Surgery
Viacheslav I Egorov

Department of Hepatopancreatobiliary Surgery, The Vishnevsky Institute of Surgery. Moscow, Russia

Nina I Yashina

Department of Radiology, The Vishnevsky Institute of Surgery. Moscow, Russia

Andrey V Fedorov

The Vishnevsky Institute of Surgery. Moscow, Russia

Gregory G Karmazanovsky

Department of Radiology, The Vishnevsky Institute of Surgery. Moscow, Russia

Vladimir A Vishnevsky

Department of Hepatopancreatobiliary Surgery, The Vishnevsky Institute of Surgery. Moscow, Russia

Tatiana V Shevchenko

Department of Hepatopancreatobiliary Surgery, The Vishnevsky Institute of Surgery. Moscow, Russia
Keywords:
Angiography, Celiac Artery, Hepatic Artery, Mesenteric Arteries, Pancreatectomy, Pancreaticoduodenectomy, Tomography, Spiral Computed
Abstract
Context It is important to recognize arterial variants in the preoperative planning of extended pancreatic resections. The absence of surgical confirmation of radiological data is a limitation of the majority of angiographic or CT-angiographic studies of celiac and mesenteric arterial anatomy. Objective The purpose of this study was to test the accuracy of CT angiography in delineating the arterial architecture by comparing the resultant 3D images with findings at surgery and determining the frequency of different celiac and mesenteric arterial anatomy variants. Methods Abdominal CT angiographies of 350 patients were performed on a 64- and 256-MDCT scanner prior to major pancreatic or hepatobiliary surgery. Variants of celiac and mesenteric arterial anatomy were documented as 3D reconstructions. Radiological data were compared to operative photographs during extended pancreaticoduodenectomies and extended distal pancreatectomies in 59 cases. Results Only 197 patients (56.3%) had the classic arterial anatomy identified at CT angiography. The most common variants were a replaced or accessory right hepatic artery originating from the superior mesenteric artery (62 cases, 17.7%) and a replaced or accessory left hepatic artery (43 cases, 12.3%) originating from the left gastric artery. According to a comparison with operative photographs, CT angiography demonstrated 100% accuracy in identifying celiac and mesenteric arterial anatomy variants, stenoses, obstructions and aneurysms of the celiac and mesenteric branches, including those which were hemodynamically significant and which influence the choice and sequence of operative procedures. Conclusion The celiac and mesenteric arterial anatomy variants are fairly common and are of great significance in planning extended pancreatic resections. Radiological findings were fully corroborated by operative data, which means that CT angiography is a reliable tool for identifying celiac and mesenteric arterial anatomy aberrations and arterial lesions.
Image: Changes in functioning arterial collaterals after celiac trunk stenting.
Downloads
Download data is not yet available.
References
Michels NA. Blood Supply and Anatomy of the Upper Abdominal Organs with a Descriptive Atlas. Philadelphia, PA: Lippincott, 1955.
Nebesar RA, Kornblith PL, Pollard JJ, Michels NA. Celiac and superior mesenteric artery a correlation of angiograms and dissections. Boston, USA: Little, Brown and Co., 1969.
Suzuki T, Nakayasu A, Kawabe K, Takeda H, Honjo I. Surgical significance of anatomic variations of the hepatic artery. Am J Surg 1971; 122:505-12. [PMID 5098656]
Daly JM, Kemeny N, Oderman P, Botet J. Long-term hepatic arterial infusion chemotherapy. Anatomic considerations, operative technique, and treatment morbidity. Arch Surg 1984; 119:936-41. [PMID 6378147]
Rygaard H, Forrest M, Mygind T, Baden H. Anatomic variants of the hepatic arteries. Acta Radiol Diagn (Stockh) 1986; 27:425-7. [PMID 3776676]
Kemeny MM, Hogan JM, Goldberg DA, Lieu C, Beatty D, Kokal WA, et al. Continuous hepatic artery infusion with an implantable pump: problems with hepatic artery anomalies. Surgery 1986; 99:501-4. [PMID 3952672]
Rong GH, Sindelar WF. Aberrant peripancreatic arterial anatomy: consideration in performing pancreatectomy for malignant neoplasms. Am Surg 1987; 53:726-9. [PMID 3425998]
Niederhuber JE, Ensminger WD. Surgical consideration in the management of hepatic neoplasia. Semin Oncol 1983; 10:135-47. [PMID 6306833]
Curley SA, Chase JL, Roh MS, Hohn DC. Technical consideration and complications associated with the placement of 180 implantable hepatic arterial infusion devices. Surgery 1993; 114:928-35. [PMID 8236017]
Hiatt JR, Gabbay J, Busuttil RW. Surgical anatomy of the hepatic arteries in 1000 cases. Ann Surg 1994; 220:50-2. [PMID 8024358]
Burke D, Earlam S, Fordi C, Allen-Mersh TG. Effect of aberrant hepatic arterial anatomy on tumor response to hepatic artery infusion of floxuridine for colorectal liver metastases. Br J Surg 1995; 82:1098-100. [PMID 7648164]
De Santis M, Ariost P, Cab GF, Romagnoli R. Hepatic arterial vascular anatomy and its variants. Radiol Med 2000; 100:145-51. [PMID 11148880]
Covey AM, Brody LA, Maluccio MA, Getrajdman GI, Brown KT. Variant hepatic arterial anatomy revisited: Digital subtraction angiography performed in 600 patients. Radiology 2002, 224:542-7. [PMID 12147854]
Allen PJ, Stojadinovic A, Ben-Porat L, Gonen M, Kooby D, Blumgart L, et al. The management of variant arterial anatomy during hepatic arterial infusion pump placement. Ann Surg Oncol 2002; 9:875-80. [PMID 12417509]
Koops A, Wojciechowski B, Broering DC, Adam G, Krupski-Berdien G. Anatomic variations of the hepatic arteries in 604 selective celiac and superior mesenteric angiographies. Surg Radiol Anat 2004; 26:239-44. [PMID 14968265]
Balakhnin PV, Tarazov PG, Polykarpov PA, Suvorov YV, Kozlov AV. Hepatic arteries anatomy according to 1511 angiograms. Ann Surg Hepatol (Moscow) 2004; 9:14 -21.
Lopez-Andujar R, Moya A, Montalva E, Berenguer M, De Juan M, San Juan F, et al. Lessons learned from anatomic variants of the hepatic artery in 1,081 transplanted livers. Liver Transpl 2007; 13:1401-4. [PMID 17902125]
Winston CB, Lee NA, Jarnagin WR, Teitcher J, DeMatteo RP, Fong Y, Blumgart LH. CT angiography for delineation of celiac and superior mesenteric artery variants in patients undergoing hepatobiliary and pancreatic surgery. AJR Am J Roentgenol 2007; 189:W13-9. [PMID 17579128]
Redman HC, Reuter SR. Angiographic demonstration of surgically important vascular variations. Surg Gynecol Obstet 1969; 129:33-9. [PMID 5790699]
Thomas PG, Baer HU, Matthews JB, Gertsch P, Blumgart LH. Post-operative hepatic necrosis due to reduction in hepatic arterial blood flow during surgery for chronic biliary obstruction. Dig Surg 1990; 7:31-5.
Fasel JH, Muster M, Gailloud P, Mentha G, Terrier F. Duplicated hepatic artery: radiologic and surgical implications. Acta Anat (Basel) 1996; 157:164-8. [PMID 9142340]
Furukawa H, Shimada K, Iwata R, Moriyama N. A replaced common hepatic artery running through the pancreatic parenchyma. Surgery 2000; 127:711-2. [PMID 10840370]
Yamamoto S, Kubota K, Rokkaku K, Nemoto T, Sakuma A. Disposal of replaced common hepatic artery coursing within the pancreas during pancreatoduodenectomy: report of a case. Surg Today 2005; 35:984-7. [PMID 16249858]
Yang SH, Yin YH, Jang JY, Lee SE, Chung JW, Suh KS, et al. Assessment of hepatic arterial anatomy in keeping with preservation of the vasculature while performing pancreatoduodenectomy: an opinion. World J Surg 2007; 31:2384-91. [PMID 17922256]
Yang F, Long J, Fu DL, Jin C, Yu XJ, Xu J, Ni QX. Aberrant hepatic artery in patients undergoing pancreaticoduodenectomy. Pancreatology 2008; 8:50-4. [PMID 18230918]
Perwaiz A, Singh A, Singh T, Chaudhary A. Incidence and management of arterial anomalies in patients undergoing pancreaticoduodenectomy. JOP. J Pancreas (Online) 2010; 11:25-30. [PMID 20065548]
Brennan DD, Zamboni GA, Raptopoulos VD, Kruskal JB. Comprehensive preoperative assessment of pancreatic adenocarcinoma with 64-section volumetric CT. Radiographics 2007; 27:1653-66. [PMID 18025509]
Zamboni GA, Kruskal JB, Vollmer CM, Baptista J, Callery MP, Raptopoulos VD. Pancreatic adenocarcinoma: value of multidetector CT angiography in preoperative evaluation. Radiology 2007; 245:770-8. [PMID 17951353]
Winter TC 3rd, Nghiem HV, Freeny PC, Hommeyer SC, Mack LA. Hepatic arterial anatomy: demonstration of normal supply and vascular variants with three-dimensional CT angiography. Radiographics 1995; 15:771-80. [PMID 7569128]
Takahashi S, Murakami T, Takamura M, Kim T, Hori M, Narumi Y, et al. Multi-detector row helical CT angiography of hepatic vessels: depiction with dual-arterial phase acquisition during single breath hold. Radiology 2002; 222:81-8. [PMID 11756709]
Bull DA, Hunter GC, Crabtree TG, Bernhard VM, Putnam CW. Hepatic ischemia, caused by celiac axis compression, complicating pancreaticoduodenectomy. Ann Surg 1993; 217:244-7. [PMID 8095781]
Berney T, Pretre R, Chassot G, Morel P. The role of revascularization in celiac occlusion and pancreatoduodenectomy. Am J Surg 1998; 176:352-6. [PMID 9817254]
Manabe T, Baba N, Setoyama H, Ohshio G, Tobe T. Venous bypass grafting for celiac occlusion in radical pancreaticoduodenectomy. Pancreas 1991; 6:368-71. [PMID 1862070]
Song SY, Chung JW, Kwon JW, Joh JH, Shin SJ, Kim HB, Park JH. Collateral pathways in patients with celiac axis stenosis: angiographic-spiral CT correlation. Radiographics 2002; 22:881-93. [PMID 12110717]
Hasegawa K, Imamura H, Akahane M, Miura Y, Takayama T, Ohtomo K, Makuuchi M. Endovascular stenting for celiac axis stenosis before pancreaticoduodenectomy. Surgery 2003; 133:440-2. [PMID 12717363]
Machado MC, Penteado S, Montagnini AL, Machado MA. An alternative technique in the treatment of celiac axis stenosis diagnosed during pancreaticoduodenectomy. HPB Surg 1998; 10:371-3. [PMID 9515234]
Okamoto H, Suminaga Y, Toyama N, Konishi F, Kawahito H. Autogenous vein graft from iliac artery to splenic artery for celiac occlusion in pancreaticoduodenectomy. J Hepatobiliary Pancreat Surg 2003; 10:109-12. [PMID 12918470]
Ouaissi M, Verhelst R, Astarci P, El Khouri G, Hubert C, Van Beers B, et al. Celiac artery occlusive disease: a rare but potentially critical condition in patients undergoing pancreaticoduodenectomy. Pancreatology 2009; 9:526.
Shukla PJ, Barreto SG, Kulkarni A, Nagarajan G, Fingerhut A. Vascular anomalies encountered during pancreatoduodenectomy: do they influence outcomes? Ann Surg Oncol 2010; 17:186-93. [PMID 19838756]
Biehl TR, Traverso LW, Hauptmann E, Ryan JA Jr. Preoperative visceral angiography alters intraoperative strategy during the Whipple procedure. Am J Surg 1993; 165:607-12. [PMID 8098185]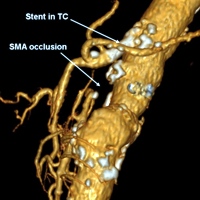 How to Cite
EgorovV., YashinaN., FedorovA., KarmazanovskyG., VishnevskyV., & ShevchenkoT. (2010). Celiaco-Mesenterial Arterial Aberrations in Patients Undergoing Extended Pancreatic Resections: Correlation of CT Angiography with Findings at Surgery. JOP. Journal of the Pancreas, 11(4), 348-357. https://doi.org/10.6092/1590-8577/3620
Section
ORIGINAL ARTICLES
Copyright (c) 2010 Viacheslav I Egorov, Nina I Yashina, Andrey V Fedorov, Gregory G Karmazanovsky, Vladimir A Vishnevsky, Tatiana V Shevchenko
This work is licensed under a Creative Commons Attribution 4.0 International License.
As a member of Publisher International Linking Association, PILA, iMedPub Group's JOP follows the Creative Commons Attribution License and Scholars Open Access publishing policies. Journal of the Pancreas is the Council Contributor Member of Council of Science Editors (CSE) and following the CSE slogan Education, Ethics, and Evidence for Editors.