Cystic Lesions of the Pancreas: Clinical and Pathologic Review of Cases in a Five Year Period
Carlos E Parra-Herran

Department of Pathology, University of Miami-Jackson Memorial Hospital. Miami, FL, USA

Mónica T Garcia

Department of Pathology, University of Miami-Jackson Memorial Hospital. Miami, FL, USA

Loren Herrera

Department of Pathology, University of Miami-Jackson Memorial Hospital. Miami, FL, USA

Pablo A Bejarano

Department of Pathology, University of Miami-Jackson Memorial Hospital. Miami, FL, USA
Keywords:
Neoplasms, Cystic, Mucinous, and Serous, Pancreatic Cyst, Pancreatic Pseudocyst
Abstract
Context Cystic lesions of the pancreas represent an important subgroup of pancreatic tumors. The characterization of these lesions has evolved in recent years, and will continue to change according to the increasing number of biopsies and resections performed. Design Pancreatectomy specimens containing cystic lesions collected over a five-year period were reviewed. Main outcome measures Demographic and pathologic features were recorded. Setting Cases were subclassified in diagnostic categories and were grouped according to the nature of the lesion (non-neoplastic vs. neoplastic). Results Of 361 pancreatic lesions, 97 cysts corresponding to 95 patients were studied. The patients' mean age was 60 years. Sixty two cysts (63.9%) occurred in women. Among the 97 cysts, five (5.2%) were non-neoplastic and 92 (94.8%) were neoplastic (59.8% benign, 17.5% borderline, 17.5% malignant). Intraductal papillary mucinous neoplasm was the most common diagnosis (n=51; 52.6%) followed by serous cystic neoplasm (n=20; 20.6%) and mucinous cystic neoplasm (n=13; 13.4%). Frequency of female gender was higher and age was lower in the borderline lesions (P=0.001 and P=0.002, respectively). Tumor size was significantly lower in benign neoplastic lesions (P=0.045). Incidental identification was more frequent in benign lesions (P=0.028), whereas malignant lesions were more frequently symptomatic (P=0.001). Conclusion Cystic lesions are found in 20.6% of all pancreatectomy specimens. Among this heterogeneous group, benign neoplasms predominate, particularly those with mucinous lining. Age at presentation, gender, location and tumor size are highly variable, with the exception of solid pseudopapillary tumor. Clinical presentation, diagnostic imaging and laboratory data should be consistently reported to improve the therapeutic approach.
Image: Cystic lesions of the pancreas.
Downloads
Download data is not yet available.
References
Adsay VN. Cystic lesions of the pancreas. Mod Pathol 2007; 20(Suppl 1):S71-93. [PMID 17486054]
Kosmahl M, Pauser U, Peters K, Sipos B, Lüttges J, Kremer B, Klöppel G. Cystic neoplasms of the pancreas and tumor-like lesions with cystic features: a review of 418 cases and classification proposal. Virchows Arch 2004; 445:168-8. [PMID 15185076]
Garcea G, Ong SL, Rajesh A, Neal CP, Pollard CA, Berry DP, Dennison AR. Cystic lesions of the pancreas: a diagnostic and management dilemma. Pancreatology 2008; 8:236-51. [PMID 18497542]
Klöppel G, Solcia E, Longnecker DS, Capella C, Sobin LH. Histological Typing of Tumours of the Exocrine Pancreas (WHO. World Health Organization. International Histological Classification of Tumours). Berlin, Heidelberg; Germany: Springer-Verlag; 2nd edition, 1996. [ISBN 978-3540602804]
Van der Waaij LA, Van Dullemen HM, Porte RJ. Cyst fluid analysis in the differential diagnosis of pancreatic cystic lesions: a pooled analysis. Gastrointest Endosc 2005; 62:383-9. [PMID 16111956]
Scheiman JM. Cystic lesion of the pancreas. Gastroenterology 2005; 128:463-9. [PMID 15685556]
Brugge WR, Lewandrowski K, Lee-Lewandrowski E, Centeno BA, Szydlo T, Regan S, et al. Diagnosis of pancreatic cystic neoplasms: a report of the cooperative pancreatic cyst study. Gastroenterology 2004; 126:1330-6. [PMID 15131794]
Klöppel G. Pseudocysts and other non-neoplastic cysts of the pancreas. Semin Diagn Pathol 2000; 17:7-15. [PMID 10721803]
Basturk O, Coban I, Adsay VN. Pancreatic cysts: pathologic classification, differential diagnosis, and clinical implications. Arch Pathol Lab Med 2009; 133:423-38. [PMID 19260748]
Othman M, Basturk O, Groisman G, Krasinskas A, Adsay NV. Squamoid cyst of pancreatic ducts: a distinct type of cystic lesion in the pancreas. Am J Surg Pathol 2007; 3:291-7. [PMID 17255775]
Hunter CJ, Connelly ME, Ghaffari N, Anselmo D, Gonzalez I, Shin C. Enteric duplication cysts of the pancreas: a report of two cases and review of the literature. Pediatr Surg Int 2008; 24:227-33. [PMID 18060413]
Brugge WR, Lauwers GY, Sahani D, Fernandez-del Castillo C, Warshaw AL. Cystic neoplasms of the pancreas. N Engl J Med 2004; 351:1218-26. [PMID 15371579]
Adsay VN. Cystic neoplasia of the pancreas: pathology and biology. J Gastrointest Surg 2008; 12:401-4. [PMID 17957438]
Fernandez-Del Castillo C. Mucinous cystic neoplasms. J Gastrointest Surg 2008; 12:411-3. [PMID 17955316]
Thompson LD, Becker RC, Przygodzki RM, Adair CF, Heffess CS. Mucinous cystic neoplasm (mucinous cystadenocarcinoma of low malignant potential) of the pancreas: a clinicopathologic study of 130 cases. Am J Surg Pathol 1999; 23:1-16. [PMID 9888699]
Zamboni G, Scarpa A, Bogina G, Iacono C, Bassi C, Talamini G, et al. Mucinous cystic tumors of the pancreas: clinicopathological features, prognosis, and relationship to other mucinous cystic tumors. Am J Surg Pathol 1999; 23:410-22. [PMID 10199470]
Kim JC, Kim MH, Lee TY, Kim JY, Han JH, Park SJ, et al. Clinicopathologic review of 41 cases of pancreatic mucinous cystic neoplasms. Korean J Gastroenterol 2008; 51:34-9. [PMID 18349560]
Kobayashi T, Teruya M, Shimizu S, Miki K, Kobayashi K, Morita K. Mucinous cystic tumor of the pancreas in a man: a rare case. Pancreas 2006; 33:312-4. [PMID 17003656]
Suzuki M, Fujita N, Onodera H, Kayaba Y, Suzuki S, Kagaya H, et al. Mucinous cystic neoplasm in a young male patient. J Gastroenterol 2005; 40:1070-4. [PMID 16322953]
Galanis C, Zamani A, Cameron JL, Campbell KA, Lillemoe KD, Caparrelli D, et al. Resected serous cystic neoplasms of the pancreas: a review of 158 patients with recommendations for treatment. J Gastrointest Surg 2007; 11:820-6. [PMID 17440789]
Papavramidis T, Papavramidis S. Solid pseudopapillary tumors of the pancreas: review of 718 patients reported in English literature. J Am Coll Surg 2005; 200:965-72. [PMID 15922212]
Tafe LJ, Suriawinata AA. Cystic pancreatic schwannoma in a 46-year-old man. Ann Diagn Pathol 2008; 12:296-300. [PMID 18621000]
Tan G, Vitellas K, Morrison C, Frankel WL. Cystic schwannoma of the pancreas. Ann Diagn Pathol 2003; 7:285-91. [PMID 14571430]
Ballarin R, Masetti M, Losi L, Di Benedetto F, Di Sandro S, De Ruvo N, et al. Cystic pancreatic neuroendocrine neoplasms with uncertain malignant potential: report of two cases. Surg Today 2009; 39:162-7. [PMID 19198998]
Adsay VN. Centrally necrotic invasive ductal carcinoma of the pancreas presenting clinically as macrocystic lesions. Mod Pathol 2001; 14:191A.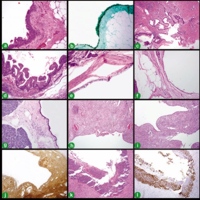 How to Cite
Parra-HerranC., GarciaM., HerreraL., & BejaranoP. (2010). Cystic Lesions of the Pancreas: Clinical and Pathologic Review of Cases in a Five Year Period. JOP. Journal of the Pancreas, 11(4), 358-364. https://doi.org/10.6092/1590-8577/3621
Section
ORIGINAL ARTICLES
Copyright (c) 2010 Carlos E Parra-Herran, Mónica T Garcia, Loren Herrera, Pablo A Bejarano
This work is licensed under a Creative Commons Attribution 4.0 International License.
As a member of Publisher International Linking Association, PILA, iMedPub Group's JOP follows the Creative Commons Attribution License and Scholars Open Access publishing policies. Journal of the Pancreas is the Council Contributor Member of Council of Science Editors (CSE) and following the CSE slogan Education, Ethics, and Evidence for Editors.