Pancreatic Involvement in Melioidosis
Vui Heng Chong

Gastroenterology and Hepatology Unit, Department of Medicine, Raja Isteri Pengiran Anak Saleha (RIPAS) Hospital. Bandar Seri Begawan, Brunei Darussalam

Kian Soon Lim

Department of Radiology, Raja Isteri Pengiran Anak Saleha (RIPAS) Hospital. Bandar Seri Begawan, Brunei Darussalam

Faizal Sharif

Department of Radiology, Raja Isteri Pengiran Anak Saleha (RIPAS) Hospital. Bandar Seri Begawan, Brunei Darussalam
Keywords:
Abdominal Abscess, Burkholderia pseudomallei, Melioidosis, Pancreas
Abstract
Context Melioidosis is endemic to tropical regions and, despite the common occurrence of intra-abdominal abscesses, pancreatic involvement in melioidosis has not previously been reported. Objective We report our experience with pancreatic melioidosis. Patients All 65 patients treated for melioidosis who had computed tomography (CT) scans were identified from prospective databases and were retrospectively reviewed. Main outcome measures A detailed review of cases with pancreas involvement was carried out. Results There were four cases (three males and one female; median age 29.5 years, range: 25-48 years) with pancreatic melioidosis, giving a prevalence of 6.2%. All had predisposing conditions (two had poorly controlled diabetes mellitus and two had thalassemia) for melioidosis. Fever (100%), anorexia (100%), weight loss (100%), rigor (75%) and abdominal pain (75%) were the most common symptoms at presentation and the median duration of symptoms before presentation was six weeks (range: 2-8 weeks). All pancreatic abscesses were detected on CT scan. Multiple foci involvement was common (3 to 6 sites): blood (4 patients), liver (3 patients), psoas muscle (2 patients), spleen (2 patients), infected ascites (2 patients) and lung (1 patient). Pancreatic involvement ranged from multi-focal micro-abscesses to focal large abscesses and involved all parts of the pancreas (body 100%, head 75% and tail 50%). Associated pancreatic findings included splenic vein thrombosis, peripancreatic inflammation and peripancreatic fat streaking. All the pancreatic abscesses were resolved with antibiotics without requiring pancreatic abscess drainage (including one patient who died from disseminated melioidosis). Conclusion Pancreatic involvement typically occurs as part of multi-organ involvement and commonly manifests as multifoci micro-abscesses. Associated pancreatic abnormalities were also common. All responded to treatment without requiring drainage.
Image: Multiple abscesses in the body and tail regions of the pancreas, splenic vein thrombosis and splenic micro-abscesses. 
Downloads
Download data is not yet available.
References
White NJ. Melioidosis. Lancet 2003; 361:1715-22. [PMID 12767750]
Cahn A, Koslowsky B, Nir-Paz R, Temper V, Hiller N, Karlinsky A, et al. Imported melioidosis, Israel, 2008. Emerg Infect Dis 2009; 15:1809-11. [PMID 19891871]
Frangoulidis D, Schwab D, Scholz H, Tomaso H, Hogardt M, Meyer H, et al. 'Imported' melioidosis in Germany: relapse after 10 years. Trans R Soc Trop Med Hyg 2008; 102(Suppl 1):S40-1. [PMID 19121684]
Ezzedine K, Heenen M, Malvy D. Imported cutaneous melioidosis in traveler, Belgium. Emerg Infect Dis 2007; 13:946-7. [PMID 17582903]
Centers for Disease Control and Prevention (CDC). Imported melioidosis. South Florida, 2005. MMWR Morb Mortal Wkly Rep 2006; 55:873-6. [PMID 16915220]
Currie BJ, Dance DA, Cheng AC. The global distribution of Burkholderia pseudomallei and melioidosis: an update. Trans R Soc Trop Med Hyg 2008; 102(Suppl 1):S1-4. [PMID 19121666]
Lim KS, Chong VH. Radiological manifestations of melioidosis. Clin Radiol 2010; 65:66-72. [PMID 20103424]
Dhiensiri T, Eua-Ananta Y. Visceral abscess in melioidosis. J Med Assoc Thai 1995; 78:225-31. [PMID 7561544]
Currie BJ, Fisher DA, Howard DM, Burrow JN, Lo D, Selva-Nayagam S, et al. Endemic melioidosis in tropical northern Australia: a 10-year prospective study and review of the literature. Clin Infect Dis 2000; 31:981-6. [PMID 11049780]
Morse LP, Moller CC, Harvey E, Ward L, Cheng AC, Carson PJ, Currie BJ. Prostatic abscess due to Burkholderia pseudomallei: 81 cases from a 19-year prospective melioidosis study. J Urol 2009; 182:542-7. [PMID 19524969]
Dhiensiri T, Puapairoj S, Susaengrat W. Pulmonary melioidosis: clinical-radiologic correlation in 183 cases in northeastern Thailand. Radiology 1988; 166:711-5. [PMID 3340766]
Apisarnthananarak P, Apisarnthanarak A, Mundy LM. Computed tomography characteristics of Burkholderia pseudomallei-associated liver abscess. Clin Infect Dis 2006; 43:1618-20. [PMID 17109298]
Srikanth G, Sikora SS, Baijal SS, Ayyagiri A, Kumar A, Saxena R, Kapoor VK. Pancreatic abscess: 10 years experience. ANZ J Surg 2002; 72:881-6. [PMID 12485225]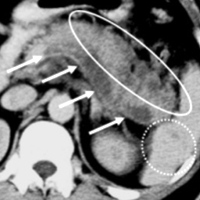 How to Cite
ChongV., LimK., & SharifF. (2010). Pancreatic Involvement in Melioidosis. JOP. Journal of the Pancreas, 11(4), 365-368. https://doi.org/10.6092/1590-8577/3622
Section
ORIGINAL ARTICLES
Copyright (c) 2010 Vui Heng Chong, Kian Soon Lim, Faizal Sharif
This work is licensed under a Creative Commons Attribution 4.0 International License.
As a member of Publisher International Linking Association, PILA, iMedPub Group's JOP follows the Creative Commons Attribution License and Scholars Open Access publishing policies. Journal of the Pancreas is the Council Contributor Member of Council of Science Editors (CSE) and following the CSE slogan Education, Ethics, and Evidence for Editors.