Acute Pancreatitis with Normal Serum Lipase: A Case Series
Anish M Shah

Department of Internal Medicine, Saint Joseph's Regional Medical Center. Paterson, NJ, USA

Rodney Eddi

Division of Gastroenterology, Saint Joseph's Regional Medical Center. Paterson, NJ, USA. Seton Hall University School of Health and Medical Sciences. South Orange, NJ, USA

Shivangi T Kothari

Division of Gastroenterology, Saint Joseph's Regional Medical Center. Paterson, NJ, USA. Seton Hall University School of Health and Medical Sciences. South Orange, NJ, USA

Charbel Maksoud

Division of Gastroenterology, Saint Joseph's Regional Medical Center. Paterson, NJ, USA. Seton Hall University School of Health and Medical Sciences. South Orange, NJ, USA

William Scott DiGiacomo

Seton Hall University School of Health and Medical Sciences. South Orange, NJ, USA

Walid Baddoura

Division of Gastroenterology, Saint Joseph's Regional Medical Center. Paterson, NJ, USA. Seton Hall University School of Health and Medical Sciences. South Orange, NJ, USA
Keywords:
Amylases, Lipase, Pancreatitis, Acute Necrotizing
Abstract
Context Acute pancreatitis is diagnosed on the basis of clinical features, biochemical tests and imaging studies. Normal serum amylase level has been reported in the setting of acute pancreatitis but normal serum lipase level in acute pancreatitis is extremely rare. Case report Herein, we present a case series of acute pancreatitis with normal serum lipase levels along with a review of the topic. Conclusion In appropriate clinical setting, the diagnosis of acute pancreatitis should be entertained even with normal serum amylase and lipase levels.
Image: MRI of the abdomen with contrast: prominent inflammatory changes surrounding the pancreas, with no necrosis or pseudocyst formation.
Downloads
Download data is not yet available.
References
DeFrances CJ, Hall MJ, Podgornik MN. Advance Data From Vital and Health Statistics. No. 359. 2003 National Hospital Discharge Survey. Centers for Disease Control and Prevention. Atlanta, GA 30333, USA. National Center for Health Statistics, 2005.
Talukdar R, Vege SS. Recent developments in acute pancreatitis. Clin Gastroenterol Hepatol 2009; 7(11 Suppl):S3-9. [PMID 19896095]
Whitcomb DC. Value of genetic testing in management of pancreatitis. Gut 2004; 53:1710-7. [PMID 15479696]
Banks PA, Freeman ML, Practice Parameters Committee of the American College of Gastroenterology. Practice guidelines in acute pancreatitis. Am J Gastroenterol 2006;101:2379-400. [PMID 17032204]
Cotton PB, Lehman G, Vennes J, Geenen JE, Russell RC, Meyers WC, et al. Endoscopic sphincterotomy complications and their management: an attempt at consensus. Gastrointest Endosc 1991; 37:383-93. [PMID 2070995]
Clavien PA, Robert J, Meyer P, Borst F, Hauser H, Herrmann F, et al. Acute pancreatitis and normoamylasemia. Not an uncommon combination. Ann Surg 1989; 210:614-20. [PMID 2479346]
Cartier T, Sogni P, Perruche F, Meyniard O, Claessens YE, Dhainaut JF, Der Sahakian G. Normal lipase serum level in acute pancreatitis: a case report. Emerg Med J 2006; 23:701-2. [PMID 16921084]
Mayersak JS, Viviano CJ, Babiarz JW. Computed axial tomography pancreatitis: an atypical asymptomatic postoperative disease without serum or urinary enzyme evaluation. Wis Med J 1997; 96:25-8. [PMID 9128430]
Kylänpää-Bäck M, Kemppainen E, Puolakkainen P, Hedström J, Haapiainen R, Perhoniemi V, et al. Reliable screening for acute pancreatitis with rapid urine trypsinogen-2 test strip. Br J Surg 2000; 87:49-52. [PMID 10606910]
Al-Bahrani AZ, Ammori BJ. Clinical laboratory assessment of acute pancreatitis. Clin Chim Acta 2005; 362:26-48. [PMID 16024009]
Sternby B, O'Brien JF, Zinsmeister AR, DiMagno EP. What is the best biochemical test to diagnose acute pancreatitis? A prospective clinical study. Mayo Clin Proc 1996; 71:1138-44. [PMID 8945483]
Fernández-del Castillo C, Rattner DW, Warshaw AL. Acute pancreatitis. Lancet 1993; 342:475-9. [PMID 8102434]
Maher MM, Lucey BC, Gervais DA, Mueller PR. Acute pancreatitis: the role of imaging and interventional radiology. Cardiovasc Intervent Radiol 2004; 27:208-25. [PMID 15024494]
Whitcomb DC. Clinical practice. Acute pancreatitis. N Engl J Med 2006; 354:2142-50. [PMID 16707751]
Koo BC, Chinogureyi A, Shaw AS. Imaging acute pancreatitis. Br J Radiol 2010; 83:104-112. [PMID 20139261]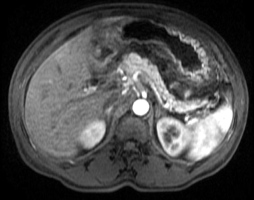 How to Cite
ShahA., EddiR., KothariS., MaksoudC., DiGiacomoW., & BaddouraW. (2010). Acute Pancreatitis with Normal Serum Lipase: A Case Series. JOP. Journal of the Pancreas, 11(4), 369-372. https://doi.org/10.6092/1590-8577/3623
Copyright (c) 2010 Anish M Shah, Rodney Eddi, Shivangi T Kothari, Charbel Maksoud, William Scott DiGiacomo, Walid Baddoura
This work is licensed under a Creative Commons Attribution 4.0 International License.
As a member of Publisher International Linking Association, PILA, iMedPub Group's JOP follows the Creative Commons Attribution License and Scholars Open Access publishing policies. Journal of the Pancreas is the Council Contributor Member of Council of Science Editors (CSE) and following the CSE slogan Education, Ethics, and Evidence for Editors.