Choledochal Cysts with Chronic Pancreatitis in Adults: Report of Two Cases with a Review of the Literature
Biswanath P Gouda

Division of Surgical Gastroenterology, P.D. Hinduja National Hospital and Medical Research Center. Mahim West, Mumbai, India

Devendra C Desai

Division of Gastroenterology, P.D. Hinduja National Hospital and Medical Research Center. Mahim West, Mumbai, India

Philip Abraham

Division of Gastroenterology, P.D. Hinduja National Hospital and Medical Research Center. Mahim West, Mumbai, India

Anand Joshi

Division of Gastroenterology, P.D. Hinduja National Hospital and Medical Research Center. Mahim West, Mumbai, India

Sudeep R Shah

Division of Surgical Gastroenterology, P.D. Hinduja National Hospital and Medical Research Center. Mahim West, Mumbai, India
Keywords:
Adult, Cholangiopancreatography, Endoscopic Retrograde, Choledochal Cyst /pathology /complications, Humans, Pancreatitis, Chronic /diagnosis /etiology
Abstract
Context Choledochal cysts, rarely present with chronic calcific pancreatitis. We report two patients with choledochal cysts who had concomitant chronic pancreatitis. Case report #1 A 27-year-old female with a history of recurrent abdominal pain, fever and jaundice presented with a type I choledochal cyst with calcifications in the uncinate process of the pancreas on CT scan. Her magnetic resonance cholangiopancreatogram (MRCP) revealed calcifications in the region of the uncinate process of the pancreas, the presence of a type I choledochal cyst with dilatation of the right and left hepatic ducts at their confluence suggesting an anomalous pancreaticobiliary ductal junction. She underwent choledochal cyst excision with a Roux-en-Y hepaticojejunostomy. Case report #2 A 35-year-old male with colicky abdominal pain of four months duration whose CT scan was suggestive of an atrophic pancreas with a 1 cm dilatation of the pancreatic duct and a calculus in the pancreatic duct near the ampulla. MRCP showed significant atrophy of the pancreas with an isointense filling defect seen in the pancreatic duct at its distal end near the ampulla. A diagnosis of chronic calcific pancreatitis with type I choledochal cyst was made. He underwent choledochal cyst excision with a cholecystectomy, hepaticojejunostomy (end-to-side) and side-to-side pancreaticojejunostomy. Conclusion Chronic calcific pancreatitis is a rare occurrence in patients with choledochal cysts and only six cases have been reported in the literature. Our two patients with choledochal cysts associated with chronic pancreatitis were treated surgically.
Image: Type Ic choledochal cyst with a dilated pancreatic duct and filling defect seen proximal to the ampulla 
Downloads
Download data is not yet available.
References
Tan KC, Howard ER. Choledochal cyst: a 14 year surgical experience with 36 patients. Br J Surg 1988; 75:892-5. [PMID 3179667]
Lal R, Agrawal S, Shivhare R, Kumar A, Sikora S, Kapoor V, Saxena R. Management of complicated choledochal cysts. Dig Surg 2007; 24:456-62. [PMID 18057892]
Nakagohri T, Konishi M, Inoue K, Takahashi S, Tanizawa Y, Kinoshita T. Inferior head resection of the pancreas and cyst resection for choledochal cyst with chronic calcifying pancreatitis. Hepatogastroenterology 2004; 51:1504-5. [PMID 15362787]
Jalleh RP, Williamson RC. Choledochal cyst and chronic pancreatitis treated by proximal pancreatectomy. HPB Surg 1991; 4:245-9. [PMID 1681890]
Yamaguchi M. Congenital choledochal cysts: analysis of 1433 patients in the Japanese literature. Am J Surg 1980; 140:653-7. [PMID 6776832]
Todani T, Watanabe Y, Toki A, Urushihara N, Sato Y. Reoperation for congenital choledochal cyst. Ann Surg 1988; 207:142-7. [PMID 3341813]
Swisher SG, Cates JA, Hunt KK, Robert ME, Bennion RS, Thompson JE, et al. Pancreatitis associated with adult choledochal cysts. Pancreas 1994; 9:633-7. [PMID 7809018]
Komuro H, Makino SI, Yasuda Y, Ishibashi T, Tahara K, Nagai H. Pancreatic complications in choledochal cyst and their surgical outcomes. World J Surg 2001; 25:1519-23. [PMID 11775184]
Koshinaga T, Wakabayashi K, Inoue M, Sugito K, Ikeda T, Hagiwara N, Tomita R. Pancreatitis after a primary and secondary excision of congenital choledochal cysts. Surg Today 2006; 36:686-91. [PMID 16865511]
Tan SS, Tan NC, Ibrahim S, Tay KH. Management of adult choledochal cyst. Singapore Med J 2007; 48:524-7. [PMID 17538750]
Liu YB, Wang JW, Devkota KR, Ji ZL, Li JT, Wang XA, et al. Congenital choledochal cysts in adults: twenty-five year experience. Chin Med J (Engl) 2007; 120:1404-7. [PMID 17825168]
Ando H, Ito T, Watanabe Y, Seo T, Kaneko K, Nagaya M. Spontaneous perforation of choledochal cyst. J Am Coll Surg 1995; 181:125-8. [PMID 7627384]
Komi N, Tamura T, Miyoshi Y, Kunitomo K, Udaka H, Takehara H. Nationwide survey of choledochal cysts. Analysis of coexistent anomalies, complications and surgical treatment in 645 cases. Surg Gastroenterol 1984; 3:69-73. [PMID 6085899]
Okada A, Nakamura T, Higaki J, Okumura K, Kamata S, Oguchi Y. Congenital dilatation of the bile duct in 100 instances and its relationship with anomalous junction. Surg Gynecol Obstet 1990; 171:291-8. [PMID 1699293]
Ono J, Sakoda K, Akita H. Surgical aspect ot cystic dilatation of the bile duct. An anomalous junction of the pancreaticobiliary tract in adults. Ann Surg 1982; 195:203-8. [PMID 7055397]
Todani T, Watanabe Y, Fujii T, Uemera S. Anomalous arrangement of the pancreatobiliary ductal system in patients with a choledochal cyst. Am J Surg 1984; 147:672-6. [PMID 6202164]
Oguchi Y, Okada A, Nakamura T, Okumura K, Miyata M, Nakao K, Kawashima Y. Histopathologic studies of congenital dilatation of the bile duct as related to an anomalous junction of the pancreaticobiliary ductal system: clinical and experimental studies. Surgery 1988; 103:168-73. [PMID 3340986]
Nagata E, Sakai K, Kinoshita H, Hirohashi K. Choledochal cyst: complications of anomalous connection between the choledochal and pancreatic duct and carcinoma of the biliary tree. World J Surg 1986; 10:102-10. [PMID 3962321]
Williamson RCN, Cooper MJ. Resection in chronic pancreatitis. Br J Surg 1987; 74:807-12. [PMID 3664247]
Cooper MJ, Williamson RC. Conservative pancreatectomy. Br J Surg 1985; 72:801-3. [PMID 4041711]
Yamashiro Y, Miyano T, Suruga K, Shimomura H, Suda K, Matsumoto M, Nittono H. Experimental study of the pathogenesis of choledochal cyst and pancreatitis, with special reference to the role of bile acids and pancreatic enzymes in the anomalous choledocho-pancreatico ductal junction. J Pediatr Gastroenterol Nutr 1984; 3:721-7. [PMID 6568275]
Price L, Kozarek R, Agoff N. Squamous cell carcinoma arising within a choledochal cyst. Dig Dis Sci 2008; 53:2822-5. [PMID 18274902]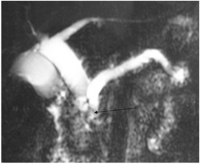 How to Cite
GoudaB., DesaiD., AbrahamP., JoshiA., & ShahS. (2010). Choledochal Cysts with Chronic Pancreatitis in Adults: Report of Two Cases with a Review of the Literature. JOP. Journal of the Pancreas, 11(4), 373-376. https://doi.org/10.6092/1590-8577/3624
Copyright (c) 2010 Biswanath P Gouda, Devendra C Desai, Philip Abraham, Anand Joshi, Sudeep R Shah
This work is licensed under a Creative Commons Attribution 4.0 International License.
As a member of Publisher International Linking Association, PILA, iMedPub Group's JOP follows the Creative Commons Attribution License and Scholars Open Access publishing policies. Journal of the Pancreas is the Council Contributor Member of Council of Science Editors (CSE) and following the CSE slogan Education, Ethics, and Evidence for Editors.