En Bloc Resection of the Pancreatic Head and Second Part of Duodenum for a Duodenal Gastrointestinal Stromal Tumor: A Multi-Media Report
Adam E Frampton

Hepato-Pancreato-Biliary Surgical Unit, Department of Surgery and Cancer, Imperial College, Hammersmith Hospital Campus. London, United Kingdom

Jan J Bong

Department of Surgery, National University of Malaysia. Bangi, Selangor, Malaysia

Charis Kyriakides

Hepato-Pancreato-Biliary Surgical Unit, Department of Surgery and Cancer, Imperial College, Hammersmith Hospital Campus. London, United Kingdom

Patrizia Cohen

Department of Histopathology, Imperial College NHS Trust, Charing Cross Hospital. London, United Kingdom

Long R Jiao

Hepato-Pancreato-Biliary Surgical Unit, Department of Surgery and Cancer, Imperial College, Hammersmith Hospital Campus. London, United Kingdom
Keywords:
Duodenum, Gastrointestinal Stromal Tumors, Pancreaticoduodenectomy
Abstract
Duodenal gastrointestinal stromal tumors are rare tumors. When these tumors arise from the second part of the duodenum they can easily be misdiagnosed as a pancreatic head cancer. A case of a 37-year-old female presenting with a one-year history of right upper quadrant pain is described here, who was subsequently found to have a mass in the head of the pancreas. Computed tomography scans showed a 2 cm hypervascular lesion lying between the head of pancreas and the second part of the duodenum, suggestive of a neuroendocrine tumor, and confirmed by endoscopic ultrasound scan. She underwent a pancreatic head resection with duodenal segmentectomy. Histopathological and immunohistochemical analysis revealed the tumor to be peri-ampullary duodenal gastrointestinal stromal tumor not invading the pancreas. Duodenal gastrointestinal stromal tumor can have a wide spectrum of clinical presentation. The accurate diagnosis of duodenal gastrointestinal stromal tumor is essential for determining the appropriate surgical intervention. In our case, a conservative surgical approach was utilised therefore avoiding a formal pancreaticoduodenectomy.
Image: Excision of the second part of duodenum.
Downloads
Download data is not yet available.
References
Goh BK, Chow PK, Ong HS, Wong WK. Gastrointestinal stromal tumor involving the second and third portion of the duodenum: Treatment by partial duodenectomy and roux-en-Y duodenojejunostomy. J Surg Oncol 2005; 91:273-5. [PMID 16121353]
Gervaz P, Huber O, Morel P. Surgical management of gastrointestinal stromal tumors. Br J Surg 2009; 96:567-78. [PMID 19434705]
Agaimy A, Wunsch PH. Gastrointestinal stromal tumors: A regular origin in the muscularis propria, but an extremely diverse gross presentation. A review of 200 cases to critically re-evaluate the concept of so-called extra-gastrointestinal stromal tumors. Langenbecks Arch Surg 2006; 391:322-9. [PMID 16402273]
Kwon SH, Cha HJ, Jung SW, Kim BC, Park JS, Jeong ID, et al. A gastrointestinal stromal tumor of the duodenum masquerading as a pancreatic head tumor. World J Gastroenterol 2007; 13:3396-9. [PMID 17659684]
Uchida H, Sasaki A, Iwaki K, Tominaga M, Yada K, Iwashita Y, et al. An extramural gastrointestinal stromal tumor of the duodenum mimicking a pancreatic head tumor. J Hepatobiliary Pancreat Surg 2005; 12:324-7. [PMID 16133702]
Sakamoto Y, Yamamoto J, Takahashi H, Kokudo N, Yamaguchi T, Muto T, Makuuchi M. Segmental resection of the third portion of the duodenum for a gastrointestinal stromal tumor: a case report. Jpn J Clin Oncol 2003; 33:364-6. [PMID 12949065]
Spalding DR, Isla AM, Thompson JN, Williamson RC. Pancreas-sparing distal duodenectomy for infrapapillary neoplasms. Ann R Coll Surg Engl 2007; 89:130-5. [PMID 17346405]
Goh BK, Chow PK, Kesavan S, Yap WM, Wong WK. Outcome after surgical treatment of suspected gastrointestinal stromal tumors involving the duodenum: Is limited resection appropriate? J Surg Oncol 2008; 97:388-91. [PMID 18163461]
De Marco G, Roviello F, Marrelli D, De Stefano A, Neri A, Rossi S, et al. A clinical case of duodenal gastrointestinal stromal tumor with a peculiarity in the surgical approach. Tumori 2005; 91:261-3. [PMID 16206652]
Levy AD, Remotti HE, Thompson WM, Sobin LH, Miettinen M. Gastrointestinal stromal tumors: radiologic features with pathologic correlation. Radiographics 2003; 23:283-304. [PMID 12640147]
Miettinen M, Kopczynski J, Makhlouf HR, Sarlomo-Rikala M, Gyorffy H, Burke A, et al. Gastrointestinal stromal tumors, intramural leiomyomas, and leiomyosarcomas in the duodenum: a clinicopathologic, immunohistochemical, and molecular genetic study of 167 cases. Am J Surg Pathol 2003; 27:625-41. [PMID 12717247]
Pidhorecky I, Cheney RT, Kraybill WG, Gibbs JF. Gastrointestinal stromal tumors: Current diagnosis, biologic behavior, and management. Ann Surg Oncol 2000; 7:705-12. [PMID 11034250]
Ashkzaran H, Coenegrachts K, Steyaert L, De Wilde V, Van den Berghe I, Verstraete K, Casselman JW. Duodenal stromal tumor detected by CT-enteroclysis. JBR-BTR 2006; 89:306-7. [PMID 17274585]
Dematteo RP, Ballman KV, Antonescu CR, Maki RG, Pisters PW, Demetri GD, et al. Adjuvant imatinib mesylate after resection of localised, primary gastrointestinal stromal tumor: A randomised, double-blind, placebo-controlled trial. Lancet 2009; 373:1097-104. [PMID 19303137]
Sandrasegaran K, Rajesh A, Rushing DA, Rydberg J, Akisik FM, Henley JD. Gastrointestinal stromal tumors: CT and MRI findings. Eur Radiol 2005; 15:1407-14. [PMID 15761716]
Akahoshi K, Sumida Y, Matsui N, Oya M, Akinaga R, Kubokawa M, et al. Preoperative diagnosis of gastrointestinal stromal tumor by endoscopic ultrasound-guided fine needle aspiration. World J Gastroenterol 2007; 13:2077-82. [PMID 17465451]
Sepe PS, Moparty B, Pitman MB, Saltzman JR, Brugge WR. EUS-guided FNA for the diagnosis of GI stromal cell tumors: sensitivity and cytologic yield. Gastrointest Endosc 2009; 70:254-61. [PMID 19482280]
Mennigen R, Wolters HH, Schulte B, Pelster FW. Segmental resection of the duodenum for gastrointestinal stromal tumor (GIST). World J Surg Oncol 2008; 6:105. [PMID 18826622]
Nakao A, Fernandez-Cruz L. Pancreatic head resection with segmental duodenectomy: safety and long-term results. Ann Surg 2007; 246:923-8. [PMID 18043093]
Cavallini M, Cecera A, Ciardi A, Caterino S, Ziparo V. Small periampullary duodenal gastrointestinal stromal tumor treated by local excision: Report of a case. Tumori 2005; 91:264-6. [PMID 16206653]
Chung JC, Chu CW, Cho GS, Shin EJ, Lim CW, Kim HC, Song OP. Management and outcome of gastrointestinal stromal tumors of the duodenum. J Gastrointest Surg 2010; 14:880-3. [PMID 20140534]
Tien YW, Lee CY, Huang CC, Hu RH, Lee PH. Surgery for gastrointestinal stromal tumors of the duodenum. Ann Surg Oncol 2010; 17:109-14. [PMID 19841981]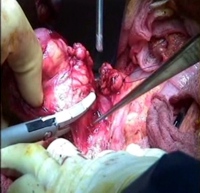 How to Cite
FramptonA., BongJ., KyriakidesC., CohenP., & JiaoL. (2010). En Bloc Resection of the Pancreatic Head and Second Part of Duodenum for a Duodenal Gastrointestinal Stromal Tumor: A Multi-Media Report. JOP. Journal of the Pancreas, 11(4), 396-400. https://doi.org/10.6092/1590-8577/3630
Section
MULTIMEDIA ARTICLES - Clinical Imaging and Video
Copyright (c) 2010 Adam E Frampton, Jan J Bong, Charis Kyriakides, Patrizia Cohen, Long R Jiao
This work is licensed under a Creative Commons Attribution 4.0 International License.
As a member of Publisher International Linking Association, PILA, iMedPub Group's JOP follows the Creative Commons Attribution License and Scholars Open Access publishing policies. Journal of the Pancreas is the Council Contributor Member of Council of Science Editors (CSE) and following the CSE slogan Education, Ethics, and Evidence for Editors.