Late Post Pancreatectomy Haemorrhage. Risk Factors and Modern Management
Pandanaboyana Sanjay

Ninewells Hospital and Medical School. Dundee, United Kingdom

Ali Fawzi

Ninewells Hospital and Medical School. Dundee, United Kingdom

Jennifer L Fulke

Ninewells Hospital and Medical School. Dundee, United Kingdom

Christoph Kulli

Ninewells Hospital and Medical School. Dundee, United Kingdom

Iain S Tait

Ninewells Hospital and Medical School. Dundee, United Kingdom

Iain A Zealley

Ninewells Hospital and Medical School. Dundee, United Kingdom

Francesco M Polignano

Ninewells Hospital and Medical School. Dundee, United Kingdom
Keywords:
Hemorrhage, Pancreatectomy, Risk Factors
Abstract
Context Current management of late post-pancreatectomy haemorrhage in a university hospital. Objective Haemorrhage after pancreaticoduodenectomy is a serious complication. We report on risk factors and outcome following management by radiological intervention. Setting Tertiary care centre in Scotland. Subjects Sixty-seven consecutive patients who underwent pancreaticoduodenectomy. Methods All pancreaticoduodenectomies over a 3-year period were reviewed. International Study Group on Pancreatic Surgery (ISGPS) definition of post-pancreatectomy haemorrhage was used. Main outcome measures Endpoints were incidence of haemorrhage, pancreaticojejunal anastomosis leak, methicillin-resistant Staphylococcus aureus (MRSA) infection and mortality. Results Seven patients (10.4%) developed post-pancreatectomy haemorrhage out of 67 pancreaticoduodenectomies. Median age was 71 years. All post-pancreatectomy haemorrhage were late onset (median 23 days; range: 3-35 days), extraluminal and ISGPS grade C. Post-pancreatectomy haemorrhage arose from hepatic artery (n=4), superior mesenteric artery (n=1), jejunal artery (n=1), and splenic artery (n=1). Angiographic treatment was successful in all patients by embolisation (n=5) or stent grafting (n=2). Pancreatic fistula rate was similar in post-pancreatectomy haemorrhage and "no-haemorrhage" groups (57.1% vs. 40.0%; P=0.440); MRSA infection was significantly higher in post-pancreatectomy haemorrhage group (57.1% vs. 16.7%; P=0.030). Mortality from post-pancreatectomy haemorrhage despite successful haemostasis was 42.9%. Univariate and multivariate analysis identified MRSA infection as a risk factor for post-pancreatectomy haemorrhage. Conclusion CT angiogram followed by conventional catheter angiography is effective for treatment of late extraluminal post-pancreatectomy haemorrhage. MRSA infection in the abdominal drain fluid increases its risk and therefore aggressive treatment of MRSA and high index of suspicion are indicated.
Image: Digitally subtracted angiographic image showing occlusive embolisation coils placed in the splenic artery.
Downloads
Download data is not yet available.
References
Izbicki JR, Bloechle C, Knoefel WT, Rogiers X, Kuechler T. Surgical treatment of chronic pancreatitis and quality of life after operation. Surg Clin North Am 1999; 79; 913-44. [PMID 10470335]
Büchler MW, Wagner M, Schmied BM, Uhl W, Friess H, Z'graggen K. Changes in morbidity after pancreatic resection: toward the end of completion pancreatectomy. Arch Surg 2003; 138:1310-4. [PMID 14662530]
Grobmyer SR, Pieracci FM, Allen PJ, Brennan MF, Jaques DP. Defining Morbidity after Pancreaticoduodenectomy: Use of a Prospective Complication Grading System. J Am Coll Surg 2007; 204:356-64. [PMID 17324768]
Sperti C, Paquali C, Piccoli A, Pedrazzoli S. Survival after resection for ductal adenocarcinoma of the pancreas. Br J Surg 1996; 83:625-31. [PMID 8689203]
Ellison EC. Evidence-based management of hemorrhage after pancreaticoduodenectomy. Am J Surg 2007; 194:10-2. [PMID 17560901]
Blanc T, Cortes A, Goere D, Sibert A, Pessaux P, Belghiti J, Sauvanet A. Hemorrhage after pancreaticoduodenectomy: when is surgery still indicated? Am J Surg 2007; 194:3-9. [PMID 17560900]
de Castro SM, Kuhlmann KF, Busch OR, van Delden OM, Laméris JS, van Gulik TM, et al. Delayed massive hemorrhage after pancreatic and biliary surgery: embolization or surgery? Ann Surg 2005; 241:85-91. [PMID 15621995]
Choi SH, Moon HJ, Heo JS, Joh JW, Kim YI. Delayed hemorrhage after pancreaticoduodenectomy. J Am Coll Surg 2004; 199:186-91. [PMID 15275871]
Bowrey DJ, Evans MD, Clark GW. Impact of methicillin-resistant Staphylococcus aureus infection on outcome after esophagectomy. World J Surg 2007; 31:326-31. [PMID 17171479]
Cowie SE, Ma I, Lee SK, Smith RM, Hsiang YN. Nosocomial MRSA infection in vascular surgery patients: impact on patient outcome. Vasc Endovascular Surg 2005; 39:327-34. [PMID 16079941]
Bassi C, Dervenis C, Butturini G, Fingerhut A, Yeo C, Izbicki J, et al. Postoperative pancreatic fistula: an international study group (ISGPF) definition. Surgery 2005; 138:8-13. [PMID 16003309]
Yamashita Y, Taketomi A, Fukuzawa K, Tsujita E, Harimoto N, Kitagawa D, Kuroda Y, et al. Risk factors for and management of delayed intraperitoneal hemorrhage after pancreatic and biliary surgery. Am J Surg 2007; 193:454-9. [PMID 17368288]
Rumstadt B, Schwab M, Korth P. Haemorrhage after pancreatoduodenectomy. Ann Surg 1998; 227:236-41. [PMID 9488522]
Yekebas EF, Wolfram L, Cataldegirmen G, Habermann CR, Bogoevski D, Koenig AM, et al. Postpancreatectomy hemorrhage: diagnosis and treatment: an analysis in 1669 consecutive pancreatic resections. Ann Surg 2007; 246:269-80. [PMID 17667506]
Harvey J, Dardik H, Impeduglia T, Woo D, DeBernardis F. Endovascular management of hepatic artery pseudoaneurysm hemorrhage complicating pancreaticoduodenectomy. J Vasc Surg 2006; 43:613-7. [PMID 16520182]
Yoon YS, Kim SW, Her KH, Park YC, Ahn YJ, Jang JY, et al. Management of postoperative haemorrhage after pancreatoduodenectomy. Hepatogastroenterology 2003; 50:2208-12. [PMID 14696500]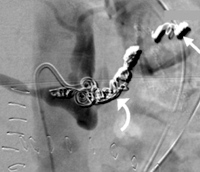 How to Cite
SanjayP., FawziA., FulkeJ., KulliC., TaitI., ZealleyI., & PolignanoF. (2010). Late Post Pancreatectomy Haemorrhage. Risk Factors and Modern Management. JOP. Journal of the Pancreas, 11(3), 220-225. https://doi.org/10.6092/1590-8577/3816
Section
ORIGINAL ARTICLES
Copyright (c) 2010 Pandanaboyana Sanjay, Ali Fawzi, Jennifer L Fulke, Christoph Kulli, Iain S Tait, Iain A Zealley, Francesco M Polignano
This work is licensed under a Creative Commons Attribution 4.0 International License.
As a member of Publisher International Linking Association, PILA, iMedPub Group's JOP follows the Creative Commons Attribution License and Scholars Open Access publishing policies. Journal of the Pancreas is the Council Contributor Member of Council of Science Editors (CSE) and following the CSE slogan Education, Ethics, and Evidence for Editors.