Impact of Pancreatic Leaks on Survival Following Pancreaticoduodenectomy
Fabio Ausania

Hepato-Pancreato-Biliary Surgery, Addenbrooke's Hospital, NIHR Comprehensive Biomedical Research Centre. Cambridge, United Kingdom

Natalie Cook

Hepato-Pancreato-Biliary Surgery, Addenbrooke's Hospital, NIHR Comprehensive Biomedical Research Centre. Cambridge, United Kingdom

Neville Jamieson

Hepato-Pancreato-Biliary Surgery, Addenbrooke's Hospital, NIHR Comprehensive Biomedical Research Centre. Cambridge, United Kingdom

Emanuel Huguet

Hepato-Pancreato-Biliary Surgery, Addenbrooke's Hospital, NIHR Comprehensive Biomedical Research Centre. Cambridge, United Kingdom

Asif Jah

Hepato-Pancreato-Biliary Surgery, Addenbrooke's Hospital, NIHR Comprehensive Biomedical Research Centre. Cambridge, United Kingdom

Raaj Praseedom

Hepato-Pancreato-Biliary Surgery, Addenbrooke's Hospital, NIHR Comprehensive Biomedical Research Centre. Cambridge, United Kingdom
Keywords:
Fistula, Pancreatic Neoplasms, Pancreaticoduodenectomy, Prognosis, Survival
Abstract
Context Pancreatic leak following pancreaticoduodenectomy has a major impact on postoperative mortality. However, it is not clear whether pancreatic leaks affect long term survival in patients with pancreatic ductal adenocarcinoma. Objective The aim of this study is to compare the long term outcome in patients who underwent pancreaticoduodenectomy, with and without postoperative pancreatic leak. Patients All 133 patients who underwent a pancreaticoduodenectomy at the HepatoPancreatoBiliary Unit, Addenbrooke's Hospital, Cambridge, between June 2002 and June 2007 were identified from a prospectively held database. The study was restricted to 47 patients who had a confirmed diagnosis of pancreatic ductal adenocarcinoma. Setting Pancreatic leak was defined as drain fluid amylase more than three times the serum level for more than 3 days post operatively. Main outcome measure Long term survival of patients with and without leaks were compared using Kaplan-Meier curves and significance was measured using the log-rank test. Results Median follow-up was 30.8 months. The median actuarial survival of all ductal adenocarcinoma patients was 19 months. Pancreatic leaks occurred in 9 patients (19.1%). There were no significant differences in the overall survival or presence of recurrence between the two groups. Conclusions Pancreatic leak following pancreaticoduodenectomy does not appear to impact on long-term outcome of patients with pancreatic ductal adenocarcinoma.
Image: Kaplan-Meier curve showing no significant difference in the overall survival following pancreaticoduodenectomy between 9 patients with pancreatic leaks and 38 patients without pancreatic leaks.
Downloads
Download data is not yet available.
References
Neoptolemos JP, Russell RC, Bramhall S, Theis B. Low mortality following resection for pancreatic and periampullary tumours in 1026 patients: UK survey of specialist pancreatic units. UK Pancreatic Cancer Group. Br J Surg 1997; 84:1370-6. [PMID 9361591]
Chua YJ, Cunningham D. Adjuvant treatment for resectable pancreatic cancer. J Clin Oncol 2005; 23:4532-7. [PMID 16002844]
Alexakis N, Halloran C, Raraty M, Ghaneh P, Sutton R, Neoptolemos JP. Current standards of surgery for pancreatic cancer. Br J Surg 2004; 91:1410-2. [PMID 15499648]
Pedrazzoli S, DiCarlo V, Dionigi R, Mosca F, Pederzoli P, Pasquali C, et al. Standard versus extended lymphadenectomy associated with pancreatoduodenectomy in the surgical treatment of adenocarcinoma of the head of the pancreas: a multicenter, prospective, randomized study. Lymphadenectomy Study Group. Ann Surg 1998; 228:508-17. [PMID 9790340]
Reid-Lombardo KM, Farnell MB, Crippa S, Barnett M, Maupin G, Bassi C, Traverso LW; Pancreatic Anastomotic Leak Study Group. Pancreatic anastomotic leakage after pancreaticoduodenectomy in 1,507 patients: a report from the Pancreatic Anastomotic Leak Study Group. J Gastrointest Surg 2007; 11:1451-8. [PMID 17710506]
Law WL, Choi HK, Lee YM, Ho JW, Seto CL. Anastomotic leakage is associated with poor long-term outcome in patients after curative colorectal resection for malignancy. J Gastrointest Surg 2007; 11:8-15. [PMID 17390180]
McArdle CS, McMillan DC, Hole DJ. Impact of anastomotic leakage on long-term survival of patients undergoing curative resection for colorectal cancer. Br J Surg 2005; 92:1150-4. [PMID 16035134]
Walker KG, Bell SW, Rickard MJ, Mehanna D, Dent OF, Chapuis PH, Bokey EL. Anastomotic leakage is predictive of diminished survival after potentially curative resection for colorectal cancer. Ann Surg 2004; 240:255-9. [PMID 15273549]
Ptok H, Marusch F, Meyer F, Schubert D, Gastinger I, Lippert H; Study Group Colon/Rectum Carcinoma (Primary Tumour). Impact of anastomotic leakage on oncological outcome after rectal cancer resection. Br J Surg 2007; 94:1548-54. [PMID 17668888]
Bassi C, Dervenis C, Butturini G, Fingerhut A, Yeo C, Izbicki J, et al. Postoperative pancreatic fistula: an international study group (ISGPF) definition. Surgery 2005; 138:8-13. [PMID 16003309]
ESPAC-3(v2) Phase III Adjuvant Trial in Pancreatic Cancer Comparing 5FU and D-L-Folinic Acid vs. Gemcitabine. Leeds, UK: National Cancer Research Network Trials Portfolio, 2004.
Ishikawa O, Wada H, Ohigashi H, Doki Y, Yokoyama S, Noura S, et al. Postoperative cytology for drained fluid from the pancreatic bed after "curative" resection of pancreatic cancers: does it predict both the patient's prognosis and the site of cancer recurrence? Ann Surg 2003; 238:103-10. [PMID 12832972]
Skipper D, Jeffrey MJ, Cooper AJ, Taylor I, Alexander P. Preferential growth of bloodborne cancer cells in colonic anastomoses. Br J Cancer 1988; 57:564-8. [PMID 3408643]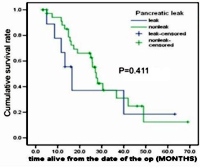 How to Cite
AusaniaF., CookN., JamiesonN., HuguetE., JahA., & PraseedomR. (2010). Impact of Pancreatic Leaks on Survival Following Pancreaticoduodenectomy. JOP. Journal of the Pancreas, 11(3), 226-229. https://doi.org/10.6092/1590-8577/3817
Section
ORIGINAL ARTICLES
Copyright (c) 2010 Fabio Ausania, Natalie Cook, Neville Jamieson, Emanuel Huguet, Asif Jah, Raaj Praseedom
This work is licensed under a Creative Commons Attribution 4.0 International License.
As a member of Publisher International Linking Association, PILA, iMedPub Group's JOP follows the Creative Commons Attribution License and Scholars Open Access publishing policies. Journal of the Pancreas is the Council Contributor Member of Council of Science Editors (CSE) and following the CSE slogan Education, Ethics, and Evidence for Editors.