Mesopancreas: Myth or Reality?
Manish K Agrawal

Department of Surgery, Government NSCB Medical College. Jabalpur, MP, India

Dilip Singh Thakur

Department of Surgery, Government NSCB Medical College. Jabalpur, MP, India

Uday Somashekar

Department of Surgery, Government NSCB Medical College. Jabalpur, MP, India

Shiv Kumar Chandrakar

Department of Pathology, Government NSCB Medical College. Jabalpur, MP, India

Dhananjaya Sharma

Department of Surgery, Government NSCB Medical College. Jabalpur, MP, India
Keywords:
Carcinoma, Pancreatic Ductal, Pancreaticoduodenectomy
Abstract
Context A recently published study hypothesized the concept of 'mesopancreas', defining it as a firm, well-vascularized structure extending from the posterior surface of the pancreatic head to behind the mesenteric vessels. Objective To verify and define mesopancreas from resection specimens obtained from fresh cadavers. Design Postmortem anatomical-pathological study. Setting Department of Surgery in conjunction with the Departments of Forensic Medicine and Pathology, Government Medical College and Hospital, Jabalpur, MP, India. Participants Twenty fresh adult cadavers without any intra-abdominal injury or gross intra-abdominal pathology. Interventions Specimens containing the entire duodenum, pancreatic head and neck, gallbladder, cystic duct, common bile duct, superior mesenteric vessels, inferior vena cava and aorta were removed en-bloc. Gross and histopathological examinations of the specimens were carried out. Main outcome measures To look for a fibrous sheath or fascia around the retropancreatic structure purported to be a mesopancreas. Results Loose areolar tissue, adipose tissue, peripheral nerve, nerve plexus, lymphatic and capillaries were found in the retropancreatic tissue, extending from the head, neck and uncinate process of pancreas to the aorto-caval groove but no fibrous sheath or fascia was found around these structures. Conclusions The concept of 'mesopancreas' is anatomically unfounded.
Image: Anterior view of the resected specimen.
Downloads
Download data is not yet available.
References
Gockel I, Domeyer M, Wolloscheck T, Konerding MA, Junginger T. Resection of the mesopancreas (RMP): a new surgical classification of a known anatomical space. World J Surg Oncol 2007; 25:44. [PMID 17459163]
Richter A, Niedergethmann M, Sturm JW, Lorenz D, Post S, Trede M. Long-term results of partial pancreaticoduodenectomy for ductal adenocarcinoma of the pancreatic head: 25-year experience. World J Surg 2003; 27:324-29. [PMID 12607060]
Wagner M, Redaelli C, Lietz M, Seiler CA, Friess H, Büchler MW. Curative resection is the single most important factor determining outcome in patients with pancreatic adenocarcinoma. Br J Surg 2004; 91:586-94. [PMID 15122610]
Esposito I, Kleeff J, Bergmann F, Reiser C, Herpel E, Friess H, et al. Most pancreatic cancer resections are R1 resections. Ann Surg Oncol 2008; 15:1651-60. [PMID 18351300]
Campbell F, Smith RA, Whelan P, Sutton R, Raraty M, Neoptolemos JP, Ghaneh P. Classification of R1 resections for pancreatic cancer: the prognostic relevance of tumour involvement within 1 mm of a resection margin. Histopathology 2009; 55:277-83. [PMID 19723142]
Gaedcke J, Gunawan B, Grade M, Szöke R, Liersch T, Becker H, et al. The mesopancreas is the primary site for R1 resection in pancreatic head cancer: relevance for clinical trials. Langenbecks Arch Surg 2010; 395:451-8. [PMID 19418067]
Westgaard A, Tafjord S, Farstad IN, Cvancarova M, Eide TJ, Mathisen O, et al. Resectable adenocarcinomas in the pancreatic head: the retroperitoneal resection margin is an independent prognostic factor. BMC Cancer 2008 Jan 14; 8:5. [PMID 18194510]
Heald RJ, Husband EM, Ryall RD. The mesorectum in rectal cancer surgery--the clue to pelvic recurrence? Br J Surg 1982; 69:613-6. [PMID 6751457]
Heald RJ. The 'Holy Plane' of rectal surgery. J R Soc Med 1988; 81:503-8. [PMID 3184105]
Diop M, Parratte B, Tatu L, Vuillier F, Brunelle S, Monnier G. Mesorectum: the surgical value of an anatomical approach. Surg Radiol Anat 2003; 25:290-304. [PMID 14504823]
Pessaux P, Rosso E, Panaro F, Marzano E, Oussoultzoglou E, Bachellier P, et al. Preliminary experience with the hanging maneuver for pancreaticoduodenectomy. Eur J Surg Oncol 2009; 35:1006-10. [PMID 19423267]
Khalifa MA, Maksymov V, Rowsell C. Retroperitoneal margin of the pancreaticoduodenectomy specimen: anatomic mapping for the surgical pathologist. Virchows Arch 2009; 454:125-31. [PMID 19066952]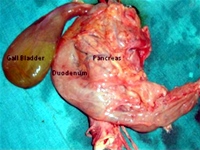 How to Cite
AgrawalM., ThakurD., SomashekarU., ChandrakarS., & SharmaD. (2010). Mesopancreas: Myth or Reality?. JOP. Journal of the Pancreas, 11(3), 230-233. https://doi.org/10.6092/1590-8577/3818
Section
ORIGINAL ARTICLES
Copyright (c) 2010 Manish K Agrawal, Dilip Singh Thakur, Uday Somashekar, Shiv Kumar Chandrakar, Dhananjaya Sharma
This work is licensed under a Creative Commons Attribution 4.0 International License.
As a member of Publisher International Linking Association, PILA, iMedPub Group's JOP follows the Creative Commons Attribution License and Scholars Open Access publishing policies. Journal of the Pancreas is the Council Contributor Member of Council of Science Editors (CSE) and following the CSE slogan Education, Ethics, and Evidence for Editors.