A Tumor-Like Lesion Mimicking Mucinous (Colloid) Carcinoma in Heterotopic Pancreas of the Prepyloric Antrum: A Formidable Challenge for Frozen Examination
Zafer Teke

Department of Gastroenterological Surgery, Turkey Yuksek Ihtisas Teaching and Research Hospital. Ankara, Turkey

Neslihan Inci Zengin

Department of Pathology, Turkey Yuksek Ihtisas Teaching and Research Hospital. Ankara, Turkey

Fuat Atalay

Department of Gastroenterological Surgery, Turkey Yuksek Ihtisas Teaching and Research Hospital. Ankara, Turkey

Kerem Karaman

Department of Gastroenterological Surgery, Turkey Yuksek Ihtisas Teaching and Research Hospital. Ankara, Turkey

Ali Eba Demirbag

Department of Gastroenterological Surgery, Turkey Yuksek Ihtisas Teaching and Research Hospital. Ankara, Turkey

Meral Akdogan

Department of Gastroenterology, Turkey Yuksek Ihtisas Teaching and Research Hospital. Ankara, Turkey
Keywords:
Carcinoma, Frozen Sections, Pancreas, Pyloric Antrum, Stomach
Abstract
Context Heterotopic pancreas is defined as the presence of pancreatic tissue, outside its usual location, which lacks anatomical and vascular continuity with the pancreas proper. Despite the development of modern diagnostic procedures, it is still difficult to differentiate heterotopic pancreas from benign or malignant tumors and other tumor-like lesions. Frozen examination of mucinous lesions arising from heterotopic pancreas may represent a diagnostic problem. A decision may be very difficult and it is sometimes impossible to decide on the basis of the frozen sections whether a lesion is benign or malignant. Case report We report a tumor-like lesion mimicking a mucinous (colloid) carcinoma arising in heterotopic pancreatic tissue in the prepyloric antrum of a 56-year-old woman which was found incidentally during an elective laparoscopic cholecystectomy for cholelithiasis. The tumor was treated by wedge resection and, in the frozen section examination, there were pancreatic ducts in the proper muscle layer, pancreatic acini with islets of Langerhans under the serosal surface and mucinous lakes close to the heterotopic pancreatic tissue and to a peripheral nerve. Conclusion The significance of this unusual lesion is its potential confusion with mucinous (colloid) carcinoma or other mucous tumors. Such confusion is more likely to occur if the tissue sample is selective or limited, and the presence of pancreatic tissue cannot be verified. Therefore, we believe that a choice of local excision, wedge resection or more extensive eradication be determined only after intraoperative, pathological confirmation of the complete and accurate diagnosis.
Image: Intraoperative laparoscopic appearance of prepyloric antral lesion.
Downloads
Download data is not yet available.
References
De Castro Barbosa JJ, Dockerty MB. Pancreatic heterotopia: review of the literature and report of 41 authenticated surgical cases, of which 25 were clinically significant. Surg Gynecol Obstet 1946; 82:527-42. ]
Dolan RV, ReMine WH, Dockerty MB. The fate of heterotopic pancreatic tissue: a study of 212 cases. Arch Surg 1974; 109:762-5. [PMID 4420439]
Burke GW, Binder SC, Barron AM, Dratch PL, Umlas J. Heterotopic pancreas: gastric outlet obstruction secondary to pancreatitis and pancreatic pseudocyst. Am J Gastroenterol 1989; 84:52-5. [PMID 2912031]
Kaneda M, Yano T, Yamamoto T, Suzuki T, Fujimori K, Itoh H, et al. Ectopic pancreas in the stomach presenting as an inflammatory abdominal mass. Am J Gastroenterol 1989; 84:663-6. [PMID 2729238]
Fléjou JF, Potet F, Molas G, Bernades P, Amouyal P, Fékété F. Cystic dystrophy of the gastric and duodenal wall developing in heterotopic pancreas: an unrecognised entity. Gut 1993; 34:343-7. [PMID 8097180]
Jeng KS, Yang KC, Kuo SH. Malignant degeneration of heterotopic pancreas. Gastrointest Endosc 1991; 37:196-8. [PMID 2032610]
Tanimura A, Yamamoto H, Shibata H, Sano E. Carcinoma in heterotopic gastric pancreas. Acta Pathol Jpn 1979; 29:251-7. [PMID 552797]
Melmed S, Ezrin C, Kovacs K, Goodman RS, Frohman LA. Acromegaly due to secretion of growth hormone by an ectopic pancreatic islet-cell tumor. N Engl J Med 1985; 312:9-17. [PMID 2981107]
Mönig SP, Selzner M, Raab M, Eidt S. Heterotopic pancreas. A difficult diagnosis. Dig Dis Sci 1996; 41:1238-40. [PMID 8654158]
Nopajaroonsri C. Mucus retention in heterotopic pancreas of the gastric antrum. A lesion mimicking mucinous carcinoma. Am J Surg Pathol 1994; 18:953-7. [PMID 8067516]
Klimstra DS, Adsay NV. Benign and malignant tumors of the pancreas. In: Odze RD, Goldblum JR, eds. Surgical Pathology of the GI Tract, Liver, Biliary Tract, and Pancreas. Philadelphia (PA): Elsevier, 2004:699-736. [ISBN 1-4160-4059-5]
Shuman RL, Bouterie RL. Cystadenocarcinoma of the pancreas presenting as a splenic cyst. Surgery 1976; 80:652-4. [PMID 982285]
Satake K, Uchima K, Yamashita K, Yoshimoto T, Umeyama K. Pancreatic cystadenoma of the spleen. Am J Surg 1979; 137:670-2. [PMID 453461]
Matsumoto M, Kawamura Y, Ishiguro M, Nagai T. Cystadenocarcinoma of the pancreas manifested as a splenic cyst. Acta Pathol Jpn 1981; 31:1089-96. [PMID 7315312]
Tocchi A, Puma F, Cerroni M, Di Giorgio A, Daddi G. Mucinous cystadenoma occurring in heterotopic pancreatic tissue. A case report. Ital J Surg Sci 1987; 17:355-7. [PMID 3448048]
Carp NZ, Paul AR, Kowalyshyn MJ, Petersen RO, Hoffman JP. Heterotopic mucinous cystadenoma of the pancreas. Dig Dis Sci 1992; 37:1297-301. [PMID 1499456]
Morinaga S, Ohyama R, Koizumi J. Low-grade mucinous cystadenocarcinoma in the spleen. Am J Surg Pathol 1992; 16:903-8. [PMID 1415909]
Waku T, Uetsuka H, Watanabe N, Mori T, Shiiki S, Nakai H, et al. A case of mucin-producing duodenal carcinoma arising from the aberrant pancreas. J Jpn Gastroenterol Surg Soc 1996; 29:2289-93. ]
Barbe L, Levy P, Bougaran J, Just J, Mal F, Ruszniewski P, Gayet B. Cystic and mucinous lesion in an antral ectopic pancreas (Lésion kystique et mucineuse développée sur un pancréas aberrant antral). Gastroenterol Clin Biol 1998; 22:824-6. [PMID 9854208]
Zanetti G, Riccioni L, Gallo C, Salfi N, Martinelli GN. Splenic mucinous cystadenocarcinoma arising in heterotopic pancreatic tissue. Tumori 1998; 84:606-10. [PMID 9854208]
Hirota M, Hayashi N, Tomioka T, Murakami S, Ohshima H, Yamasaki K, et al. Mucinous cystadenocarcinoma of the spleen presenting a point mutation of the Kirsten-ras oncogene at codon 12. Dig Dis Sci 1999; 44:768-74. [PMID 10219836]
Nisar PJ, Zaitoun AM, Lobo DN, Rowlands BJ. Heterotopic pancreas in the spleen: malignant degeneration to mucinous cystadenocarcinoma. Eur J Gastroenterol Hepatol 2002; 14:793-6. [PMID 12169992]
Mourra N, Balladur P, Parc R, Fléjou JF. Intrasplenic mucinous cystadenoma with mesenchymal stroma arising in pancreatic heterotopia. Histopathology 2003; 42:616-8. [PMID 12786901]
Naqvi A, de la Roza G. Borderline mucinous cystic tumor in jejunal pancreatic heterotopia. Ann Diagn Pathol 2004; 8:151-5. [PMID 15185262]
Cates JM, Williams TL, Suriawinata AA. Intraductal papillary mucinous adenoma that arises from pancreatic heterotopia within a meckel diverticulum. Arch Pathol Lab Med 2005; 129:67-9. [PMID 15737052]
Phillips J, Katz A, Zopolsky P. Intraductal papillary mucinous neoplasm in an ectopic pancreas located in the gastric wall. Gastrointest Endosc 2006; 64:814-5. [PMID 17055883]
Kaufman A, Storey D, Lee CS, Murali R. Mucinous cyst exhibiting severe dysplasia in gastric heterotopic pancreas associated with gastrointestinal stromal tumour. World J Gastroenterol 2007; 13:5781-2. [PMID 17963310]
Park HS, Jang KY, Kim YK, Yu HC, Cho BH, Moon WS. Cystic lesion mimicking intraductal papillary mucinous tumor arising in heterotopic pancreas of the stomach and synchronous intraductal papillary mucinous adenocarcinoma of the pancreas. Int J Surg Pathol 2008; 16:324-8. [PMID 18387995]
Osanai M, Miyokawa N, Tamaki T, Yonekawa M, Kawamura A, Sawada N. Adenocarcinoma arising in gastric heterotopic pancreas: clinicopathological and immunohistochemical study with genetic analysis of a case. Pathol Int 2001; 51:549-54. [PMID 11472568]
Seidel G, Zahurak M, Iacobuzio-Donahue C, Sohn TA, Adsay NV, Yeo CJ, et al. Almost all infiltrating colloid carcinomas of the pancreas and periampullary region arise from in situ papillary neoplasms: a study of 39 cases. Am J Surg Pathol 2002; 26:56-63. [PMID 11756769]
Fukushima N, Mukai K, Kanai Y, Hasebe T, Shimada K, Ozaki H, et al. Intraductal papillary tumors and mucinous cystic tumors of the pancreas: clinicopathologic study of 38 cases. Hum Pathol 1997; 28:1010-7. [PMID 9308724]
Nara S, Shimada K, Kosuge T, Kanai Y, Hiraoka N. Minimally invasive intraductal papillary-mucinous carcinoma of the pancreas: clinicopathologic study of 104 intraductal papillary-mucinous neoplasms. Am J Surg Pathol 2008; 32:243-55. [PMID 18223327]
Molavi D, Argani P. Distinguishing benign dissecting mucin (stromal mucin pools) from invasive mucinous carcinoma. Adv Anat Patho. 2008; 15:1-17. [PMID 18156808]
Adsay NV, Longnecker DS, Klimstra DS. Pancreatic tumors with cystic dilatation of the ducts: intraductal papillary mucinous neoplasms and intraductal oncocytic papillary neoplasms. Semin Diagn Pathol 2000; 17:16-30. [PMID 10721804]
Adsay NV, Pierson C, Sarkar F, Abrams J, Weaver D, Conlon KC, et al. Colloid (mucinous noncystic) carcinoma of the pancreas. Am J Surg Pathol 2001; 25:26-42. [PMID 11145249]
Raut CP, Cleary KR, Staerkel GA, Abbruzzese JL, Wolff RA, Lee JH, et al. Intraductal papillary mucinous neoplasms of the pancreas: effect of invasion and pancreatic margin status on recurrence and survival. Ann Surg Oncol 2006; 13:582-94. [PMID 16523362]
Stelow EB, Pambuccian SE, Bauer TW, Moskaluk CA, Klimstra DS. Mucus rupture (extrusion) and duct expansion/expansive growth are not diagnostic of minimal invasion when seen with intraductal papillary mucinous neoplasms. Am J Surg Pathol 2009; 33:320-1. [PMID 18824892]
Hickman DM, Frey CF, Carson JW. Adenocarcinoma arising in gastric heterotopic pancreas. West J Med 1981; 135:57-62. [PMID 7257381]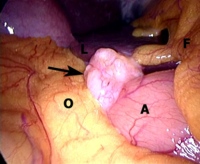 How to Cite
TekeZ., ZenginN., AtalayF., KaramanK., DemirbagA., & AkdoganM. (2010). A Tumor-Like Lesion Mimicking Mucinous (Colloid) Carcinoma in Heterotopic Pancreas of the Prepyloric Antrum: A Formidable Challenge for Frozen Examination. JOP. Journal of the Pancreas, 11(3), 237-243. https://doi.org/10.6092/1590-8577/3820
Copyright (c) 2010 Zafer Teke, Neslihan Inci Zengin, Fuat Atalay, Kerem Karaman, Ali Eba Demirbag, Meral Akdogan
This work is licensed under a Creative Commons Attribution 4.0 International License.
As a member of Publisher International Linking Association, PILA, iMedPub Group's JOP follows the Creative Commons Attribution License and Scholars Open Access publishing policies. Journal of the Pancreas is the Council Contributor Member of Council of Science Editors (CSE) and following the CSE slogan Education, Ethics, and Evidence for Editors.