Extragastrointestinal Stromal Tumor Arising in the Pancreas: A Case Report with a Review of the Literature
Somanath Padhi

Department of Pathology, Nizam's Institute of Medical Sciences. Panjagutta, Hyderabad, Andhra Pradesh, India

Ravikanth Kongara

Department of Surgical Gastroenterology, Nizam's Institute of Medical Sciences. Panjagutta, Hyderabad, Andhra Pradesh, India

Shantveer G Uppin

Department of Pathology, Nizam's Institute of Medical Sciences. Panjagutta, Hyderabad, Andhra Pradesh, India

Megha S Uppin

Department of Pathology, Nizam's Institute of Medical Sciences. Panjagutta, Hyderabad, Andhra Pradesh, India

Aruna K Prayaga

Department of Pathology, Nizam's Institute of Medical Sciences. Panjagutta, Hyderabad, Andhra Pradesh, India

Sundaram Challa

Department of Pathology, Nizam's Institute of Medical Sciences. Panjagutta, Hyderabad, Andhra Pradesh, India

Bheerappa Nagari

Department of Surgical Gastroenterology, Nizam's Institute of Medical Sciences. Panjagutta, Hyderabad, Andhra Pradesh, India

Shastry A Regulagadda

Department of Surgical Gastroenterology, Nizam's Institute of Medical Sciences. Panjagutta, Hyderabad, Andhra Pradesh, India
Keywords:
Gastrointestinal Stromal Tumors, Pancreas, Proto-Oncogene Proteins c-kit
Abstract
Context Extragastrointestinal stromal tumors arising in the pancreas are extremely rare. To date, only eight cases have been reported in the literature. Case report A 42-year-old female patient presented with gradually increasing abdominal pain of 6-month duration. Computerized tomography scan of the abdomen demonstrated a solid cystic mass in the body and tail of the pancreas. En-block R0 resection of the mass with distal pancreatectomy, splenectomy and left hemicolectomy was carried out following a radiological diagnosis of a malignant cystic neoplasm of the pancreas. Histopathological and immunohistochemical findings of the lesion were consistent with a gastrointestinal stromal tumor. Conclusion Extragastrointestinal stromal tumor of the pancreas, though rare, should be considered in the differential diagnosis of the more common cystic lesions at this site.
Image: Large lobulated mass in relation to the body and tail of the pancreas.
Downloads
Download data is not yet available.
References
Weiss SW, Goldblum JR. Extra gastrointestinal stromal tumors. In: Enzinger and Weiss's Soft Tissue Tumors; fifth edition. Mosby Elesevier, 2008; p565-79. [ISBN 978-0-323-04628-2]
Ortiz-Hidalgo C, de Leon Bojorge B, Albores-Saavedra J. Stromal tumor of the gallbladder with phenotype of interstitial cells of Cajal: a previously unrecognized neoplasm. Am J Surg Pathol 2000; 24:1420-3. [PMID 11023105]
Neto MR, Machuca TN, Pinho RV, Yuasa LD, Bleggi-Torres LF. Gastrointestinal stromal tumor: report of two unusual cases. Virchows Arch 2004; 444:594-6. [PMID 15118853]
Yamaura K, Kato K, Miyazawa M, Haba Y, Muramatsu A, Miyata K, Koide N. Stromal tumor of the pancreas with expression of c-kit protein: report of a case. J Gastroenterol Hepatol 2004; 19:467-70. [PMID 15012791]
Krska Z, Pesková M, Povýsil C, Horejs J, Sedlácková E, Kudrnová Z. GIST of pancreas. Prague Med Rep 2005; 106:201-8. [PMID 16315768]
Daum O, Klecka J, Ferda J, Treska V, Vanecek T, Sima R, et al. Gastrointestinal stromal tumor of the pancreas:Case report with documentation of KIT gene mutation. Virchows Arch 2005; 446:470-2. [PMID 15756592]
Showalter SL, Lloyd JM, Glassman DT, Berger AC. Extra-gastrointestinal stromal tumor of the pancreas: case report and a review of the literature. Arch Surg 2008; 143:305-8. [PMID 18347279]
Yan B M, Pai R K, Dam J V. Diagnosis of pancreatic gastrointestinal stromal tumor by EUS guided FNA. JOP. J Pancreas (Online) 2008; 9:192-6. [PMID 18326928]
Harindhanavudhi T, Tanawuttiwat T, Pyle J, Silva R. Extra-gastrointestinal stromal tumor presenting as hemorrhagic pancreatic cyst diagnosed by EUS-FNA. JOP. J Pancreas (Online) 2009; 10:189-91. [PMID 19287116]
Trabelsi A, Yacoub-Abid L B, Mtimet A, Ben Abdelkrim S, Hammedi F, Ben Ali A, Mokni M. Gastrointestinal stromal tumor of the pancreas: A case report and review of the literature. North Am J Med Sci 2009; 1:324-6.
Reith JD, Goldblum JR, Lyles RH, Weiss SW. Extragastrointestinal (soft tissue) stromal tumors: an analysis of 48 cases with emphasis on histologic predictors of outcome. Mod Pathol 2000; 13:577-85. [PMID 10824931]
Lecoin L, Gabella G, Le Douarin N. Origin of the c-kit positive interstitial cells in the avian bowel. Development 1996; 122:725-33. [PMID 8631250]
Burns AJ, Herbert TM, Ward SM, Sanders KM. Interstitial cells of Cajal in the guinea-pig gastrointestinal tract as revealed by c-kit immunohistochemistry. Cell Tissue Res 1997; 290:11-20. [PMID 9377631]
Yamamoto H, Oda Y, Kawaguchi K, Nakamura N, Takahira T, Tamiya S, et al. C-kit and PDGFRA mutations in extragastrointestinal stromal tumor (gastrointestinal stromal tumor of the soft tissue). Am J Surg Pathol 2004; 28:479-88. [PMID 15087667]
Popescu LM, Hinescu ME, Ionescu N, Ciontea SM, Cretoiu D, Ardelean C. Interstitial cells of Cajal in pancreas. J Cell Mol Med 2005; 9:169-90. [PMID 15784175]
Miettinen M. Are desmoid tumors kits positive? Am J Surg Pathol 2001; 25:549-50. [PMID 11257638]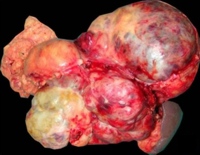 How to Cite
PadhiS., KongaraR., UppinS., UppinM., PrayagaA., ChallaS., NagariB., & RegulagaddaS. (2010). Extragastrointestinal Stromal Tumor Arising in the Pancreas: A Case Report with a Review of the Literature. JOP. Journal of the Pancreas, 11(3), 244-248. https://doi.org/10.6092/1590-8577/3821
Copyright (c) 2010 Somanath Padhi, Ravikanth Kongara, Shantveer G Uppin, Megha S Uppin, Aruna K Prayaga, Sundaram Challa, Bheerappa Nagari, Shastry A Regulagadda
This work is licensed under a Creative Commons Attribution 4.0 International License.
As a member of Publisher International Linking Association, PILA, iMedPub Group's JOP follows the Creative Commons Attribution License and Scholars Open Access publishing policies. Journal of the Pancreas is the Council Contributor Member of Council of Science Editors (CSE) and following the CSE slogan Education, Ethics, and Evidence for Editors.