Middle-Preserving Pancreatectomy: An Interesting Procedure for Pancreas-Sparing Resection
Cosimo Sperti

Department of Medical and Surgical Sciences, University of Padua. Padua, Italy

Maria Laura Polizzi

Department of Medical and Surgical Sciences, University of Padua. Padua, Italy

Margherita Moro

Department of Medical and Surgical Sciences, University of Padua. Padua, Italy

Valentina Beltrame

Department of Medical and Surgical Sciences, University of Padua. Padua, Italy

Sergio Pedrazzoli

Department of Medical and Surgical Sciences, University of Padua. Padua, Italy
Keywords:
Glucose Tolerance Test, Pancreas, Pancreatectomy, Pancreatic Neoplasms
Abstract
Context Total pancreatectomy is the treatment of choice for multicentric diseases involving the head and the body-tail of the pancreas. Middle-preserving pancreatectomy is a recently reported alternative procedure when the pancreatic body is spared from disease. We report on the successful preservation of the pancreatic body in a patient harboring a multicentric intraductal papillary mucinous neoplasia (IPMN). Case report A multicentric IPMN was diagnosed in a 59-year-old man. A standard pylorus preserving pancreaticoduodenectomy was performed, followed by a spleen-preserving distal pancreatectomy. The splenic vessels were carefully preserved. The residual 5 cm of the pancreatic body were anastomosed to the jejunum after verifying that the resection line on both sides was negative at frozen section examination. The postoperative course was complicated by transient peritoneal bleeding managed with angiographic embolization of the splenic artery. A borderline mixed type IPMN of the head and chronic pancreatitis of the tail were found at pathological examination. Eleven months after surgery, the patient is well and disease free; glycemic control is achieved by diet. Conclusion A middle-preserving pancreatectomy can be performed safely for multicentric IPMNs involving the head and the body-tail of the gland. It can prevent problems with the glycemic control that usually follows total pancreatectomy.
Image: The end result of middle-preserving pancreatectomy with double jejunal loop reconstruction.
Downloads
Download data is not yet available.
References
Aranha GV, Shoup M. Nonstandard pancreatic resections for unusual lesions. Am J Surg 2005; 189:223-8. [PMID 15720996]
Salvia R, Crippa S, Falconi M, Bassi C, Guarise A, Scarpa A, Pederzoli P. Branch-duct intraductal papillary mucinous neoplasms of the pancreas: to operate or not to operate? Gut 2007; 56:1086-90. [PMID 17127707]
Takada T, Amano H, Ammori BJ. A novel technique for multiple pancreatectomies: removal of uncinate process of the pancreas combined with medial pancreatectomy. J Hepatobiliary Pancreat Surg 2000; 7:49-52. [PMID 10982591]
Siassi M, Klein P, Hohenberger W. Organ-preserving surgery for multicentric carcinoma of the pancreas. Eur J Surg Oncol 1999; 25:548-50. [PMID 10527608]
Miura F, Takada T, Amano H, Yoshida M, Toyota N, Wada K. Middle-preserving pancreatectomy. J Am Coll Surg 2007; 204:720-2. [PMID 17382235]
Partelli S, Boninsegna L, Salvia R, Bassi C, Pederzoli P, Falconi M. Middle-preserving pancreatectomy for multicentric body-sparing lesions of the pancreas. Am J Surg 2009; 198:e49-53. [PMID 19716880]
Pedrazzoli S, Beger HG, Obertop H, Andrén-Sandberg Å, Fernandez-Cruz L, Henne-Bruns D, et al. A surgical and pathological based classification of resective treatment of pancreatic cancer. Summary of an International Workshop on surgical procedures in pancreatic cancer. Dig Surg 1999; 16:337-45. [PMID 10449979]
Tanaka M, Chari S, Adsay V, Fernandez-del Castillo C, Falconi M, Shimizu M, et al. International consensus guidelines for management of intraductal papillary mucinous neoplasms and mucinous cystic neoplasms of the pancreas. Pancreatology 2006; 6:17-32. [PMID 16327281]
Sperti C, Bissoli S, Pasquali C, Frison L, Liessi G, Chierichetti F, Pedrazzoli S. 18-fluorodeoxyglucose positron emission tomography enhances computed tomography diagnosis of malignant intraductal papillary mucinous neoplasms of the pancreas. Ann Surg 2007; 246:932-7. [PMID 18043094]
Beger HG, Gansauge F, Siech M, Schwarz M, Poch B. Duodenum-preserving total pancreatic head resection for cystic neoplastic lesions of the head of the pancreas. J Hepatobiliary Pancreat Surg 2008; 15:149-56. [PMID 18392707]
Sun AM, Coddling JA, Haist RE. A study of glucose tolerance and insulin response in partially depancreatized dogs. Diabetes 1974; 23:424-32. [PMID 4598091]
Slezak LA, Andersen DK. Pancreatic resection: effects on glucose metabolism. World J Surg 2001; 25:452-60. [PMID 11344398]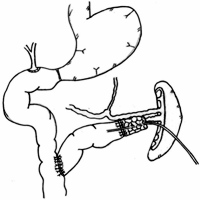 How to Cite
SpertiC., PolizziM., MoroM., BeltrameV., & PedrazzoliS. (2010). Middle-Preserving Pancreatectomy: An Interesting Procedure for Pancreas-Sparing Resection. JOP. Journal of the Pancreas, 11(3), 258-261. https://doi.org/10.6092/1590-8577/3824
Copyright (c) 2010 Cosimo Sperti, Maria Laura Polizzi, Margherita Moro, Valentina Beltrame, Sergio Pedrazzoli
This work is licensed under a Creative Commons Attribution 4.0 International License.
As a member of Publisher International Linking Association, PILA, iMedPub Group's JOP follows the Creative Commons Attribution License and Scholars Open Access publishing policies. Journal of the Pancreas is the Council Contributor Member of Council of Science Editors (CSE) and following the CSE slogan Education, Ethics, and Evidence for Editors.