Acute Pancreatitis Complicated by Jejunal Hematoma in a Patient on Anti-Coagulants and Anti-Platelets
Vui Heng Chong

Gastroenterology Unit, Department of Medicine, Raja Isteri Pengiran Anak Saleha (RIPAS) Hospital. Bandar Seri Begawan, Brunei Darussalam

Norwani Basir

Gastroenterology Unit, Department of Medicine, Raja Isteri Pengiran Anak Saleha (RIPAS) Hospital. Bandar Seri Begawan, Brunei Darussalam

Aziman Bin Yaakub

Gastroenterology Unit, Department of Medicine, Raja Isteri Pengiran Anak Saleha (RIPAS) Hospital. Bandar Seri Begawan, Brunei Darussalam
Keywords:
Anticoagulants, Hematoma, Intestinal Obstruction, Pancreatitis
Abstract
Context Pancreatitis can be associated with significant complications. Bowel hematoma is a rare complication and the second part of the duodenum is the most commonly affected site. Hematomas affecting other parts of the bowel are extremely rare. Case report A 53-year-old female with a history of atrial fibrillation and ischemic heart disease on anticoagulants and aspirin presented with abdominal pain of a few days duration which had worsened prior to presentation. This was associated with abdominal distension, vomiting and melena. Laboratory investigations showed elevated serum amylase, coagulopathy and severe anemia. Computed tomography imaging showed a jejunal hematoma and pancreatitis with peripancreatic inflammation. She responded to conservative treatment in addition to correction of the coagulopathy and a blood transfusion. Her symptoms were resolved within a few days and a repeat computed tomography scan two months later showed complete resolution of the hematoma and the pancreatitis. Conclusion Our case demonstrates a rare complication of acute pancreatitis in a patient with risk factors.
Image: Jejunal hematoma and an irregular slightly swollen pancreatic body with peripancreatic fat streaking.
Downloads
Download data is not yet available.
References
Balthazar EJ. Complications of acute pancreatitis: clinical and CT evaluation. Radiol Clin North Am 2002; 40:1211-27. [PMID 12479707]
Banks PA. Acute and chronic pancreatitis. In: Feldman M, Scharschmidt BF, Sleisenger MH, Editors. Sleisenger and Fordtran's Gastrointestinal and Liver Disease. Pathophysiology, Diagnosis and Management. 6th ed. Philadelphia: W.B. Saunders Company; 1998:Chap 48:809-62. [ISBN 721662919]
Maus TP. Pseudoaneurysm hemorrhage as a complication of pancreatitis. Mayo Clin Proc 1993; 68:895-6. [PMID 8371607]
Patel VG, Eltayeb OM, Zakaria M, Fortson JK, Weaver WL. Spontaneous subcapsular splenic hematoma: a rare complication of pancreatitis. Am Surg 2005; 71:1066-9. [PMID 16447482]
Ma JK, Ng KK, Poon RT, Fan ST. Pancreatic-induced intramural duodenal haematoma. Asian J Surg 2008; 31:83-6. [PMID 18490220]
Diniz-Santos DR, de Andrade Cairo RC, Braga H, Araújo-Neto C, Paes IB, Silva LR. Duodenal hematoma following endoscopic duodenal biopsy: a case report and review of the existing literature. Can J Gastroenterol 2006; 20:39-42. [PMID 16432559]
Zinelis SA, Hershenson LM, Ennis MF, Boller M, Ismail-Beigi F. Intramural duodenal hematoma following upper gastrointestinal endoscopic biopsy. Dig Dis Sci 1989; 34:289-91. [PMID 2644113]
Wang JY, Ma CJ, Tsai HL, Wu DC, Chen CY, Huang TJ, Hsieh JS. Intramural duodenal hematoma and hemoperitoneum in anticoagulant therapy following upper gastrointestinal endoscopy. Med Princ Pract 2006; 15:453-5. [PMID 17047354]
Abbas MA, Collins JM, Olden KW, Kelly KA. Spontaneous intramural small-bowel hematoma: clinical presentation and long-term outcome. Arch Surg 2002; 137:306-10. [PMID 11888455]
Chaiteerakij R, Treeprasertsuk S, Mahachai V, Kullavanijaya P. Anticoagulant-induced intramural intestinal hematoma: report of three cases and literature review. J Med Assoc Thai 2008; 91:1285-90. [PMID 18788704]
Manu N, Martin L. Warfarin-induced small bowel obstruction. Clin Lab Haematol 2005; 27:350-2. [PMID 16178921]
Esaki M, Matsumoto T, Nakamura S, Kawasaki M, Iwai K, Hirakawa K, et al. GI involvement in Henoch-Schönlein purpura. Gastrointest Endosc 2002; 56:920-3. [PMID 12447314]
Chou AL, Tseng KC, Hsieh YH, Feng WF, Tseng CA. Intramural duodenal hematoma as a complication of pancreatic cancer. Endoscopy 2007; 39(Suppl 1):E107-8. [PMID 17440877]
Katsumi A, Matsushita T, Hirashima K, Iwasaki T, Adachi T, Yamamoto K, et al. Recurrent intramural hematoma of the small intestine in a severe hemophilia A patient with a high titer of factor VIII inhibitor: a case report and review of the literature. Int J Hematol 2006; 84:166-9. [PMID 16926140]
Fukunaga N, Ishikawa M, Yamamura Y, Ichimori T, Sakata A. Spontaneous intramural duodenal hematoma complicating acute pancreatitis. Surgery 2009; Jul 28. [PMID 19744447]
Chou CT, Chen RC, Yang AD. Gastric subserosal hematoma developing from focal pancreatitis: a case report. Kaohsiung J Med Sci 2009; 25:45-8. [PMID 19289318]
van Spreeuwel JP, van Gorp LH, Bast TJ, Nadorp JH. Intramural hematoma of the duodenum in a patient with chronic pancreatitis. Endoscopy 1981; 13:246-8. [PMID 7297515]
Chen PS, Cheng HC, Sheu BS. Diffuse intramural duodenal hematoma complicated by lethal necrotizing pancreatitis after endoscopic duodenal biopsy. Endoscopy 2008; 40(Suppl 2):E143. [PMID 18633880]
Sadry F, Hauser H. Fatal pancreatitis secondary to iatrogenic intramural duodenal hematoma: a case report and review of the literature. Gastrointest Radiol 1990; 15:296-8. [PMID 2210198]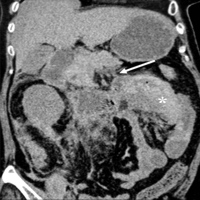 How to Cite
ChongV., BasirN., & YaakubA. (2010). Acute Pancreatitis Complicated by Jejunal Hematoma in a Patient on Anti-Coagulants and Anti-Platelets. JOP. Journal of the Pancreas, 11(3), 262-265. https://doi.org/10.6092/1590-8577/3825
Copyright (c) 2010 Vui Heng Chong, Norwani Basir, Aziman Bin Yaakub
This work is licensed under a Creative Commons Attribution 4.0 International License.
As a member of Publisher International Linking Association, PILA, iMedPub Group's JOP follows the Creative Commons Attribution License and Scholars Open Access publishing policies. Journal of the Pancreas is the Council Contributor Member of Council of Science Editors (CSE) and following the CSE slogan Education, Ethics, and Evidence for Editors.