Combination of Right Nephrectomy and Total Pancreaticoduodenectomy for von Hippel-Lindau Disease
Nikolaos Arkadopoulos

Department of Surgery (Second), Aretaieion Hospital, Athens University School of Medicine. Athens, Greece

Konstantinos Karapanos

Department of Surgery (Second), Aretaieion Hospital, Athens University School of Medicine. Athens, Greece

Vaia Stafyla

Department of Surgery (Second), Aretaieion Hospital, Athens University School of Medicine. Athens, Greece

Anneza Yiallourou

Department of Surgery (Second), Aretaieion Hospital, Athens University School of Medicine. Athens, Greece

Andreas Koureas

Department of Radiology, Aretaieion Hospital, Athens University School of Medicine. Athens, Greece

Agathi Kondi-Pafiti

Department of Pathology, Aretaieion Hospital, Athens University School of Medicine. Athens, Greece

Vassilios Smyrniotis

Department of Surgery (Second), Aretaieion Hospital, Athens University School of Medicine. Athens, Greece
Keywords:
Adenocarcinoma, Clear Cell, Adenoma Nephrectomy, Pancreatectomy, von Hippel-Lindau Disease
Abstract
Context Von Hippel-Lindau disease is an inherited syndrome of multiorgan neoplasia caused by a germline mutation in the von Hippel-Lindau gene and can include central nervous system tumors, renal cell carcinomas and benign pancreatic cystic tumors. Case report We report the case of a 56-year-old patient who had a past history of cerebellar hemangioblastoma and presented with abdominal pain. Imaging revealed renal tumors and multiple pancreatic tumors which caused duodenal and pancreatic duct compression. The patient was treated with a combination of radical right nephrectomy, total pancreaticoduodenectomy and splenectomy. Pathology identified a multifocal unilateral clear cell renal carcinoma which interestingly coexisted with multiple large pancreatic serous microcystic adenomas with infiltration of the fibrous capsule. Conclusion In past cases of von Hippel-Lindau disease, pancreatic adenomas with malignant transformation have not been reported. In our case, the infiltration of the fibrous capsule by parenchymal cells may indicate malignant transformation.
Image: Section of serous microcystic adenoma in the pancreatic head.
Downloads
Download data is not yet available.
References
Kaelin WG Jr. Molecular basis of the VHL hereditary cancer syndrome. Nat Rev Cancer 2002; 2:673-82. [PMID 12209156]
Lonser RR, Glenn GM, Walther M, Chew EY, Libutti SK, Linehan WM, Oldfield EH. Von Hippel-Lindau disease. Lancet 2003; 361:2059-67. [PMID 12814730]
Zbar B, Kaelin W, Maher E, Richard S. Third international meeting on von Hippel-Lindau disease. Cancer Res 1999; 59:2251-3. [PMID 10232616]
Walther MM, Choyke PL, Glenn G, Lyne JC, Rayford W, Venzon D, Linehan WM. Renal cancer in families with hereditary renal cancer: prospective analysis of a tumour size threshold for renal parenchymal sparing surgery. J Urol 1999;161:1475-9. [PMID 10210376]
Hammel PR, Vilgrain V, Terris B, Penfornis A, Sauvanet A, Correas JM, et al. Pancreatic involvement in von Hippel-Lindau disease. The Groupe Francophone d'Etude de la Maladie de von Hippel-Lindau. Gastroenterology 2000; 119:1087-95. [PMID 11040195]
Delman KA, Shapiro SE, Jonasch EW, Lee JE, Curley SA, Evans DB, Perrier ND. Abdominal visceral lesions in von Hippel-Lindau disease: incidence and clinical behavior of pancreatic and adrenal lesions at a single center. World J Surg 2006; 30:665-9. [PMID 16617420]
Hough DM, Stephens DH, Johnson CD, Binkovitz LA. Pancreatic lesions in von Hippel-Lindau disease: prevalence, clinical significance and CT findings. AJR Am J Roentgenol 1994; 162:1091-4. [PMID 8165988]
Deboever G, Dewulf P, Maertens J. Common bile duct obstruction due to pancreatic involvement in the von Hippel-Lindau syndrome. Am J Gastroenterol 1992; 87:1866-8. [PMID 1449159]
George DH, Murphy F, Michalski R, Ulmer BG. Serous cystadenocarcinoma of the pancreas: new entity? Am J Surg Pathol 1989; 13:61-6. [PMID 2909198]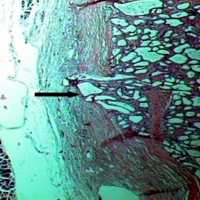 How to Cite
ArkadopoulosN., KarapanosK., StafylaV., YiallourouA., KoureasA., Kondi-PafitiA., & SmyrniotisV. (2010). Combination of Right Nephrectomy and Total Pancreaticoduodenectomy for von Hippel-Lindau Disease. JOP. Journal of the Pancreas, 11(3), 270-272. https://doi.org/10.6092/1590-8577/3827
Copyright (c) 2010 Nikolaos Arkadopoulos, Konstantinos Karapanos, Vaia Stafyla, Anneza Yiallourou, Andreas Koureas, Agathi Kondi-Pafiti, Vassilios Smyrniotis
This work is licensed under a Creative Commons Attribution 4.0 International License.
As a member of Publisher International Linking Association, PILA, iMedPub Group's JOP follows the Creative Commons Attribution License and Scholars Open Access publishing policies. Journal of the Pancreas is the Council Contributor Member of Council of Science Editors (CSE) and following the CSE slogan Education, Ethics, and Evidence for Editors.