Gemcitabine-Induced Pulmonary Toxicity in a Patient with Pancreatic Cancer
Daigo Hiraya

Departments of Internal Medicine and Surgery, Mito Medical Center, University of Tsukuba. Mito, Ibaraki, Japan

Katsunori Kagohashi

Departments of Internal Medicine and Surgery, Mito Medical Center, University of Tsukuba. Mito, Ibaraki, Japan

Naoya Sakamoto

Departments of Internal Medicine and Surgery, Mito Medical Center, University of Tsukuba. Mito, Ibaraki, Japan

Tadashi Kondo

Departments of Internal Medicine and Surgery, Mito Medical Center, University of Tsukuba. Mito, Ibaraki, Japan

Hiroaki Satoh

Departments of Internal Medicine and Surgery, Mito Medical Center, University of Tsukuba. Mito, Ibaraki, Japan
Keywords:
Deoxycytidine /analogs and derivatives /toxicity, gemcitabine, Lung, Pancreatic Neoplasms
Abstract
No abstract available.
Image: Chest CT showing bilateral diffuse ground-glass opacities in both lungs.
Downloads
Download data is not yet available.
References
Shaib W, Lansigan F, Cornfeld D, Syrigos K, Saif MW. Gemcitabine-induced pulmonary toxicity during adjuvant therapy in a patient with pancreatic cancer. JOP. J Pancreas (Online) 2008; 9:708-14. [PMID 18981552] (FULL TEXT: http://www.joplink.net/prev/200811/07.html)
Briasoulis E, Pavlidis N. Noncardiogenic pulmonary edema: an unusual and serious complication of anticancer therapy. Oncologist 2001; 6:153-61. [PMID 11306727] (FULL TEXT: http://theoncologist.alphamedpress.org/cgi/content/full/6/2/153)
Roychowdhury DF, Cassidy CA, Peterson P, Arning M. A report on serious pulmonary toxicity associated with gemcitabine-based therapy. Invest New Drugs 2002; 20:311-5. [PMID 12201493] (FULL TEXT: http://www.springerlink.com/content/1ldp62up20rf6xqf/fulltext.pdf)
Vahid B, Marik PE. Pulmonary complications of novel antineoplastic agents for solid tumors. Chest 2008; 133:528-38. [PMID 18252919] (FULL TEXT: http://chestjournal.chestpubs.org/content/133/2/528.long)
Lawrence TS, Eisbruch A, Shewach DS. Gemcitabine-mediated radiosensitization. Semin Oncol 1997; 24(2 Suppl 7):S7-24-8. [PMID 9194476]
Lawrence TS, Eisbruch A, McGinn CJ, Fields MT, Shewach DS. Radiosensitization by gemcitabine. Oncology (Williston Park) 1995; 13(Suppl 5):55-60. [PMID 10550827]
Safran H, Dipetrillo T, Iannitti D, Quirk D, Akerman P, Cruff D, et al. Gemcitabine, paclitaxel, and radiation for locally advanced pancreatic cancer: a Phase I trial. Int J Radiat Oncol Biol Phys 2002; 54:137-41. [PMID 12182983] (FULL TEXT: http://www.redjournal.org/article/PIIS0360301602029024/fulltext)
Pavlakis N, Bell DR, Millward MJ, Levi JA. Fatal pulmonary toxicity resulting from treatment with gemcitabine. Cancer 1997; 80:286-91. [PMID 9217042] (FULL TEXT: http://www3.interscience.wiley.com/cgi-bin/fulltext/75502650/HTMLSTART)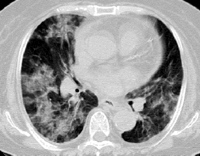 How to Cite
HirayaD., KagohashiK., SakamotoN., KondoT., & SatohH. (2010). Gemcitabine-Induced Pulmonary Toxicity in a Patient with Pancreatic Cancer. JOP. Journal of the Pancreas, 11(2), 186-188. https://doi.org/10.6092/1590-8577/3858
Copyright (c) 2010 Daigo Hiraya, Katsunori Kagohashi, Naoya Sakamoto, Tadashi Kondo, Hiroaki Satoh
This work is licensed under a Creative Commons Attribution 4.0 International License.
As a member of Publisher International Linking Association, PILA, iMedPub Group's JOP follows the Creative Commons Attribution License and Scholars Open Access publishing policies. Journal of the Pancreas is the Council Contributor Member of Council of Science Editors (CSE) and following the CSE slogan Education, Ethics, and Evidence for Editors.