Women's Counter-Memories of the First War World: Two emblematic case –studies: Vera Brittain and Mary Borden
Vita Fortunati

Università di Bologna Alma Mater Studiorum
Parole chiave:
Contro-memorie delle donne, Prima Guerra mondiale, Studi di genere
Abstract
La scrittura della Prima Guerra mondiale è stato per lungo tempo retaggio esclusivo degli uomini anche se per molte donne a livello europeo essa è stata una sorta di catalizzatore che ha dato loro la possibilità di esprimersi in pubblico e di dare una differente prospettiva di genere a questo evento. A partire dalle ultime due decadi del Novecento  gli studi di genere, gli studi sulla memoria e quelli  culturali   hanno  messo in evidenza non solo  l'inadeguatezza di una memoria monolitica tutta maschile, ma hanno  anche presentato le controverse memorie e narrazioni scritte dalle donne. Il mio contributo prenderà come esempio delle questioni controverse e problematiche che la scrittura delle donne solleva due scrittrici che operarono in Inghilterra Vera Brittain e Mary Borden.
Downloads
Download data is not yet available.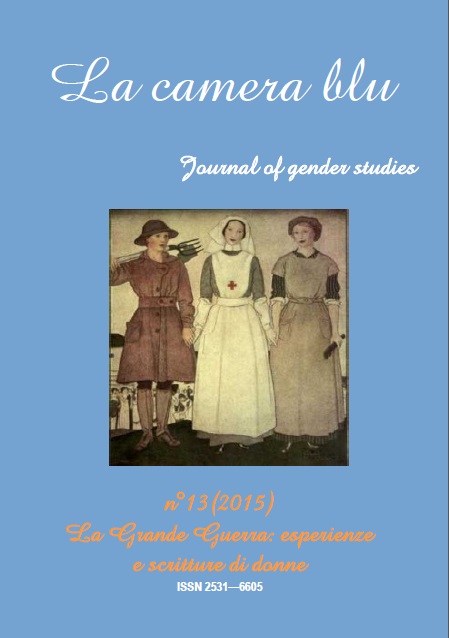 Come citare
FortunatiV. (2016). Women's Counter-Memories of the First War World: Two emblematic case –studies: Vera Brittain and Mary Borden. La Camera Blu. Rivista Di Studi Di Genere, (13). https://doi.org/10.6092/1827-9198/3885
Copyright (c) 2016 La camera blu. Rivista di studi di genere
This work is licensed under a Creative Commons Attribution 4.0 International License.
Questa opera è distribuita con
licenza Creative Commons Attribuzione - Non opere derivate 4.0 Unported
.