Updates in Management of Ampullary Carcinomas
Preethi K John

Department of Medicine and Cancer Center, Tufts Medical Center. Boston, MA, USA

Andromachi S Kougioumtzopoulou

Radiotherapy Unit, Second Department of Radiology, Attikon General Hospital. Athens, Greece

Konstantinos N Syrigos

Oncology Unit, Third Department of Medicine, University of Athens, Sotiria General Hospital. Athens, Greece

Muhammad Wasif Saif

Department of Medicine and Cancer Center, Tufts Medical Center. Boston, MA, USA
Keywords:
Ampulla of Vater, Neoplasms, Pancreatico¬duodenectomy, Radiotherapy
Abstract
Ampullary carcinomas are rare malignancies representing less than 1% of all gastrointestinal cancers. Given the low incidence rate, there is scarcity of data regarding the survival benefit of the treatment options available. In the 2014 ASCO Gastrointestinal Cancers Symposium there were two abstracts that discussed the role of pancreaticoduodenectomy and adjuvant radiation therapy in ampullary carcinoma. The first study (Abstract #366) demonstrated a decline in morbidity and mortality over time for pancreaticoduodenectomy making it a reasonable option for successful treatment of ampullary carcinoma. The second study (Abstract #282) showed that adjuvant radiation therapy in patients with T2 tumors had improved median survival times compared to patients that did not receive radiation therapy.
Image: Morbidity, mortality, and survival of patients with peri-ampullary tumors who underwent pancreaticoduodenectomy (Figure 1)
Downloads
Download data is not yet available.
References
Narang AK, Miller RC, Hsu CC, Bhatia S, Pawlik TM, Laheru D, Hruban RH, Zhou J, Winter JM, Haddock MG. Evaluation of adjuvant chemoradiation therapy for ampullary adenocarcinoma: The johns hopkins hospital-mayo clinic collaborative study. Radiat Oncol. 2011;28:126.
Gaspar B, Beuran M, Paun S, Ganescu R, Hostiuc S, Negoi I. Current strategies in the therapeutic approach for adenocarcinoma of the ampulla of vater. J Med Life. 2013 Sep 15;6(3):260-5.
Albores‐Saavedra J, Schwartz AM, Batich K, Henson DE. Cancers of the ampulla of vater: Demographics, morphology, and survival based on 5,625 cases from the SEER program. J Surg Oncol. 2009;100(7):598-605.
Carter JT, Grenert JP, Rubenstein L, Stewart L, Way LW. Tumors of the ampulla of vater: Histopathologic classification and predictors of survival. J Am Coll Surg. 2008;207(2):210-8.
Winter JM, Cameron JL, Olino K, Herman JM, de Jong MC, Hruban RH, Wolfgang CL, Eckhauser F, Edil BH, Choti MA. Clinicopathologic analysis of ampullary neoplasms in 450 patients: Implications for surgical strategy and long-term prognosis. Journal of Gastrointestinal Surgery. 2010;14(2):379-87.
Sommerville C, Limongelli P, Pai M, Ahmad R, Stamp G, Habib N, Williamson R, Jiao L. Survival analysis after pancreatic resection for ampullary and pancreatic head carcinoma: An analysis of clinicopathological factors. J Surg Oncol. 2009;100(8):651-6.
Kim RD, Kundhal PS, McGilvray ID, Cattral MS, Taylor B, Langer B, Grant DR, Zogopoulos G, Shah SA, Greig PD. Predictors of failure after pancreaticoduodenectomy for ampullary carcinoma. J Am Coll Surg. 2006;202(1):112-9.
Heinrich S, Clavien P. Ampullary cancer. Curr Opin Gastroenterol. 2010;26(3):280-5.
Neoptolemos JP, Moore MJ, Cox TF, Valle JW, Palmer DH, McDonald AC, Carter R, Tebbutt NC, Dervenis C, Smith D. Effect of adjuvant chemotherapy with fluorouracil plus folinic acid or gemcitabine vs observation on survival in patients with resected periampullary AdenocarcinomaThe ESPAC-3 periampullary cancer randomized TrialAdjuvant therapy and periampullary adenocarcinoma. JAMA. 2012;308(2):147-56.
Shrikhande VS, Mitra A, Sirohi B, Bal M, Goel M et al. Pancreaticoduodenectomy (PD) for periampullary tumors: Results from Tata Memorial Centre (TMC) over two decade. J Clin Oncol 32, 2014 (suppl 3; abstr 366)
Byun J, Grover S, Michelle LH, Apisarnthanarax S. Role of adjuvant radiation therapy in ampullary carcinoma: Propensity-score matched SEER analysis. J Clin Oncol 32, 2014 (suppl 3; abstr 282)
Dittrick GW, Mallat DB, Lamont JP. Management of ampullary lesions. Current treatment options in gastroenterology. 2006;9(5):371-6.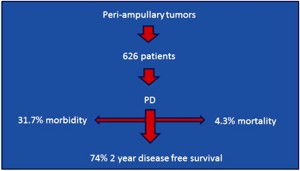 How to Cite
JohnP., KougioumtzopoulouA., SyrigosK., & SaifM. (2014). Updates in Management of Ampullary Carcinomas. JOP. Journal of the Pancreas, 15(2), 140-143. https://doi.org/10.6092/1590-8577/2283
Section
Highlights from the "2014 ASCO Gastrointestinal Cancers Symposium". San Francisco, CA, USA. January 16-18, 2014
Copyright (c) 2014 Preethi K John, Andromachi S Kougioumtzopoulou, Konstantinos N Syrigos, Muhammad Wasif Saif
This work is licensed under a Creative Commons Attribution 4.0 International License.
As a member of Publisher International Linking Association, PILA, iMedPub Group's JOP follows the Creative Commons Attribution License and Scholars Open Access publishing policies. Journal of the Pancreas is the Council Contributor Member of Council of Science Editors (CSE) and following the CSE slogan Education, Ethics, and Evidence for Editors.